VW adding CarPlay, Android Auto and MirrorLink in 2015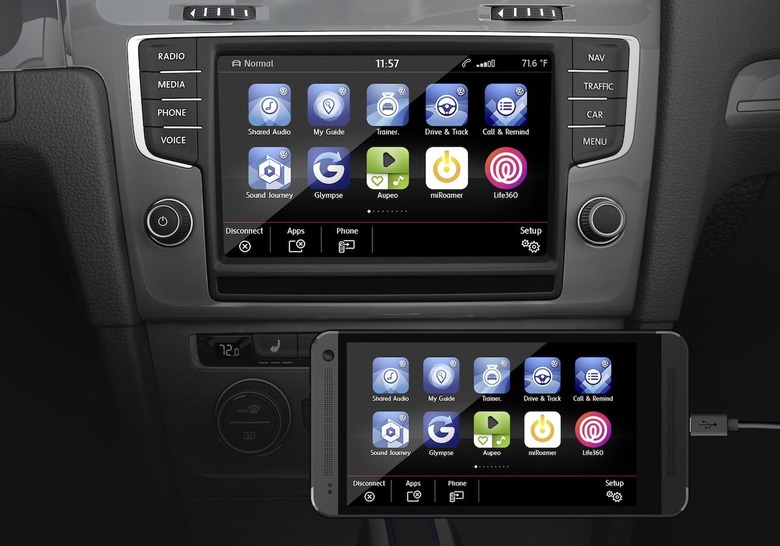 Volkswagen will add CarPlay and Android Auto support to its cars later this year, the company has confirmed, with the arrival of a new second-gen "modular infotainment platform" in models like the Golf. The system will bring both Apple and Google's smartphone connectivity – which each offers a pared-back interface more suitable for prodding while driving – under VW's App-Connect branding, in addition to MirrorLink support for four of the company's smartphone apps, including building a shared playlist from all the phones and tablets in the car and streaming them for the perfect driving soundtrack.
Initially, VW's MirrorLink support will work with its My Guide, Think Blue. Trainer, Shared Audio, and Sound Journey apps. My Guide flags up nearby points-of-interest, such as restaurants, while Think Blue is an eco-driving instructor, throwing out tips for minimizing gas use.
Shared Audio builds a combined playlist from all of the people using mobile devices in the car, cutting out the fight for the aux-in cord.
Finally, Sound Journey bypasses the aux-in altogether, automatically generating custom music based on each segment of the current journey, telemetry from the car's systems, and a selected musical genre.
Down the line, meanwhile, there'll be more VW app support as well as third-party involvement from firms like Glypse, miRoamer, and Parkopedia.
Those who are willing to buy into CarPlay or Android Auto, meanwhile, will find that the MIP-II also has native support for both. As we've seen before, there'll be full integration with the in-dash display and the speech-control button on the steering wheel.
The first cars to show up with the modular infotainment platform II will be on the market in the US and Europe later this year. It's unclear at this stage how much the system will cost.