This is the Spacebit moon spider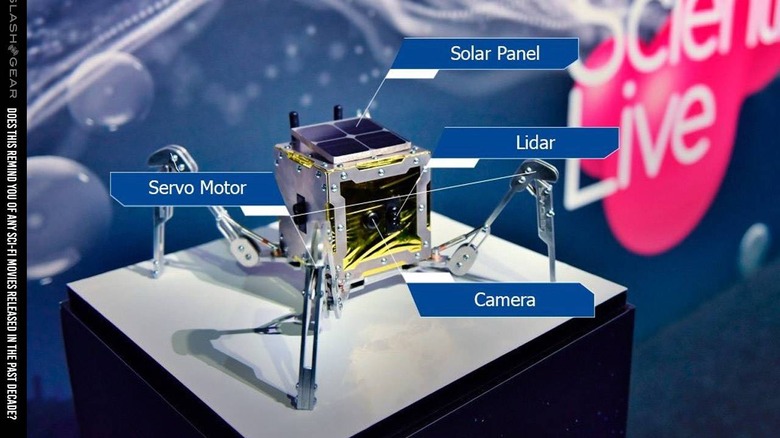 This bit of robotics from the folks at Spacebit is known as "The Walking Rover". It's effectively a moon spider – albeit with 4 legs instead of 8, and a box-like body of metal rather than organic. It's powered by the sun via solar panels and stores energy on rechargeable batteries. It weighs around 1.3kg, works with Swarm Intelligence, is part of a Modular Robotics Platform, and it can jump.
It's official, this robot will launch with the first ULA Vulcan mission in the year 2021. With other payloads onboard, this ULA Vulcan is scheduled to take off in the third quarter of the year that year, 2021. A Spacebit carrier (with wheels) will be delivered to the surface of our moon (our Earth's moon, that is,) by Astrobotic's Peregrine lunar lander spacecraft. Inside the carrier will be 4 individual spider rovers.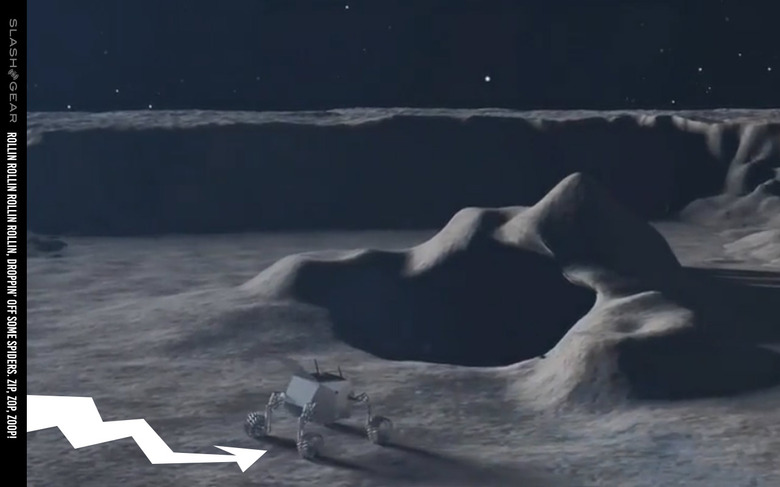 ABOVE: The initial craft that carries the 4 smaller spider rovers leaves the Peregrine lunar lander and heads toward a nearby target. The aim of this mission is to study lava tubes on the moon. Once the carrier reaches its target, it'll drop off spider rovers. BELOW: These spiders – Walking Rovers – leave the carrier and head into the lava tube to collect data.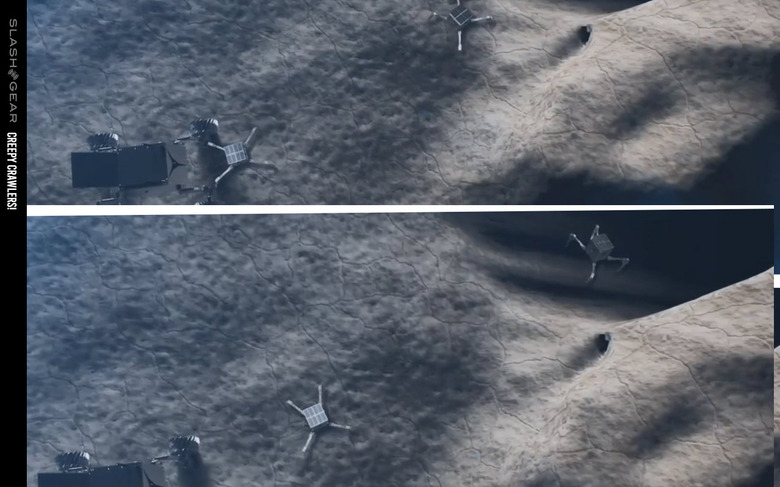 The event this week
SpaceBit founder and CEO Pavlo Tanasyuk spoke on the 10th of October, 2019 at the event called New Scientist Live. There, the spider rover was revealed for the first time. It was also shown that one larger rover (shown below) will be able to carry four smaller rovers (each a crawler rover, aka a spider), to drop them as close as possible to the site at which they'll gather data on the moon – near a lava tube.
This @bit_space rover will be able to carry 4 crawler rovers inside and drop them for lava tube scouting missions. Phase 2 of the Spacebit UK Moon Mission! #NSLive2019 pic.twitter.com/Yd6sVSoXnN

— Remco Timmermans (@timmermansr) October 12, 2019
According to Spacebit, their first move with their spiders (Walking Rovers) will be to "move 10 meters from the Peregrin lander and send Full HD video plus 3D LIDAR data" back to Earth. They'll capture this data using the rover's onboard sensors/camera systems.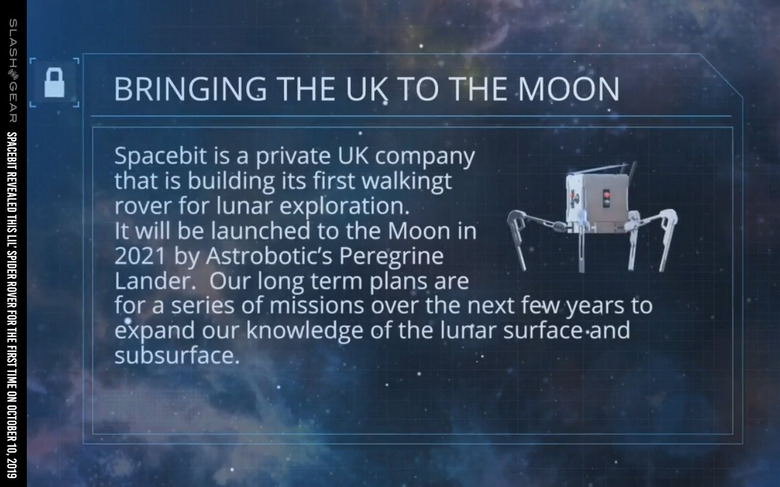 Why is this rover and this mission significant?
The Spacebit Walking Rover will be the first lunar rover ever made and sent to the moon by a group from the United Kingdom. It's important to note, here, that Spacebit is not a government organization, but a private organization. They are working with Astrobotic (who in turn are working with NASA*), but Spacebit is a private group.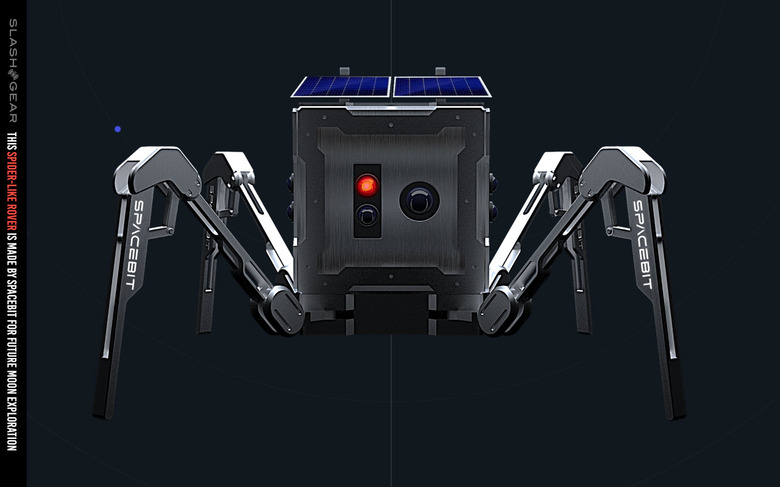 The Spacebit Walking Rover's first major mission will be the study of lunar lava tubes. It'll capture information on our moon with onboard HD Camera and LiDAR for navigation. This crawler is also the "smallest rover ever" according to New Scientist Live.
You are looking at the smallest rover ever, which will be sent to the moon in 2021 by the UK-based start-up @bit_space. Spacebit CEO and founder Pavlo Tanashyuk said "Our goal is to go there and see what is available for all humanity to explore." #space #moon #science #rover pic.twitter.com/Hmw8HhchbP

— New Scientist Events (@newscievents) October 10, 2019
*The Astrobotic part of this equation is also significant, as it's funded by NASA. The folks at Astrobotic are working with NASA's CLPS program. That's NASA's Commercial Lunar Payload Services program, through which they've been awarded a cool $79.5m.
We'll know more about how this mission is going as we progress closer to launch. For now, we get to look at this jumping spider and cross our fingers they'll make some home consumer remote-control fun editions – good luck to us! And, of course, good luck to everyone who's currently engaged in a mission to explore beyond the boundaries of our own Earth's atmosphere.