This is the new Apple MacBook: Hands-on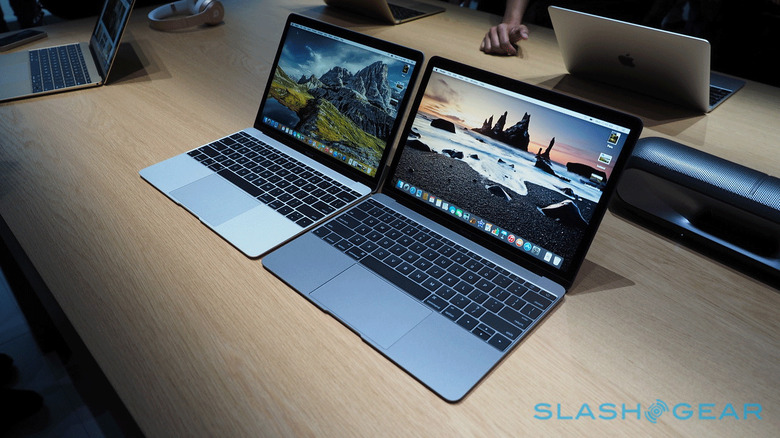 With a newly thinned-out body, trackpad, keyboard, and parred-down collection of ports, the New MacBook is truly simplified. This device is not a MacBook Air – and it's certainly not a MacBook Pro. This device sits beside the MacBook Air and MacBook Pro in a lineup that'll go through 2015 and beyond. Will the MacBook replace the MacBook Air eventually? Maybe. For now, it looks like this notebook is going to stand on its own as a rather unique piece of work – a new generation of MacBook hardware, to be sure.
On the back you'll notice a metal hinge. No more plastic involved – not on the outside of the shell, at least.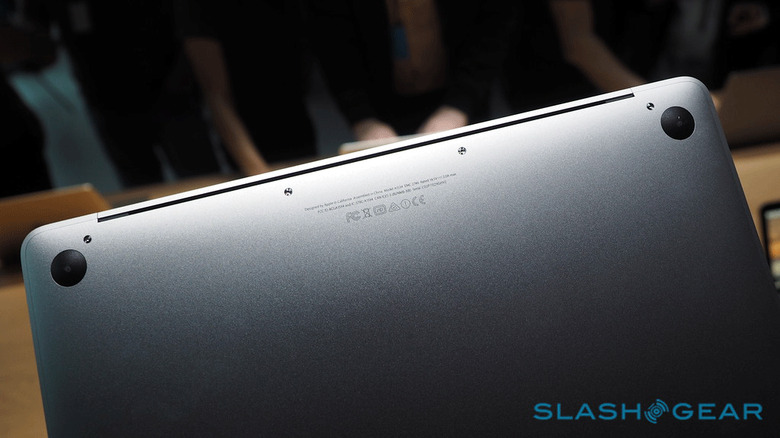 Several colors are being offered for this new MacBook – classic silver is going to be joined by Space Gray and Gold, as well, just as per the iPhone 6 and iPad Air 2.
Inside is an LED-backlit 12-inch Retina display with IPS LCD technology. This display has a 2304 x 1440 pixel resolution making it a 226 PPI panel – pixels per inch, that is.
It's an incredible display, the panel we've been hoping for from the Air since we saw Retina first used on the MacBook Pro. Viewing angles are huge, and detail on things like small font text from that high PPI screen are crisp and clean.
This machine is almost like a clamshell, with a slightly larger middle than its sides. The height goes from 0.14-inch to 0.52-inch (that's 0.35-1.31cm).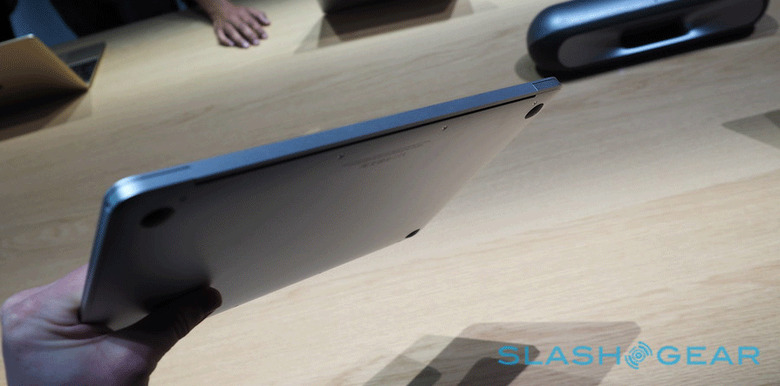 The new MacBook's width is 11.04 inches (28.05 cm), its depth 7.74 inches (19.65 cm), and its weight is 2.03 pounds (0.92 kg) – or right around there, depending on which version you get. Either way, it's very light and small, and very easy to hold.
Inside you're going to find Wi-Fi 802.11ac Wi-Fi wireless networking, IEEE 802.11a/b/g/n compatible, and Bluetooth 4.0. Obviously you're going to probably have to find some space in your bag for the adapter dongles if you want to use a wired connection, and there's no SD card slot.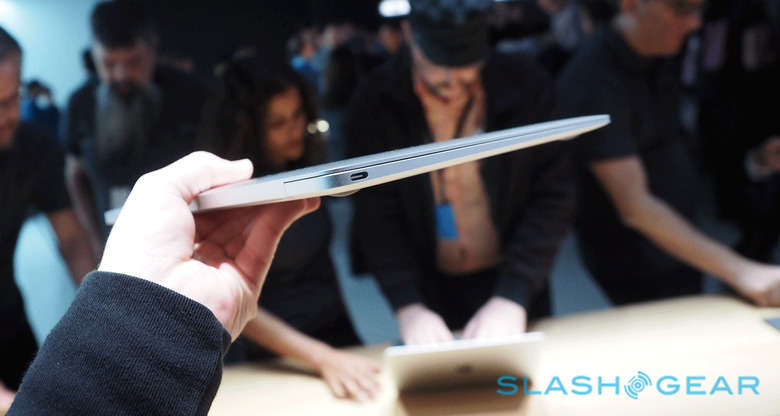 Then there's this port right near the back on the left. This is a strange port, to be sure. It's the first USB-C port Apple has ever implemented, and they're making mighty use of it for several different functionalities:
• Charging
• USB 3.1 Gen 1 (up to 5 Gbps)
• Native DisplayPort 1.2 video output
• VGA output using USB-C VGA Multiport Adapter (sold separately)
• HDMI video output using USB-C Digital AV Multiport Adapter (sold separately)
Is this the end of the MagSafe charging collection? It may be so.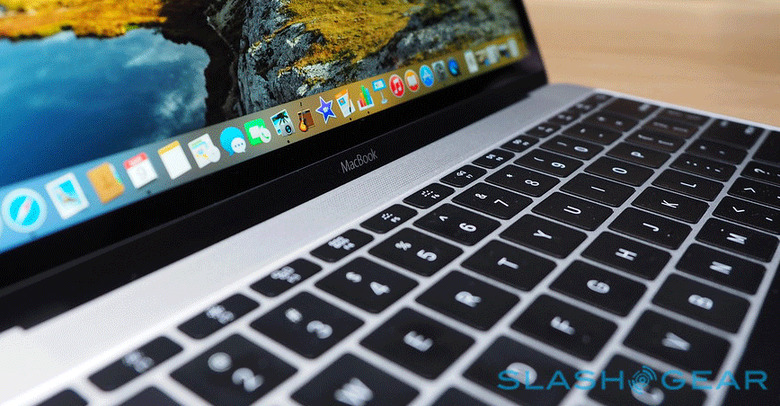 Up top of the display is a 480p FaceTime camera. That's lower resolution than we've seen on other notebooks, but we'll have to wait and see if it has an impact on everyday usability.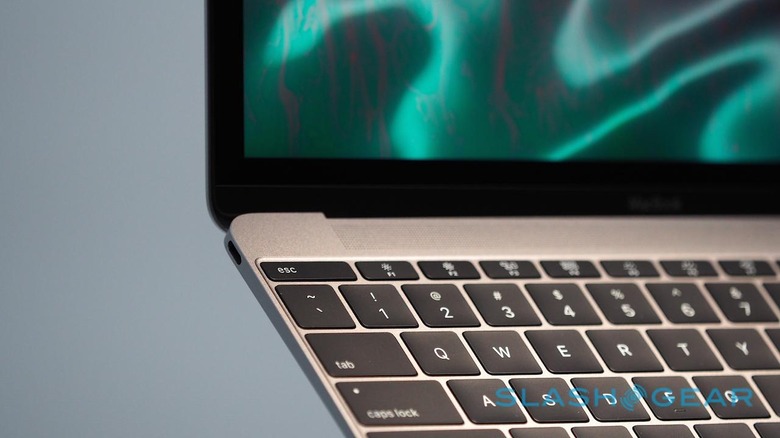 As for the keyboard, it's an unusual feel to the fingertips. The travel is certainly minimal, but it doesn't feel spongy or lacking in response.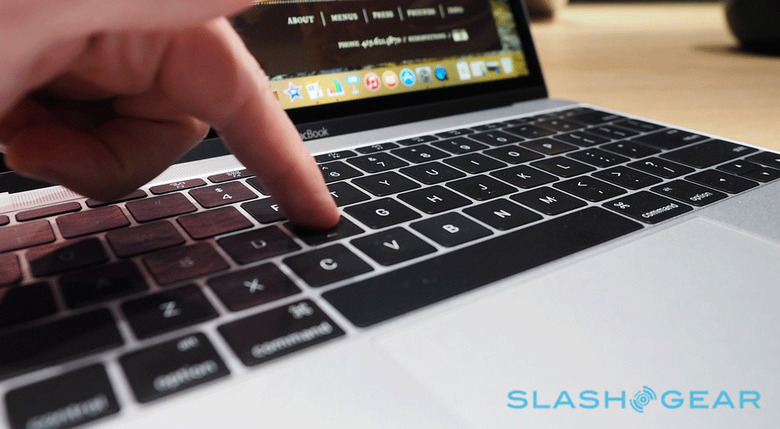 The trackpad on this device is brand new. Have a peek at our "Force Touch" trackpad feature to learn more. For now it's easy to suggest that this is the finest trackpad on any MacBook – maybe even on any notebook.
You certainly don't notice the absence of physical movement. It's as smooth and responsive as a regular Apple trackpad, and pressing does feel – if not quite like an actual, moving part – as though you're getting some feedback through your fingertips.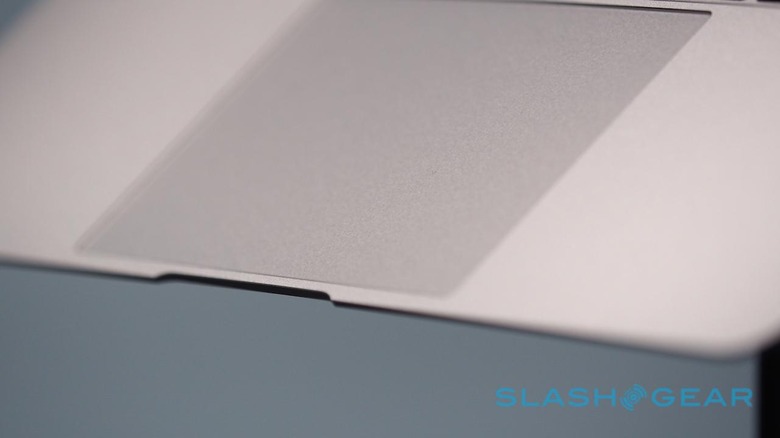 Force Touch, meanwhile, is going to take some getting used to. While we're familiar with two- or more finger gestures on the trackpad, the ability to do different things without having to add fingers is still unusual. Nonetheless, it seems to work well, pulling up maps, definitions, and more from text you highlight.
The question will be whether the compromises in physical ports, and of course the price tag, will make the new MacBook a tougher sell than the existing Air, when weighed against the incredible portability and that brilliant display. Stick around as we get a closer look and have an extended view in our final review in the near future!