This is Google's new Project Ara modular phone: Spiral 2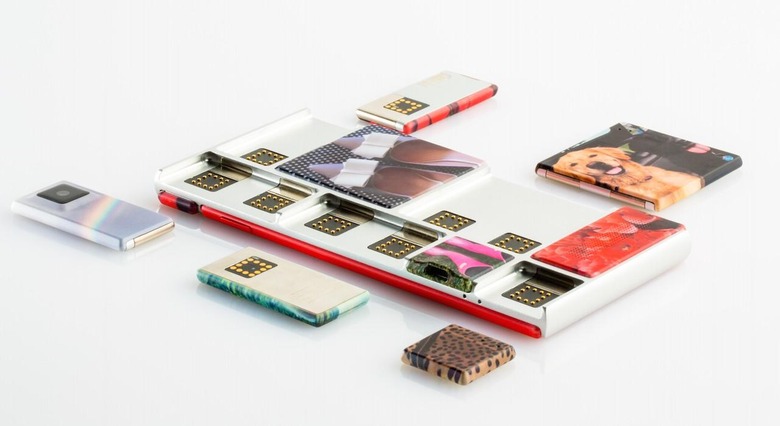 Google has revealed its newest Project Ara prototype, Spiral 2, the latest iteration of the block-based modular smartphone it expects to change how users interact with software and hardware. Spiral 2 builds on the MDK version 0.20 which Google released earlier this month, and was shown today for the first time at Google's second Project Ara developer conference. Now with eleven different prototype modules, each of which will act as a reference design for third-party developers hoping to get onboard with Ara themselves, Spiral 2 supports hot-swapping those modules as well as making 3G calls.
The hardware for Spiral 2 is done, Head of Project Ara Paul Eremenko said, though the firmware itself is not. "Firmware is hard," he joked, inviting any firmware experts attending the developer event to contact him regarding a job.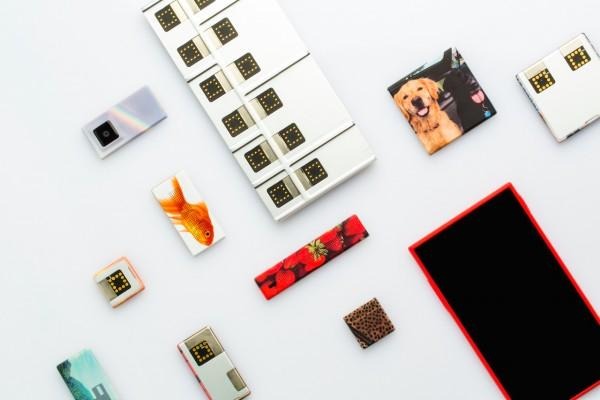 The changes in Spiral 2 has seen the electro-permanent magnets which hold the modules in place moved, now into the endoskeleton frame, leaving more room in the modules themselves. There are two application processors, from Marvell and NVIDIA, while Rockchip is working on a dedicated chip itself.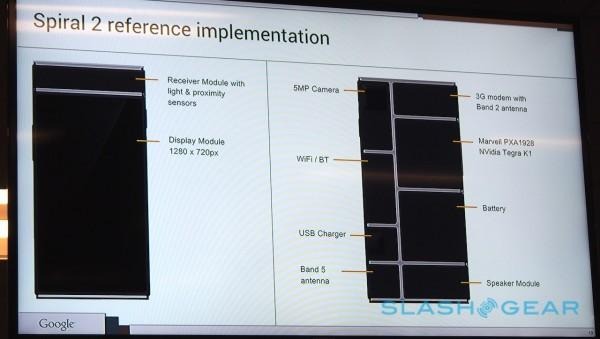 Google has also confirmed the exact Spiral 2 reference specifications. There'll be a 1280 x 720 display, light & proximity sensors, a 5-megapixel camera, WiFi and Bluetooth, 3G modem with a Band 2 antenna, separate Band 5 antenna, battery, and speaker module, as well as the choice of a Marvell PXA1928 or NVIDIA Tegra K1 processor block. A final block will have the USB charger port.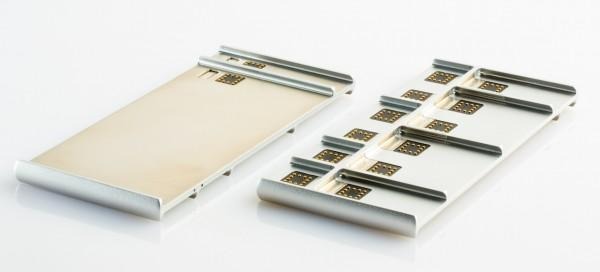 Spiral 2 also shifts the cellular antennas from the modems themselves, which will lead to more flexibility when 4G LTE modules arrive.
What there won't be is 3D printing of modules, at least initially. According to Eremenko, getting 3D printing technologies to a point where they were realistic for production volumes and at the quality that consumers would expect was simply too ambitious for the current timescale.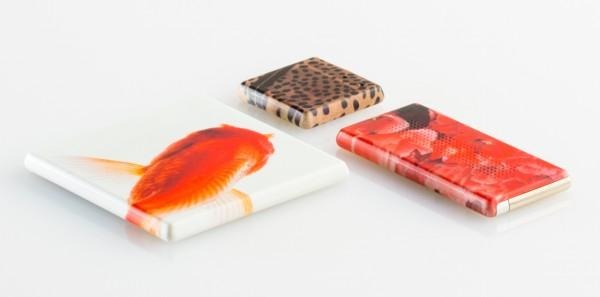 Instead, ATAP turned to a second proposal it had been working on simultaneously. Using dye-sublimation, modules made of injection-molded polycarbonate plastic will be able to be customized at high resolution and in full color.
Meanwhile, Google also previewed some of the changes the ATAP team expects for Spiral 3. Biggest of those will probably be contactless data connections between the different modules, replacing the spring-loaded pins with inductive systems that stop the scratching the Spiral 2 experiences, as well as making them more flexible.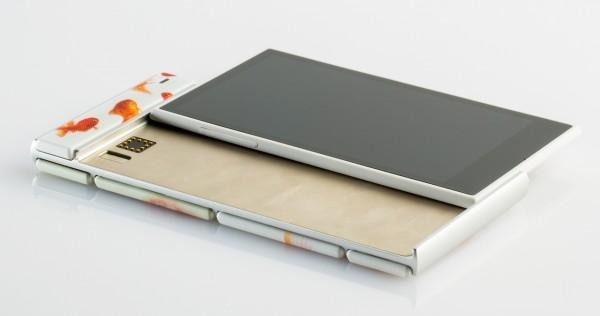 Spiral 3 will also have new magnets, and the antennas will be shifted into the endo – the backbone of the phone – rather than putting them into the modules.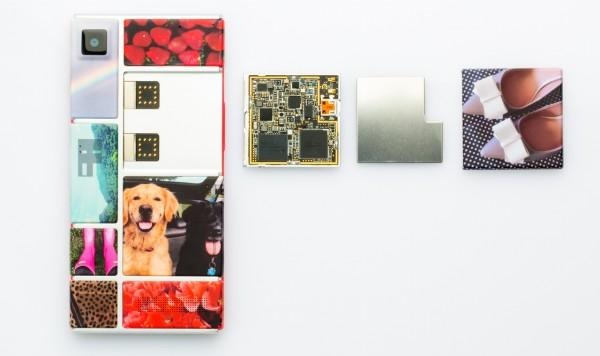 Power consumption will be lowered, bigger batteries supported, and new battery technologies introduced. That has seen Google engage with battery manufacturers that might not normally see their wares in current smartphones – usually because they don't meet the recharge cycle requirements – and offering optional higher-density packs with shorter lifespans for those consumers willing to make that compromise.
We'll have more from the Project Ara developer event over the course of the day.