This Infiniti QX50 Concept previews new semi-autonomous SUV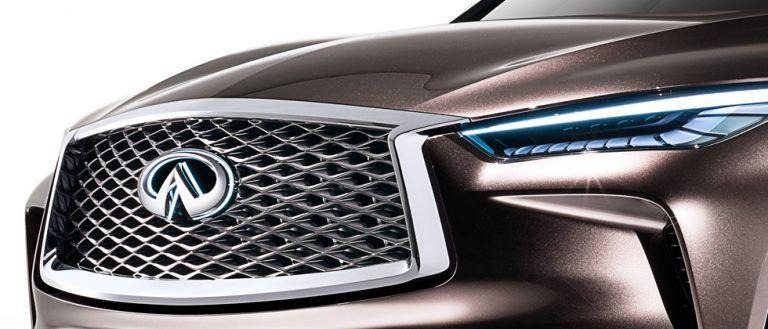 The North American International Auto Show 2017 is still a couple of weeks out, but Infiniti is already showing off its vision of its next-gen, self-driving SUV. The Infiniti QX50 Concept shows, the Japanese automaker says, how its latest design language as seen on the QX60 coupe could translate to a luxury SUV. Along the way, it's also a chance for the company's latest drivetrain tech to make an appearance.
That's the VC-Turbo, which Infiniti says is the world's first variable compression ratio engine that's actually ready for production. If you've not been keeping up with turbocharging advances, the system can adjust its compression ratio according to the current driving conditions, tweaking the balance between performance and efficiency. To do that, it physically raises or lowers the reach of the actual pistons, while the engine is running.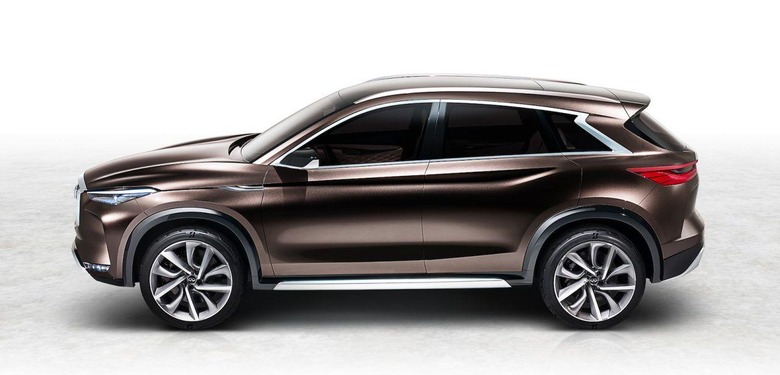 So, at the one extreme it can push it to 8:1 for more aggressive driving, while highway cruising can see it slide to 14:1. Infiniti suggests it delivers the power of a 2.0-liter gas engine – which, indeed, it is – but the torque and efficiency of a modern diesel. Expected power figures are around 268 HP and 288 lb-ft. of torque, which would make it roughly equivalent to an entry-level V6 engine despite a targeted 27-percent improvement on economy.
It's the perfect foil, Infiniti says, for a production luxury SUV that might – nudge nudge, wink wink – look a little like this QX50 Concept. It borrows the QX60 Coupe's sizable grille and curvaceous lines, and builds on the QX Sport Inspiration's cab-forward proportions. Infiniti says that helps it "telegraph it as a dynamic and practical SUV" though a production version might lose some of the auto show glitz along the way to the dealership.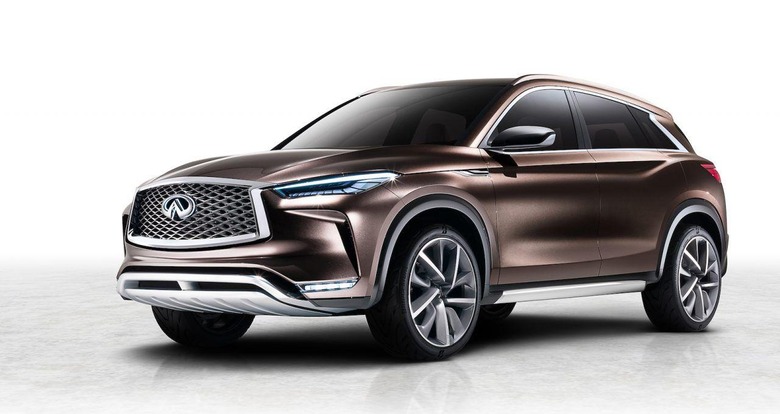 However, Infiniti says it's absolutely serious about autonomous driving technology. That's also previewed in the QX50 Concept, though for the moment this SUV won't be driving itself. Instead, the automaker sees the tech as a co-pilot, "empowering rather than replacing them": you'll be able to delegate the more mundane aspects of driving.
That includes stop-start highway traffic or making sure there are safe distances between the SUV and surrounding traffic. It'll build on Infiniti's existing lane control system, forward collision warnings, and drive-by-wire steering, all of which could in theory be handed over to an AI co-pilot, though unlike truly self-driving cars the human behind the wheel would still have final responsibility.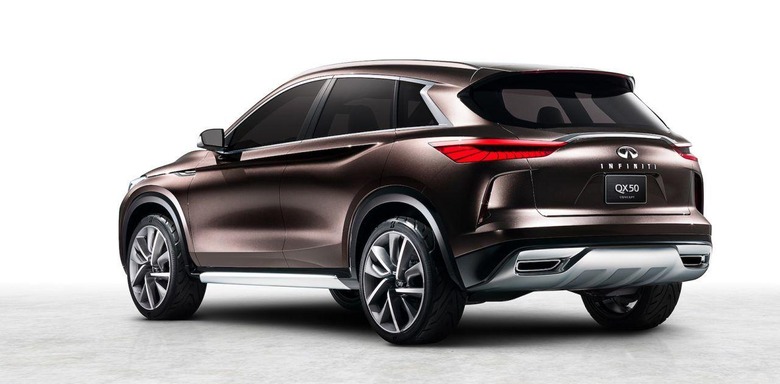 NOW READ: 2017 Infiniti QX60 Red Sport 400 Review
According to Infiniti, the QX50 Concept's autonomous drive support systems are a taste of what it has in store for a production-ready version for future cars you'll actually be able to buy. It's unclear when, exactly, that will happen, but with rivals already offering such technologies Infiniti can't really afford to wait too long. We'll presumably hear more at the Detroit auto show in mid-January.