2017 Infiniti Q60 Red Sport 400 Review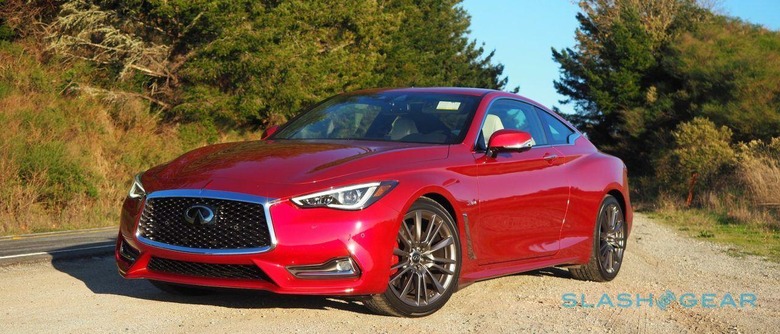 Could the 2017 Infiniti Q60 Red Sport 400 be the prettiest car the Japanese automaker has ever made? Leaving aside curvaceous but impractical concepts, I suspect the answer is yes, but Infiniti hasn't been swayed by glamour alone. Sitting at the top of the Q60 Coupe tree with 400 HP, the Red Sport variant doesn't just want to look good, it wants to be the kiss of death to BMW and Audi grand tourers in the process.
The Q60 finds itself in an interesting spot. On the one hand it's clearly prettier than Lexus' RC, with the gaping "spindle" grille of the latter proving divisive. All the same, Audi's 2017 S5 Coupe falls in the same price bracket, albeit with less power at 333 HP. BMW's $66k+ M4 is out of reach, but if you can settle for 320 HP there are a few 4 Series Coupes that come in under the Infiniti's sticker. The Germans may have less power, but they undoubtedly have more brand cachet.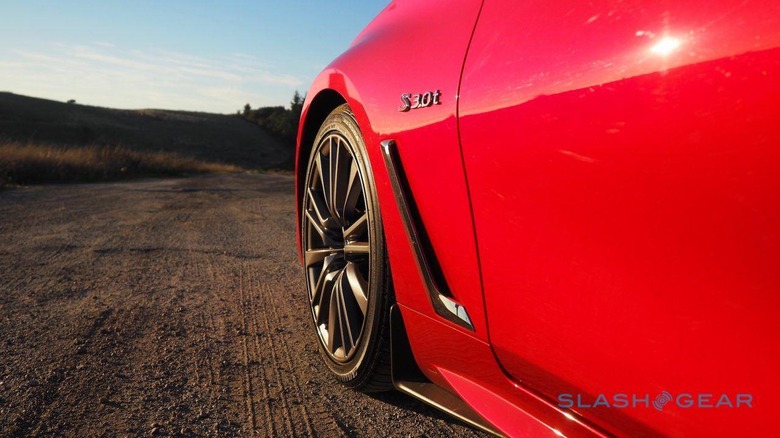 The Red Sport 400 shares the same 3.0-liter V6 twin-turbo engine with the mid-range Q60 Coupe, but Infiniti's engineers crank up the boost ratio – among other things – to coax out that 400 horsepower and 350 lb-ft. of torque. That means, in theory at least, you could buy the cheaper version rather than this $51,300 car and tune it to match the power. Infiniti is keen to point out the new Turbo Speed Sensors exclusive to the Red Sport 400, though, which are intended to stop everything from melting down or, worse still, going bang.
It's an aggressive powertrain, certainly, with no shortage of power. Infiniti's drive mode system has a frankly unnecessary six settings to choose between, ranging from Snow and Eco, through Standard, to Sport and Sport+. There's also a Personal mode in which you can store your own choice of settings. Eco keeps things a little too placid in my experience, taming the V6 until you start to wonder if some of the horses got left at home by mistake; if you really want performance in the snow, you'll probably want the all-wheel drive upgrade rather than the rear-wheel drive of this particular car.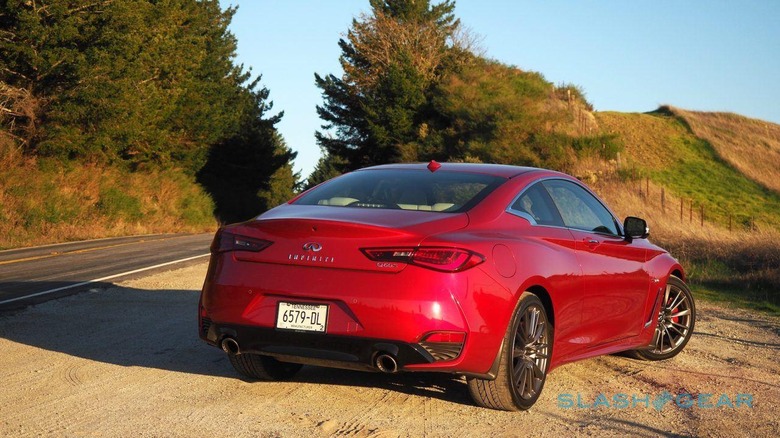 The remaining modes do better. Straight line speed is, unsurprisingly, more than sufficient for the segment: Infiniti quotes a 5.0 second 0-60 mph time. The lashings of torque help keep things moving at overtaking speeds on the highway, too; in Sport+ mode the 7-speed automatic transmission doesn't take much provoking to downshift. Unfortunately the paddle shifters don't share the same sense of urgency, with noticeable lag between tapping them and the gearbox actually responding.
Indeed, there's a solid feeling of "comfortable long-distance cruiser" over eager, corner-carving sports coupe. Infiniti's drive-by-wire steering only compounds that. The $1k option for Direct Adaptive Steering is meant to make things more responsive by tightening up when you're enthusiastic and softening when you're puttering along, but the anesthetized feel put me more in mind of a computer game and not in a good way. Tinkerers may be excited by the thought of user-customizable ratios but, frankly, none did away with the artificial, disconnected sensation through the wheel. Happily, a regular electronic power-assisted system is standard.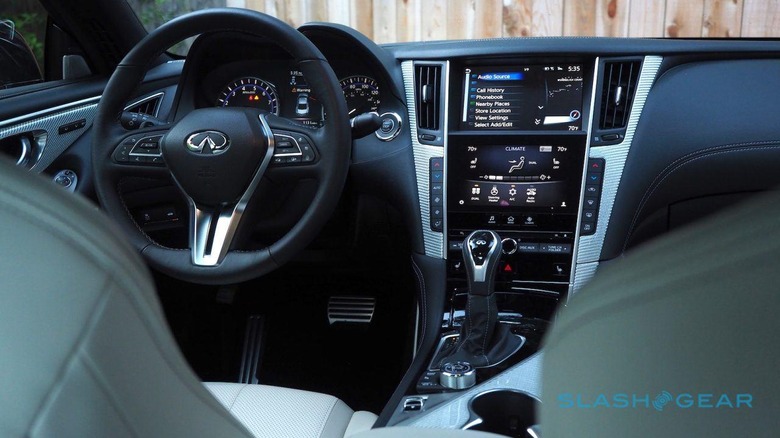 It's not the only case of the electronics getting involved unnecessarily. Among the various options Infiniti had ticked on this particular car is the $1,850 Technology Package, adding adaptive cruise control, blind-spot warnings, lane-departure assistance, and more, together with the $2,250 Drive Assistance Package which throws in forward emergency braking with pedestrian detection, parking sensors front and rear, backup collision intervention with rear-cross traffic alerts, and Around View Monitor with moving object detection. That's a whole lot of sensors, and sometimes they like to make themselves known when you might not expect it.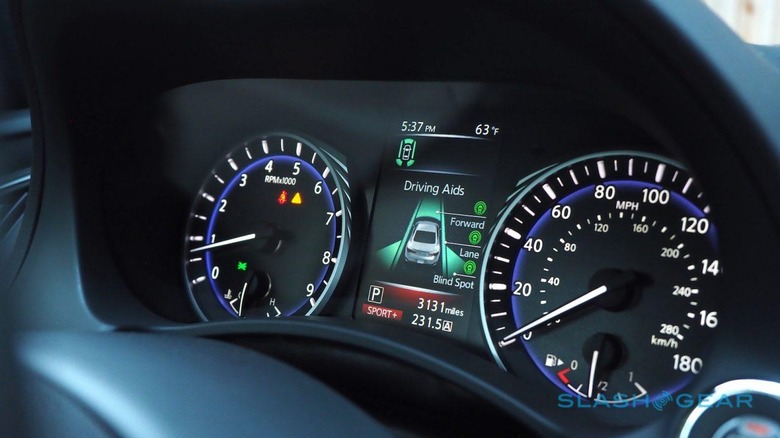 A good example is the weird vibration that can sometimes shudder through the steering, particularly when you're going through some tight cornering on more entertaining roads. I suspect it's the lane guidance system weighing in to scold me for not remaining in the very center of the lane, but it's hard to tell. On a particularly packed stretch of California's 280, the Q60 decided it wasn't at all happy by the nearby traffic, sensors causing a ruckus until I did my best to give excessive margins on all sides.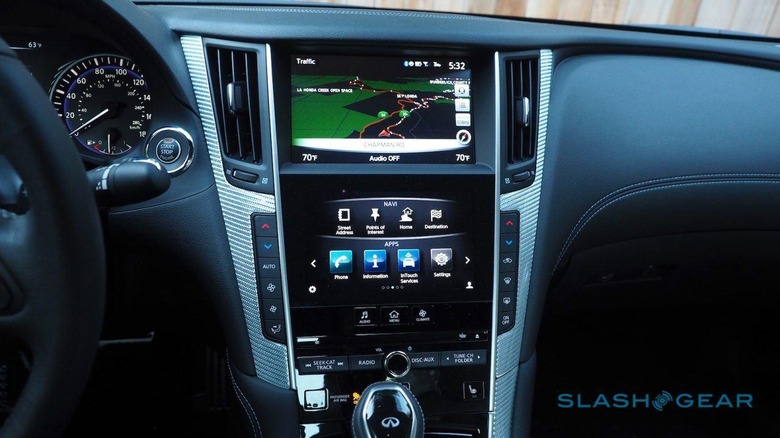 There's room for tweaking and customizing, certainly, though then you need to go digging through Infiniti's twin touchscreens. The 8-inch panel at the top and the 7-inch screen underneath it handle everything from HVAC through navigation, multimedia, and vehicle settings, through to the Q60's cloud-based InTouch services and apps which come as part of the $2,250 Premium Plus Package (along with remote start, heated front seats, navigation, and voice recognition). Neither handles direct sunlight especially well; one of the screens isn't much of a fan of polarized sunglasses, either.
InTouch is responsive but complex, and there are a whole lot of buttons and menus to dig through. You do, at least, get physical controls that double-up on the fundamentals of HVAC and media playback. A joystick-dial in the center console feels redundant, as does Infiniti's decision to augment what's already a decent sounding engine by piping fake noises in through the standard-fit, 13-speaker Bose audio system.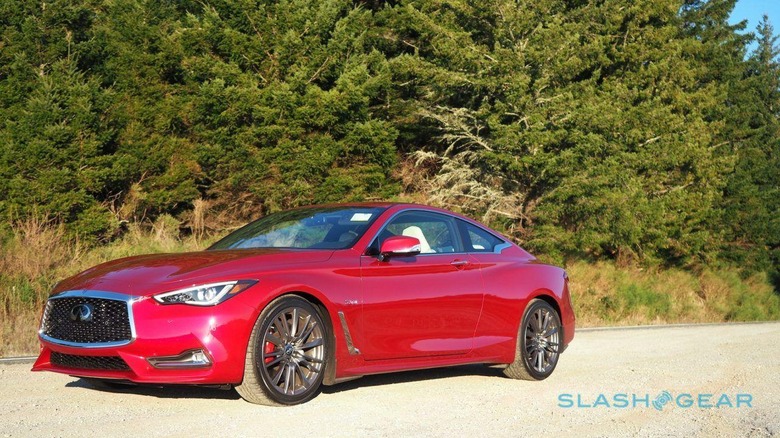 In all there's a slight sense of uncertainty about just what the Q60 Red Sport 400 wants to be. The power figures would suggest sporting; the driving feel is more grand tourer, as is the cabin. Get past the off-putting steering feel and the handling is actually solid, Infiniti's Dynamic Digital Suspension doing well at ironing out potholes. Even the economy figures are good: Infiniti quotes 20 mpg in the city and 27 on the highway, for 22 combined, while I saw just shy of 21 mpg in my own mixed driving.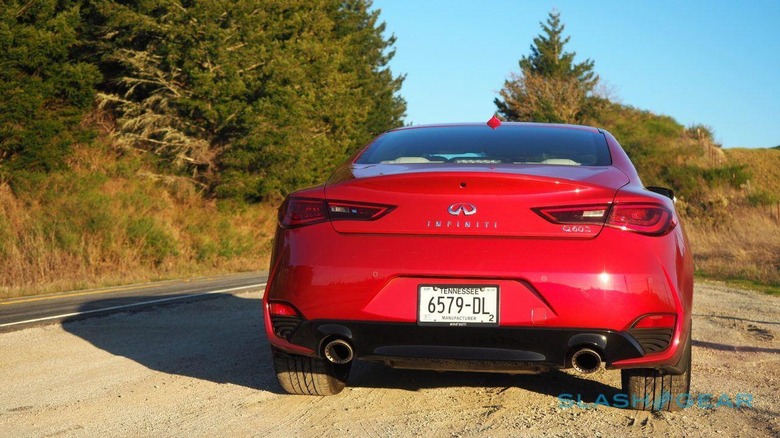 I suspect that 4 Series drivers will still prefer the BMW's crisper handling, while Audi's S5 has a more intuitive infotainment system among other talents. There's an argument to be made for Infiniti's cheaper Q60 3.0t Premium, too, which comes in at around $44k. Cadillac's under-appreciated ATS Coupe is worth considering, and the $60,335 this well-spec'd Q60 comes to is soberingly near the $63k a far more potent ATS-V would set you back.
In the end it's Infiniti's looks around which its charm centers: there are few more attractive coupes in the segment. The power is there too, even if the delivery can be flawed, not to mention the technology if you take the time to dig in and customize it. That investment in time (and cash, of course) might seem all the more worth it when you start enjoying the coveting glances from others on the road.