This Dramatic Chevrolet Bolt EV Crash Test Video Is Great News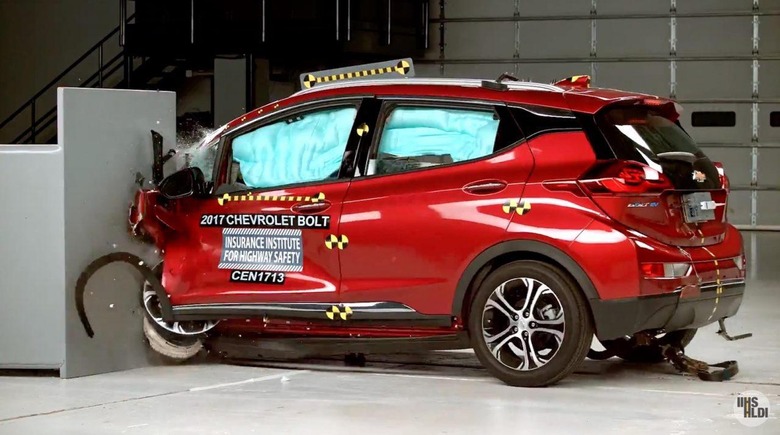 Chevrolet's Bolt EV may have divided electric car buyers with its hatchback design, but new safety testing suggests there's no need to worry about how it'll hold up in a crash. The all-electric car has become the first such vehicle to grab a 2017 award from the Insurance Institute for Highway Safety (IIHS), the independent agency which puts vehicles through their paces in crash testing that in many ways exceeds what the government-run NHTSA checks for. In recent years, the most tricky of those automotive trials has been the so-called small overlap front crash test.
That aims to mimic the impact of a car striking a narrow, hard object, such as a telegraph pole or street lighting. Such a crash focuses the energies on a condensed point, with huge forces involved that have proved tricky in the past for car designers to successfully dissipate without unduly impacting the vehicle's occupants. However, it seems Chevy's team have aced the test.
Indeed, the Bolt EV gets "good" ratings in all of the IIHS crashworthiness tests. Not only small overlap front, but moderate overlap front, side, roof strength, and finally head restraints. Its optional front crash prevention system, which is available as a cost-addition to the higher-spec Bolt EV Premier trim, was also tested, with the IIHS bestowing it with a "superior" rating.
"The car avoided collisions in IIHS track tests at 12 mph and 25 mph," the IIHS writes, "and the system has a forward collision warning component that meets National Highway Traffic Safety Administration criteria." The NHTSA is yet to test the 2017 Bolt EV, and as such it does not currently have a rating from that organization.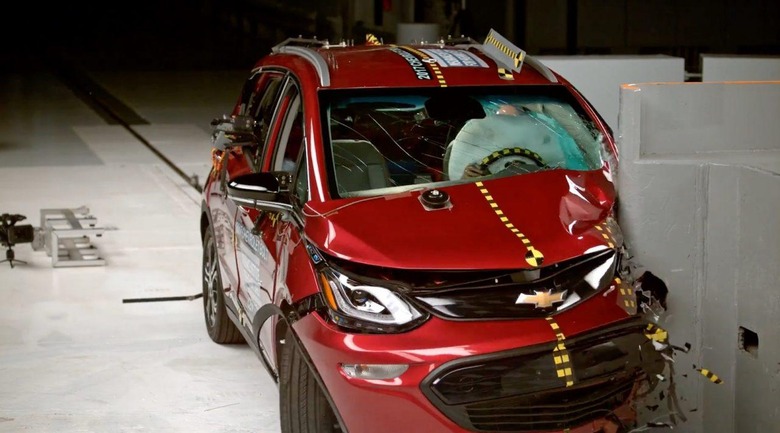 However, even with all that, the Bolt EV doesn't quite get the IIHS' top overall award. That's TOP SAFETY PICK+, and requires a vehicle score "good" ratings in the five crashworthiness tests, have an available front crash prevention system that scores either "superior" or "advanced", and has "good" or "acceptable" headlights. Unfortunately it's that final criteria on which the Chevrolet stumbles.
According to the IIHS, the Bolt EV's lights only deserve a "poor" rating. That, the organization says, is because while they "provide fair to good visibility" for the driver of the car, they also "produce excessive glare for oncoming drivers" in the process. Chevrolet fits high-intensity discharge, and low and high beam projector lights to all trims of the Bolt EV as standard.
NOW READ: 2017 Chevrolet Bolt EV Review
Even with that blip on the record, the car still gets a TOP SAFETY PICK award. It's likely to be a big selling point for the Chevy, which although well-reviewed has been criticized by some potential buyers over concerns about its size and ensuing safety in a crash situation. Meanwhile, Chevrolet has boosted Bolt EV production and now plans to roll out the car ahead of schedule across the US.