This awesome life-size R2-D2 fridge is Japan-only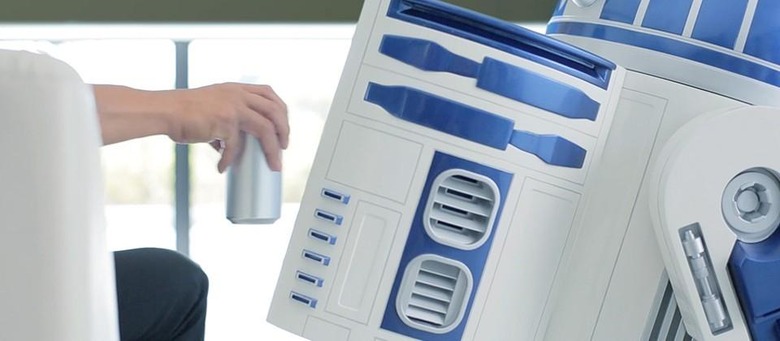 Well, Star Wars merchandising and product tie-ins continue to pour out as the release date for The Force Awakens draws near. This time, however, Japan may have topped it all, with the just announced R2-D2 mini fridge from AQUA. That's not to say the fridge is "mini," as it's actually a life-size R2-D2 model, complete with movement and sound effects. Since we've already seen R2-D2 as a lawn ornament, a showerhead, and even a humidifier, there was really no other products left to explore besides mini fridge.
Following the announcement and live media demonstration, AQUA said they now accepting pre-orders for the R2-D2 fridge on their website. Unfortunately, it is limited to addresses in Japan. It's probably for the best, however, as the fridge is priced at an astounding 998,000 yen (about $8,300).
In addition to making authentic R2-D2 sounds, and, well, moving around, the fridge can be controlled with a smartphone app. But while the object itself is pretty big, there's really only enough room for about six cans inside.
AQUA says they will begin shipping the fridge in December, almost in time for the release of Star Wars: The Force Awakens. Then again, it might be better to enjoy the movie at home, instead of trying to bring the fridge to a theater.
SOURCE Engadget JP