This 700hp 3D printed supercar wants to reinvent manufacturing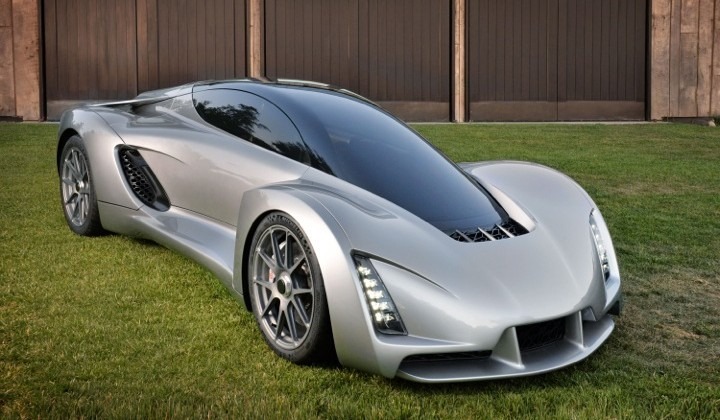 Supercars may be outlandish by default, but Divergent Microfactories' Blade goes one step further, blending 3D printing with a 700 HP bi-fuel engine. While it's not the first use of 3D printing in automotive we've seen – Local Motors revealed its fully-printed Strati last year, for instance – Blade distinguishes itself with its combination of 3D printing and carbon fiber assembly that, its inventors argue, deliver the best of flexibility and speed of construction.
Traditional car manufacturing has huge upfront costs and is highly polluting, Kevin Czinger, founder and CEO of Divergent Microfactories, argues. 3D printing, meanwhile, is highly flexible but takes a significantly longer time to produce each component.
The answer is what the startup has dubbed a Node. 3D printed, though from aluminum not plastic, it acts as a custom joint for lengths of carbon fiber tubing.
Pieced together like a huge constructor kit, it can be used to construct an entire chassis but with minimal 3D printing involved. Thanks to all that carbon-fiber, meanwhile, Divergent claims its chassis could be up to 90-percent lighter than what you'd find in a traditional car.
To try to prove the Node's worth, Divergent Microfactories is putting its money where its mouth is, and launching the Blade. Pairing the new manufacturing process with a headline-grabbing 700 HP engine that can be powered either on gasoline or compressed natural gas, Blade claims a 0-60 mph run in around two seconds, with a curb weight of around 1,400 pounds.
Unsurprisingly, Blade will be a low-production model, with an unspecified "limited number" of the boutique cars manufactured. Pricing and launch date are still a mystery.
The company's larger ambitions, though, are around spreading the Node technique. Divergent Microfactories envisages its production systems being placed within small teams around the world, initially for small-number car manufacturing, but eventually using Nodes for other structures.
It's an ambitious scheme, certainly. There's been no shortage of startups building eye-catching concept cars with sky-high performance claims; the percentage of those which actually make it to the point where they're handing over keys to owners is comparatively very low.
Best, maybe, to look past the Blade and look instead to the processes behind it. Though 3D printing has been hailed by some as the future of production, its flexibility is arguably overkill for larger-scale manufacturing: making one object at a time, printed from scratch, only adds delay. If Node can address that, that could be its biggest impact.
SOURCE Divergent Microfactories