This 4G LTE Extender could fix your bad Verizon signal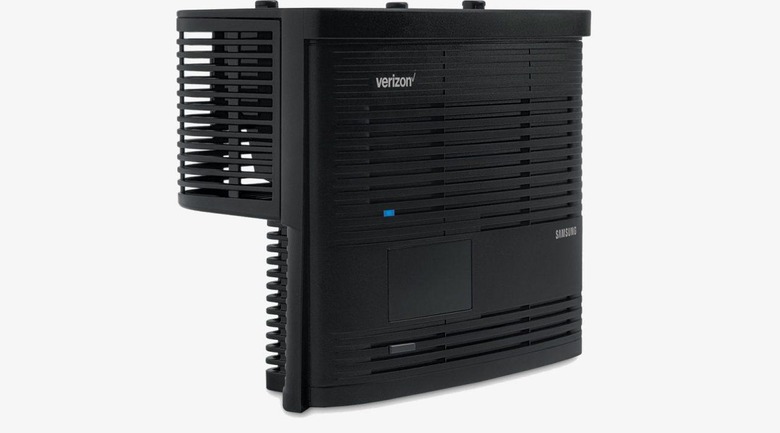 In a world with LTE Advanced and 5G just on the horizon, you'd think we'd be beyond furiously glaring at the signal bars on our smartphones and cursing poor coverage. Sadly just because carriers may be looking to next-generation networks now, that doesn't mean you'll necessarily get a decent signal at home or in the office. Now, Verizon is rolling out its new 4G LTE Network Extender 2, aiming to fill that deadspot.
It's Samsung's follow-up to the original 4G LTE Network Extender, launched back in 2016. Like that, it effectively creates a small, personal cellphone base station wherever you plug it in. Verizon says that it should deliver up to 7,500 square feet of coverage, or the equivalent of coverage in a roughly 50 foot radius around the extender.
Unlike a cellphone signal booster, Verizon's system works by passing over your cellular connection to your broadband network. The 4G LTE Network Extender 2 needs to be plugged into an internet connection, with at least 10 Mbps downlink and 5 Mbps uplink. However, the carrier recommends at least double those numbers for the very best service.
Up to fourteen active users can be connected to the extender simultaneously, getting voice and data services. The device supports 4G LTE data, HD Voice, and video calling. However, there's no 3G EVDO or 1X voice support; that shouldn't impact anybody with a relatively recent smartphone, though older devices may be left out. There's also no support for plugging in a landline phone.
Setup, Verizon says, is straightforward, and doesn't require a computer. There's an LCD display built into the front of the extender which walks through the installation process: you can mount it on the wall with an optional kit, too. It needs to be plugged into the provided GPS receiver, too, which is used for time/date and location information so that 911 emergency services calls can be completed properly.
If you start a call using the signal from the extender, Verizon says that you should be able to transition straight over to the regular network without dropping the call – assuming, that is, that there's sufficient coverage of that regular network.
The 4G LTE Network Extender is priced at $249.99, though unlike earlier femtocells we've seen, there's no ongoing subscription fee for its use. Instead, you buy it outright, plug it in, and it simply keeps working. Notably, there's no way to control which devices can connect to the box: if you've got neighbors on Verizon, there's nothing to stop their phones from using your extender's service, and indeed the only way to see that you're connected to it is to dial #48 and listen to the audio announcement which confirms that.
MORE Verizon