These HP Jet Fusion printers could revolutionize 3D printing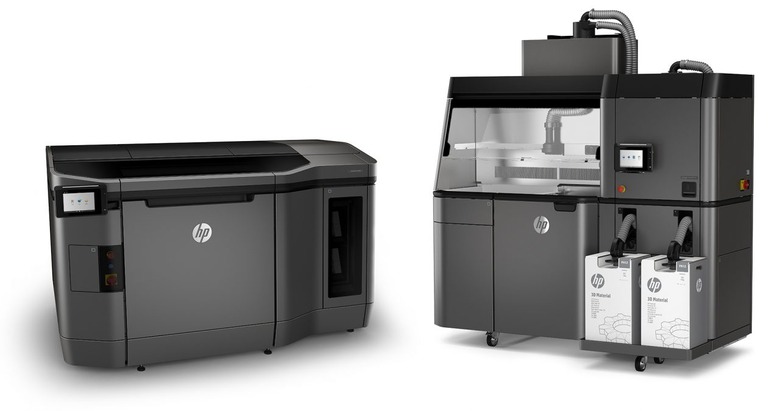 HP is ready to supercharge 3D printing, revealing its much-anticipated printers capable of up to ten times the speed at half the cost of existing technology. Dubbed the HP Jet Fusion 3D Printing Solution, the system is able to produce not just the oft-lumpy clumps of melted plastic we're familiar with from existing 3D printers, but functional, prototype-ready parts or, alternatively, market-ready customized components or tchotchkes.
HP revealed it was working on a more advanced 3D printing system back in early 2014, with CEO Meg Whitman commenting that current technology was "like watching ice melt."
In contrast, Jet Fusion 3D Printing is both faster and more precise, borrowing processes from ink jet printers to lay down tiny amounts of thermoplastic. By using thousands of nozzles in each pass, the printers can mix different colors and even materials in a single sweep.
It was enough to convince early 3D printing adopter Shapeways, which committed to offering the HP printers when they were available. A tray of prints that would currently take 20-40 hours to produce, the company said, could be done in 4-5 hours and for less cost.
Now, we know exactly what those printers will be like, though unfortunately they're hardly home-friendly.
Cheapest will be the HP Jet Fusion 3D 3200 Printer, intended for smaller-scale prototyping though still with more capacity for ramping up production later on than traditional 3D printers.
Those wanting greater performance have the HP Jet Fusion 3D 4200, which is rated for both prototyping and short-run manufacturing. Both get a suite of companion software and the HP Jet Fusion 3D Processing Station with Fast Cooling.
Down the line, though, things get even more interesting. Conductive inks and other electronic parts could allow the printers to produce objects with "embedded intelligence" such as sensors for the Internet of Things, HP says, while another possibility is an invisible or digital fingerprint, trace, or code for security and tracking.
In effect, objects could be produced with their own, encoded "digital DNA" to make each unique.
The printers will even end up printing themselves, at least in part. In fact, HP predicts that up to half of the custom plastic parts used in the Jet Fusion printer range will end up being produced with Multi Jet Fusion technology, rather than the current molding processes.
None of this comes especially cheap – the HP Jet Fusion 3D 4200 will be $130,000 when it arrives late this year, while the HP Jet Fusion 3D 3200 will be $155,000 and is due to go on sale in 2017 – but the cut in printing time and the dramatic increase in accuracy and quality of finish may well be sufficient to offset any extra cost.