These 4 features of Bentley's outrageous concept have production in mind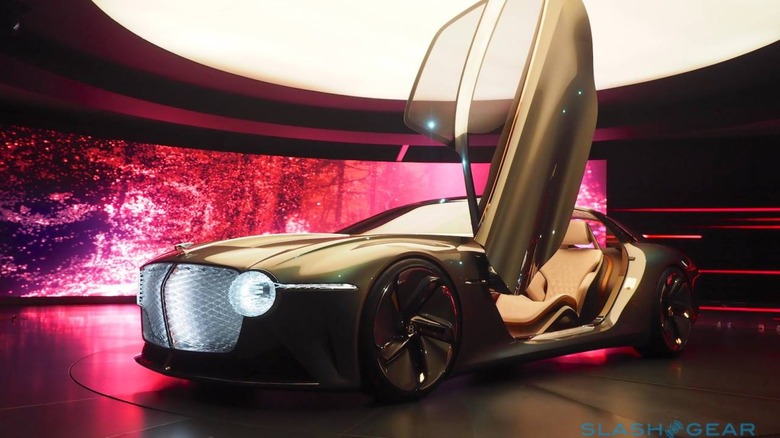 Concept cars like the Bentley EXP 100 GT are eye-catching – and extreme – showcases of blue sky thinking at car companies, but according to the British automaker the huge luxury grand tourer also represents a roadmap of sorts for future production vehicles. While that might seem hard to believe, given features like the vast illuminated, animated grille and 6.5 foot long doors, the reality is that Bentley has used its concept to preview several features it intends to bring to market.
Electrification runs deep in Bentley's future
Ever since its beginnings a hundred years ago, Bentley has been associated with huge gas engines. That's all changing, starting from 2019, with the introduction of a comprehensive electrification plan from the automaker. First up is the Bentayga Hybrid, the gas-electric version of the automaker's luxury SUV. However that's just the start.
Come 2023, Bentley promises, there'll be electrified versions of all its cars. Now, "electrification" has become something of a catch-all term in recent years, encompassing everything from 48V mild hybrids through to plug-in hybrids and battery-electric cars along the way. So, I was curious to see just how committed to the technology that Bentley actually was.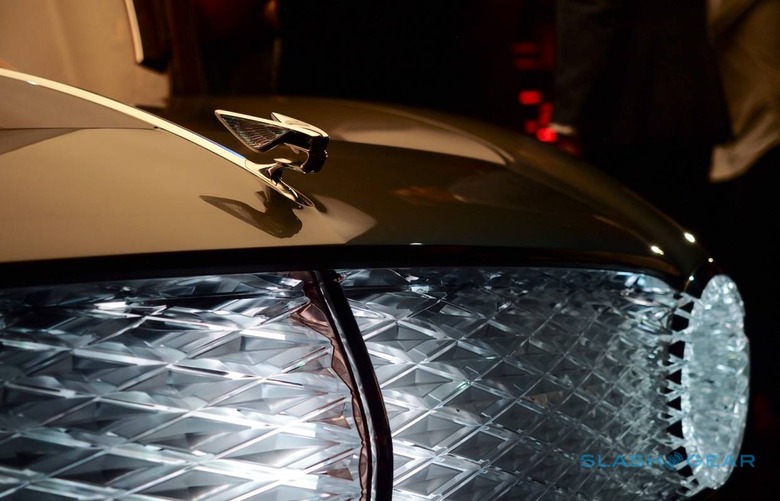 According to a company spokesman, the answer is that the Bentayga Hybrid system is pretty much the minimum Bentley will be considering. Anything less than its all-electric range – which is rated at 16 miles on the EPA cycle, though the automaker expects more than that in practice – wouldn't be acceptable, I was told. That means no mild hybridization, using an electric starter-generator but with minimal all-electric range.
Come 2025, though, and the first all-electric Bentley will arrive. If it's anything like the EXP 100 GT, that will mean a potent EV drivetrain: the concept car musters 0-60 mph in under 2.5 seconds, a top speed of 186 mph, and over 1,100 lb-ft of torque. Bentley also envisages it having around 435 miles of range on a single charge.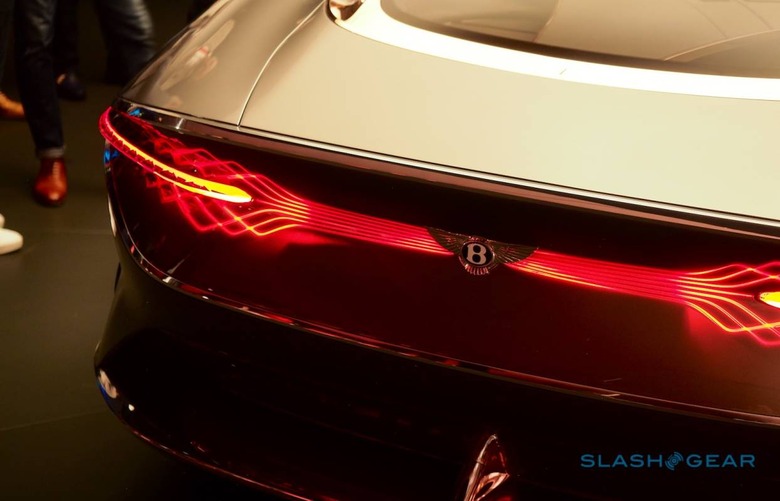 The production EV is unlikely to copy the EXP 100 GT exactly. The centenary concept has four electric motors, for example, one for each wheel. I'd expect Bentley to be a little more conservative in practice, probably sticking to a single motor for each axle. Still, plan on lashings of torque and horsepower.
Next-generation seat comfort
With buttery-soft leather, plenty of padding, and both multiple electric adjustment and massage, it's not like Bentley's current seats are anything to complain about. What's in the pipeline – and demonstrated first with the EXP 100 GT – are a set of new seats, however, which could be exponentially more comfortable.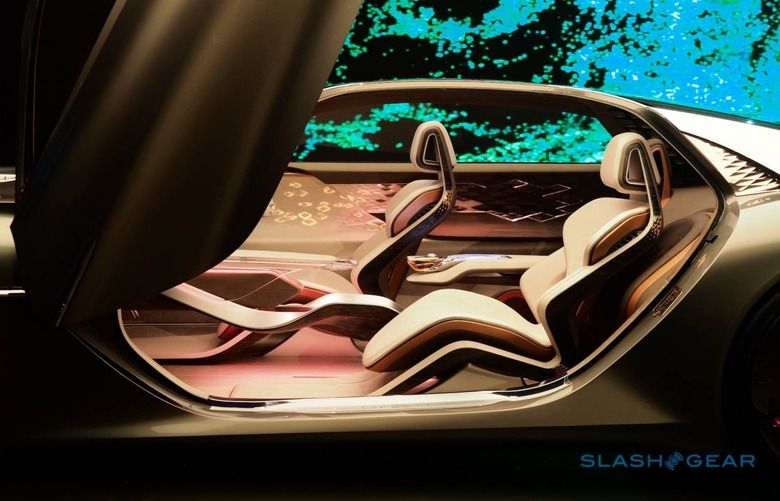 Each is made up of numerous pads, which can be individually controlled to provide precise support according to how the occupant is sitting. Lean toward the door, for example, and the seat will ramp up support on that side. Slump down, and it can crank up the lumbar support to match. It sounds far-fetched, but according to Brett Boydell, Head of Interior Design at Bentley, it's one of the aspects of the concept car that could arrive more imminently.
"So the technology that we're showing on the seats, where we have individual cell technology that adapts to all of your form, that's actually something we're developing," he explained to me. "So that's very much literally on a roadmap we're working on right now."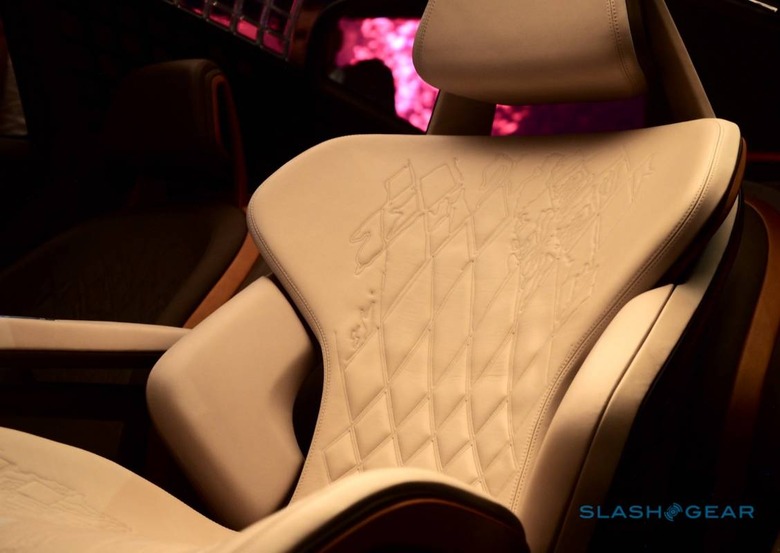 The materials of luxury are changing
Leather, wood, and metal. The palette of luxury has been fairly stable for the past few decades, and Bentley has certainly invested in artisans and craftspeople capable of doing magical things with veneers, hides, and stitching. The EXP 100 GT, though, upends some of those expectations.
Sustainability is increasingly something Bentley customers are asking about, interiors chief Brett Boydell told me, particularly among the automaker's younger clientele. That has prompted the company to look further afield than normal, as it comes up with a new array of interior trims.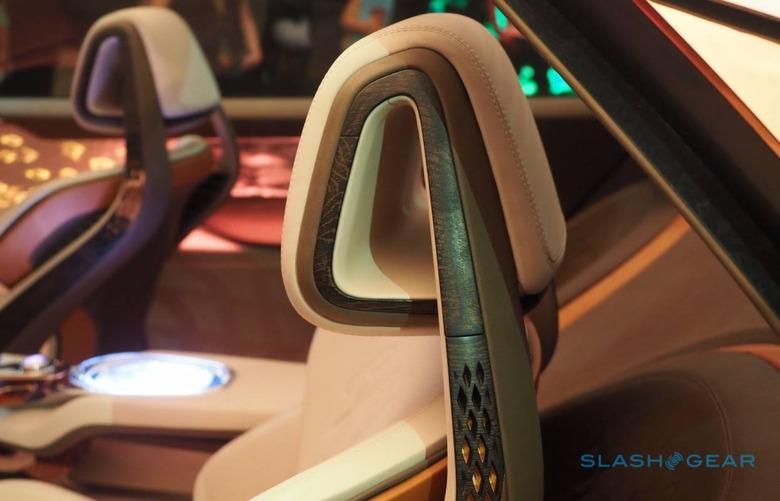 The EXP 100 GT, for example, has artificial leather made from a byproduct of the wine industry. In the concept car it sits alongside traditional leather – albeit with a different treatment, that Bentley also expects to offer on production models – but it paves the way for an eventual vegan interior option for those who want it.
Then there's the wood. Bentley's team sources it from all over the world, but the Copper Infused Riverwood in the EXP 100 GT comes from closer to home. Preserved for 5,000 years in peat bogs, lakes, and rivers, it's harvested by The Fenland Black Oak Project, and its color and grain will evolve in unique ways over the years for each car. Previously, it would've been burned as waste, but Bentley has snapped up pretty much the whole supply to offer as an exclusive Mulliner trim option in its future production cars.
A virtual chauffeur
Is the car of the future an anodyne box which soullessly shuttles you from A to B? Bentley isn't convinced, and while the striking design of the EXP 100 GT is its stake in the ground when it comes to keeping style a key focus in the decades to come, the role of the driver is just as important. The goal, the automaker says, is to give occupants the choice: leave the driverless technology to handle the boring sections, and then take over yourself when the roads get interesting.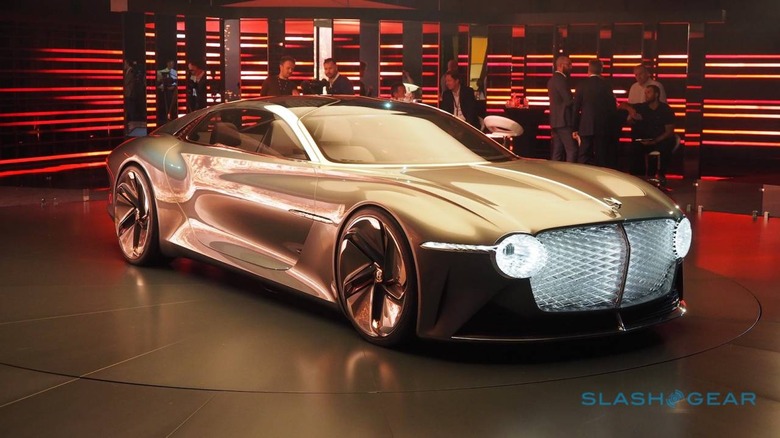 In autonomous mode, the seats can recline into loungers, and indeed the car's whole cabin can turn into a ridiculously spacious two-seater configuration. Switch to manual mode, and the steering wheel extends from the front bulkhead, along with pedals and other traditional controls. Bentley's AI is able to make suggestions as to which sections of road you might be interested in driving manually, and which you may want to leave to the car.
Fully autonomous driving is, of course, still some way out from production vehicles. However we can expect more driver assistance from Bentley in its cars, as they gain more abilities on the road. There, it can benefit from semi-autonomous technologies developed by VW Group stablemates like Audi, as we close in on the day where you could effectively leave your human chauffeur at home.