The Bentley EXP 100 GT is an unexpectedly real vision of 2035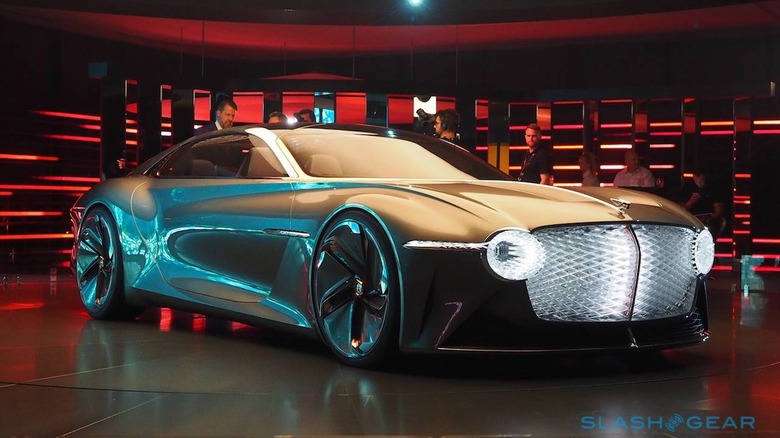 When it's your 100th birthday you celebrate, and if you're Bentley that means an electric car concept as lavish as it is technologically promising. Unveiled at the automaker's Crewe factory today, the Bentley EXP 100 GT is the company's vision of what luxury mobility will be in 2035, in an age company founder W.O. Bentley could hardly have imagined.
Along the way the car checks off some of the must-haves of modern concepts: electrification, autonomous driving, artificial intelligence, and shared services. Unsurprisingly, though, it does it in a way that's distinctly... Bentley.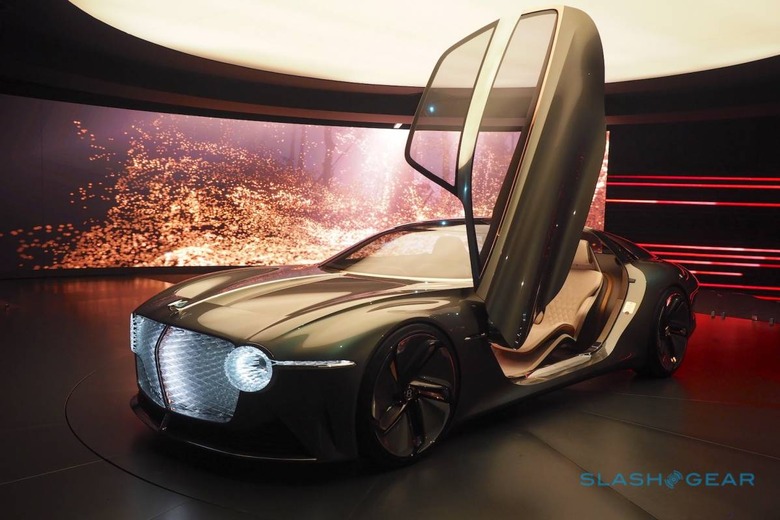 Classic Bentley, made throughly modern
The Bentley Continental is arguably the car that best defines the automaker. A Grand Tourer intended for effortless long-distance travel, it's the epitome of power, luxury, and craftsmanship. Now, in the EXP 100 GT, it has a high-tech descendent.
What this isn't is a vision of the future where cars retire into the background. The EXP 100 GT is nothing if not dramatic: vast doors over 6.5 feet long, which open out and then up like hornet wings; glistening copper and aluminum; and an illuminated, animated grille and mascot. Bentley even throws in a 3D OLED screen on the back.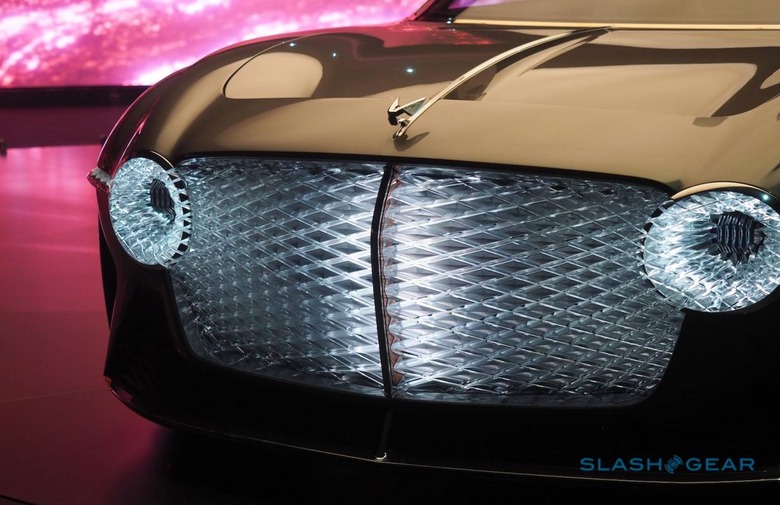 You couldn't mistake it for anything other than a Bentley, certainly. The grille is overlapped by round headlamps, reminiscent of the Bentley Blower, while the muscular haunches at the rear are a visual theme started by the R-Type Continental and present on the Continental GT today.
It has presence, too. Partly that's down to the sheer scale: at 19 feet long and almost 8 feet wide, this is no small car. Even without a production vehicle alongside to give the size some context, it's obvious that the EXT 100 GT's designers went the "bigger is better" route. However it's detailing like the paintwork too, a new color Bentley has dubbed "Compass" which uses a pigment made from rice husk ash, a by-product of the rice industry.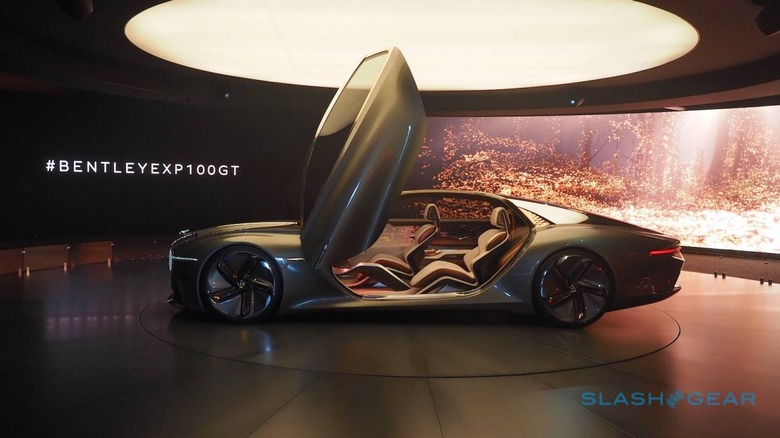 Lighting plays a key role. The matrix grille and Flying B mascot illuminate and animate as you get close, waves of light flooding across them and then up, along the central spine of the hood and into the cabin. At the rear, the 3D OLED panel is blended with the lamps.
Sustainable luxury
Bentley says it designed the EXP 100 GT from the inside-out, its cabin as much a love-letter to the capabilities of its craftspeople as it is a showcase of their talents. There's wood, leather, and metal, of course, but constructed in new and interesting ways, and coming from sustainable sources.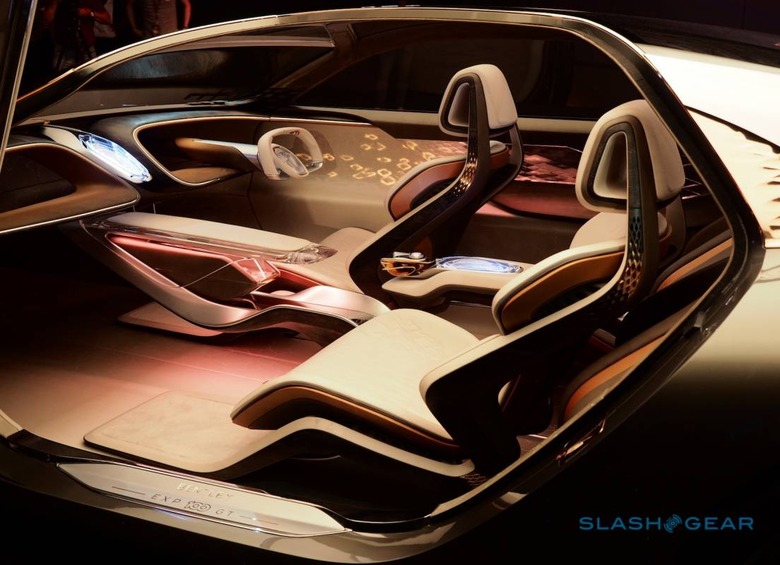 The Bridge of Weir leather, for example, is sourced from Scotland and comes in a Super Natural finish; it sits alongside a bio-based leather-like material developed for Bentley, however, made from the by-products of wine-making. They're embroidered with a special pattern by Hand and Lock, a British company using techniques dating back to 1767, which help them seamlessly flow into the woodwork.
That wood is Copper Infused Riverwood, that comes from naturally fallen trees that have been preserved for 5,000 years in peat bogs, lakes, and rivers. Sustainably harvested, it's sourced from The Fenland Black Oak Project. Previously, Brett Boydell, Head of Interior Design explained to me, that wood was getting burnt after it was dug up. Bentley's team recognized its key qualities, however – it's exceptionally dense, for example, and so can be readily carved and used in structural ways such as in the seats – and pretty much snapped up all the usable pieces.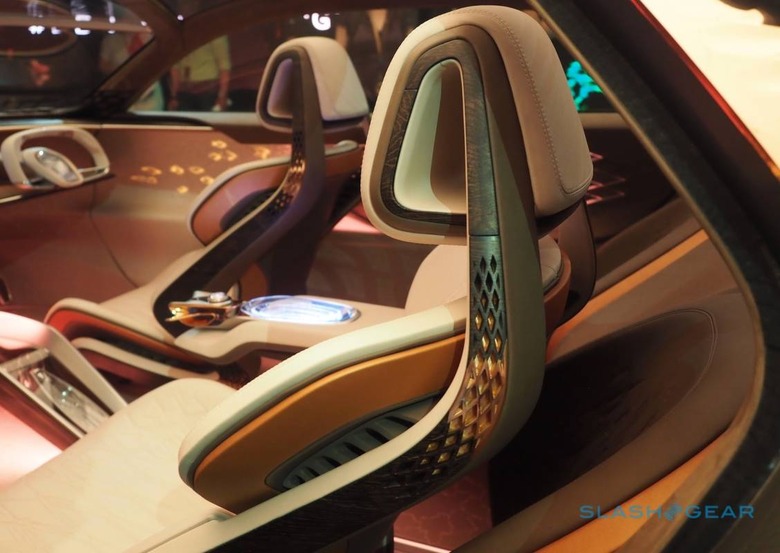 A glass roof is embedded with prisms that can gather light and then pass it into the cabin via fiber optics. Ambient lighting, meanwhile, is accompanied by projection mapping onto the trim panels, such as the doors. The Bentley Personal Assistant is embodied by a piece of illuminated crystal embedded into the dashboard, with hand-cut sections that are supposed to be reminiscent of neurons firing.
Bentley Personal Assistant
Bentley's AI is a digital butler and chauffeur for 2035, designed to learn from the passenger's needs and pre-empt them as much as possible. It can adjust the seating position automatically, for instance, reacting to how someone is sitting, or whether the EXP 100 GT is being driven or in autonomous mode. Biometric sensing includes eye and head movement, along with blood pressure.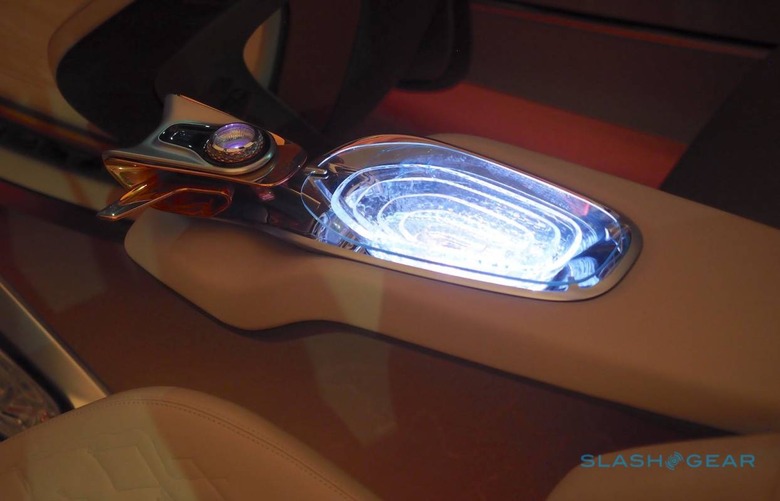 Hand gestures can be used to control the AI, and switch between five different Grand Tourer modes. Enhance, for instance, promises to bring qualities of the outside – like light, sound, and even smell and air quality – into the EXP 100 GT, blurring the lines between coupe and convertible. Cocoon goes the opposite way, turning the glass opaque and creating a protective space filtered from the outside.
Undulating air vents breathe out purified air, while the Bentley Personal Assistant tracks metrics like CO2 levels in the cabin. If the scent of the outside isn't sufficiently beguiling, there's a special fragrance for the car, co-created with 12.29, with hints of sandalwood and fresh moss.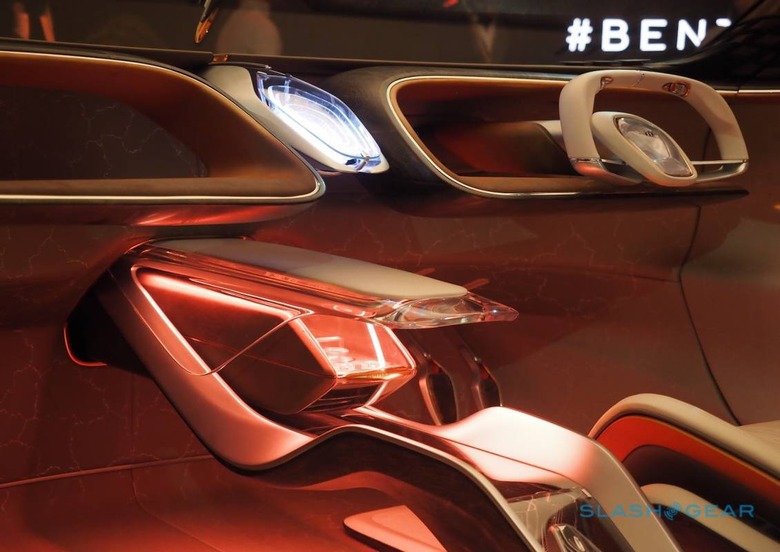 Capture records key events from inside and outside of the car, building a travelogue of the EXP 100 GT's history. Re-Live then replays those highlights. Finally, there's Customise, which allows different elements of the other four modes to be woven together by the owner.
As for the controls, there's a combination of tactile physical knobs and dials, and flexible digital panels. The rotary switchgear is milled from copper and aluminum, while transparent OLED panels are embedded in the doors. There's a large entertainment screen in the front, intended to show movies and other content while the EXP 100 GT is driving itself.
Fully-electric, fully-engaging
The EXP 100 GT may be a concept, but that's not to say Bentley's vision of electrification isn't also a work in progress for production cars. Just recently we drove the first hybrid in Bentley's history, for example, the 2020 Bentayga Hybrid. By the end of 2023, the automaker says, every car in its line-up will have an electrified version of some sort.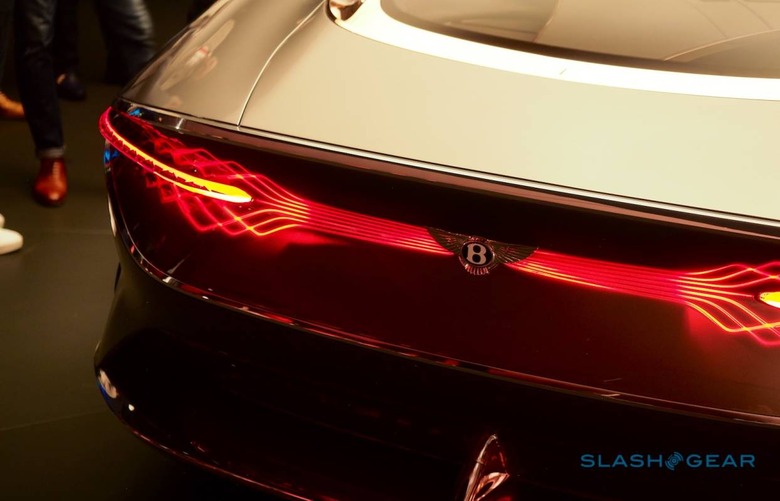 Things will get even more interesting by 2025. That's the point by which the British carmaker promises its first all-electric vehicle will be unveiled.
That car could do worse than to borrow the EXP 100 GT's drivetrain. Capable of 435 miles on a single charge, the batteries power four motors: one for each wheel. 0-60 mph arrives in under 2.5 seconds, and the EV will keep going all the way to 186 mph. Not bad for something weighing close to 4,200 pounds.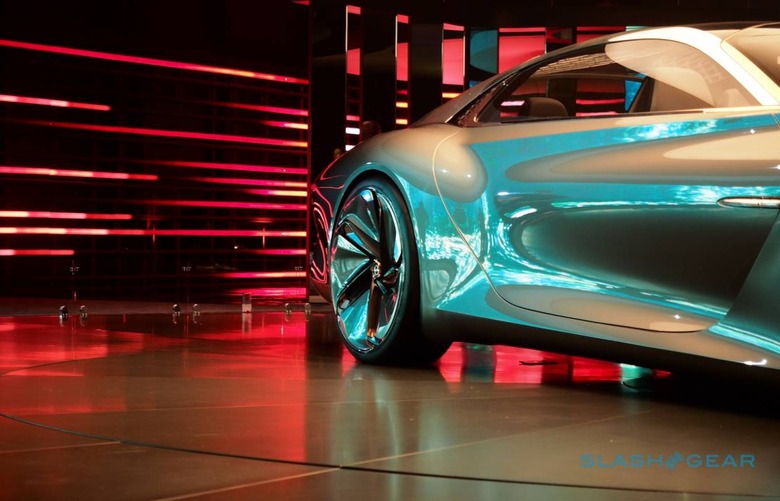 Devoting a motor to each wheel pays some significant dividends. For a start it means all the steam train-like torque a Bentley is known for, the EXP 100 GT mustering 1,106 lb-ft in total. However it also allows the automaker to do full torque vectoring, shifting power front to back as well as side to side, depending on traction and how aggressively you take a corner.
That's assuming you're doing the driving, mind. The EXP 100 GT also offers a self-driving mode, the Bentley Personal Assistant becoming your chauffeur. Its routes don't only take you from A to B, but include suggestions for experiences along the way.
A car that morphs and evolves
Some of the Bentley EXP 100 GT's features are more futuristic than others. The Active Aero Wheels, for example, can morph between shapes suited to maximum efficiency or to boost performance. They're shod with Intelligent Tires that can adapt their contact patches with the road based on weather conditions or the drive mode.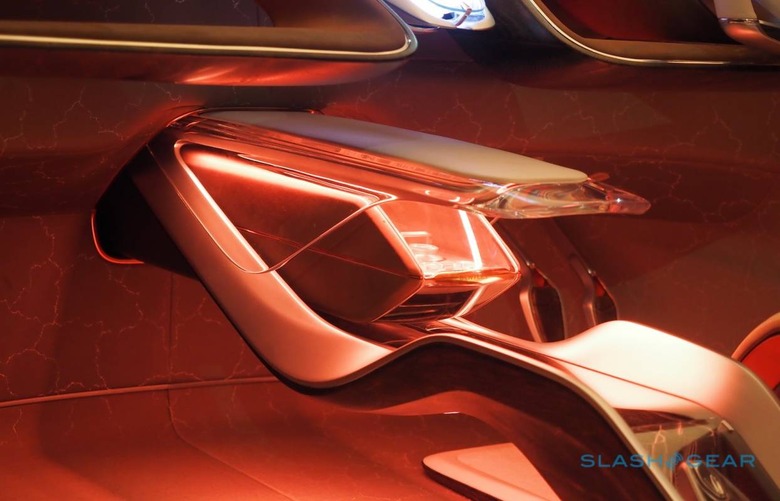 Meanwhile in the center of the cabin there's a cartridge system, that's part of what Bentley envisages as a potential luxury subscription service. Alongside a purified water decanter and crystal glasses, there's a system whereby different cartridges can be loaded in from a storage area under the hood. That could be anything from a special bento box through to mementos from a particular trip.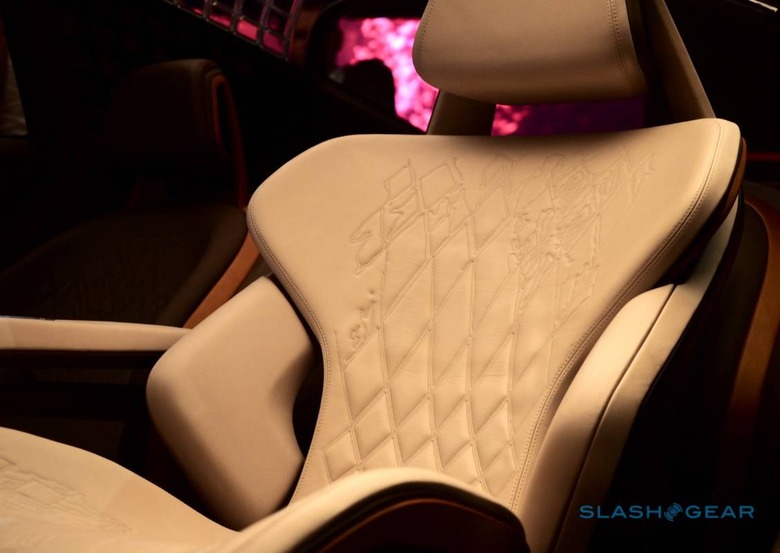 Even the seating can change, depending on how you want to use your grand tourer. In two-seat mode, the front seats push back and fold out into loungers, the steering wheel retracting into the front bulkhead as the AI handles more monotonous routes. Alternatively, though, the seats can pull forward and reveal two rear chairs, giving the EXP 100 GT space for four.
Another 100 years of Bentley
It probably goes without saying that the automaker has no current plans to build a production version of the EXP 100 GT. Tempting as it might be to view the concept as a blueprint for a next-generation Continental GT, it's really more of a visualization of some of the themes the automaker expects to be important in the coming decades. Not to mention a justification for why luxury car companies like Bentley will still be important and relevant in the driverless years to come.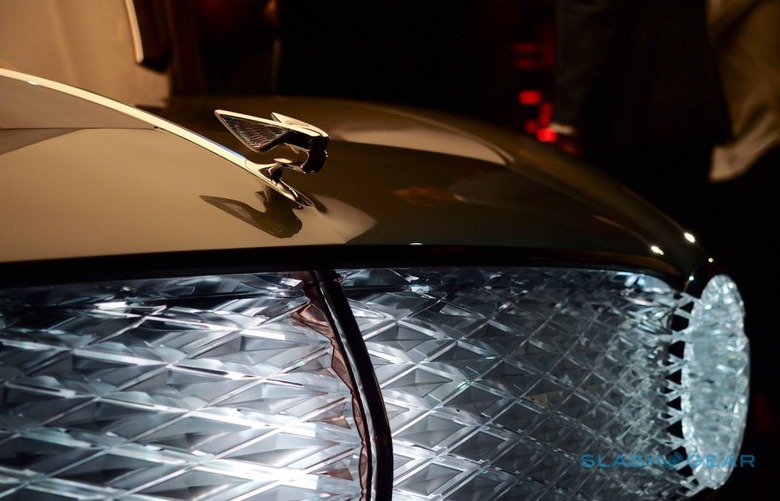 Key to that is engagement. "The Bentley EXP 100 GT represents the kind of cars we want to make in the future," Stefan Sielaff, Director of Design at the carmaker, says of the concept. "Like those iconic Bentleys of the past, this car connects with its passengers' emotions and helps them experience and safeguard the memories of the really extraordinary journeys they take."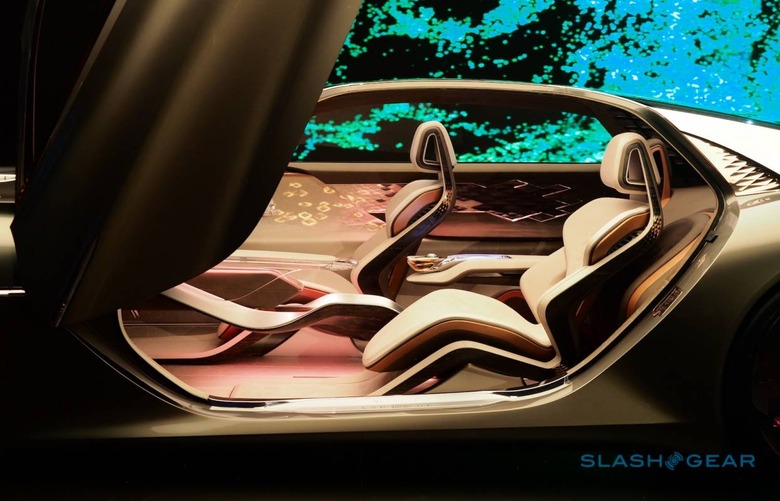 What it isn't, though, is a pure flight of fancy. "Nearly everything in the car has a production roadmap," interior design chief Brett says of the concept. "The reality is that everything had a roadmap developed. Now some of those things are taking some more jumps in technology ... and other things are actually more about tomorrow, and we already have development programs in place for them."
By example, Boydell points to the adaptive seats which adjust their multiple sections to dynamically support the occupant. "So the technology that we're showing on the seats, where we have individual cell technology that adapts to all of your form, that's actually something we're developing," he explains. "So that's very much literally on a roadmap we're working on right now."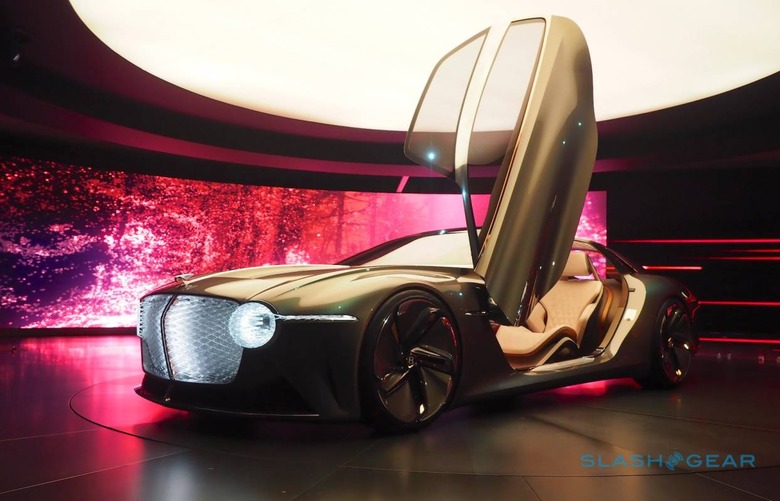 The reality, Boydell highlights, is that while 2035 might still feel like some way out, in automotive terms it's just two car cycles. That cadence for the EXP 100 GT was very intentionally selected: while the roadmap for all of the technology demonstrated may not culminate at the same time, Bentley is more confident than most concept-presenting automakers tend to be that what we see here is achievable. Not bad for a company steeped in classic luxury, and a vision of Bentley that looks more forward than it does back.