Theranos CEO Banned From Running Lab For 2 Years By US Regulators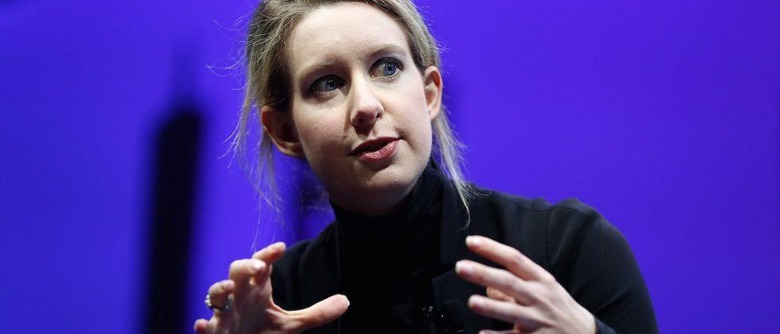 Over the last year, blood-testing startup Theranos has fallen from its position as a rising star in Silicon Valley. The company has become the subject of several federal investigations, been accused of false advertising and unreliable test results, and found to be operating without FDA approval, all following an investigation by The Wall Street Journal eight months ago over recurring irregularities. Now Theranos founder and CEO Elizabeth Holmes has been federally banned from running a US lab for the next two years.
The ban, along with other sanctions, is imposed by the Centers for Medicare & Medicaid Services (CMS), and applies to other owners and operators of the medical company. Theranos has also been ordered to pay a fine of an undisclosed amount, had its Clinical Laboratory Improvement Amendments (CLIA) certificate revoked, and is no longer allowed to receive Medicare and Medicaid payments.
While the ban and certification cancellation won't officially go into effect until 60 days from now, a statement from Theranos says it will cease all patient testing at its Newark, California lab immediately.
The statement, posted on Theranos' website, includes the following from Holmes:
"We accept full responsibility for the issues at our laboratory in Newark, California, and have already worked to undertake comprehensive remedial actions. Those actions include shutting down and subsequently rebuilding the Newark lab from the ground up, rebuilding quality systems, adding highly experienced leadership, personnel and experts, and implementing enhanced quality and training procedures.

While we are disappointed by CMS' decision, we take these matters very seriously and are committed to fully resolving all outstanding issues with CMS and to demonstrating our dedication to the highest standards of quality and compliance."
The fallout from the WSJ's investigation has resulted in Theranos voiding thousands of its past test results, an end to its partnership with Walgreens, and now lawsuits from shareholders. Prior to this unraveling, the company was valued at $9 billion, while Holmes' net worth dropped from $4.5 billion to zero in a Forbes evaluation just last month.
Even Hollywood has been drawn to the rise and fall of the healthcare company, with an Adam McKay-directed movie in the works, starring Jennifer Lawrence as Holmes.
SOURCE Theranos