The Office Netflix exit begins with full Threat Level Midnight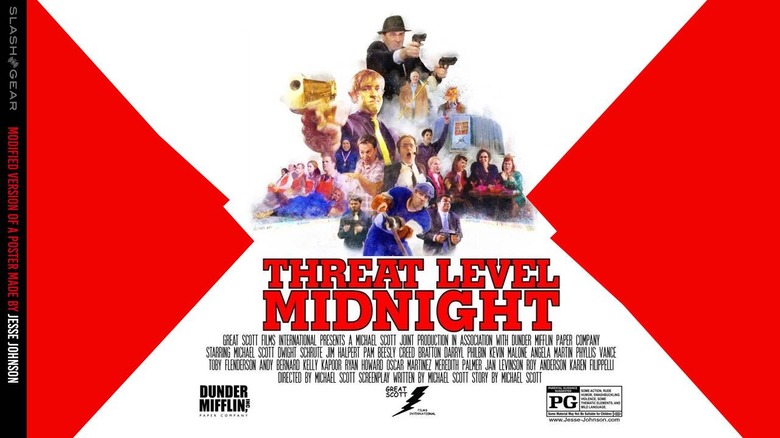 The movie "Threat Level Midnight" from The Office is now available for viewing in its entirety for the first time EVER. This movie was included in clips in an episode of The Office, cut apart by the episode in which the main characters of the show react to what's shown in the movie. It's a masterpiece – and it's just one of SIX new clips released by The Office's official PR group here at the tail end of 2019.
First watch Threat Level Midnight, obviously. This is the masterpiece, the clip you all came to see. The Michael Scott-made epic took 11 years to edit, but it was WORTH IT. This release was made possible by the people behind the official The Office YouTube channel, and the rights are still owned by NBC. At this moment it does not appear that any rights for this "episode" will be open to Netflix, but you never know!
While Michael Scarn is certainly the jewel in this crown of treasures, we've got a few other clips from the official The Office collection below. These were also just released in December of 2019, and all are "exclusive" to some degree or another. They're not necessarily "canon", as far as canon goes for The Office – but they're still neat!
Above you'll see a clip called "Jim Scares Dwight Prank." This is the Jim/Dwight prank you didn't see in Season 5 Episode 10 "The Surplus", plus a few other bits from that episode that were cut from the final release.
Next is "Does Andy Have Gonorrhea?" This is a clip of Andy talking about... you know... stuff... then a set of other clips from Season 4, Episode 7 and 8, in which "Michael tries to combat his growing debt by asking employees for loans" and "Jim and Pam spend a night at Dwight's family farm."
Above is a set of scenes from Season 8, Episode 24 "Free Family Portrait Studio", in which "A former boss helps Andy go under cover and stage a coup" and "a new opportunity arises for Robert." The clip above goes by the name "Did he just ask for a threesome?"
The "What if Dwight was JFK" clip above includes a series of scenes from Season 5, Episode 7, "Customer Survey." Below you'll see "David Wallace makes Ryan cry" from the episode "Weight Loss". This scene shows David Wallace "furious to learn that criminal Ryan has been re-hired by Michael Scott."
It'll be interesting to see if these sorts of "deleted scene" and "exclusive clip" videos make their way to the new platform for The Office after the program leaves Netflix – 2021 it is! That goes for The Office, Parks and Rec, and Seinfeld, too! The time is growing short!