The need-to-know on Qualcomm Snapdragon 820's Adreno 530 graphics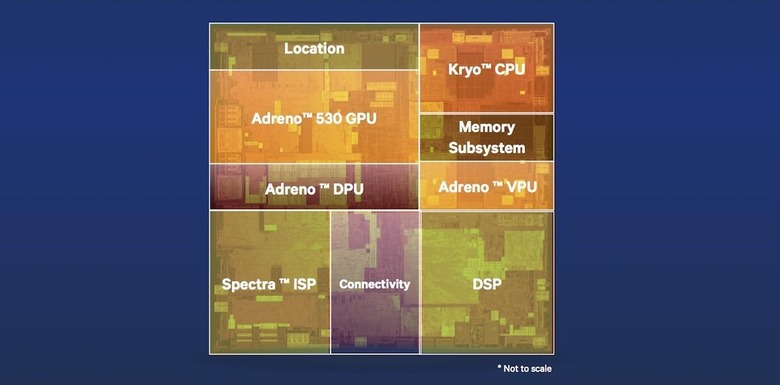 Qualcomm has taken the wraps off of its latest Adreno graphics architecture, the potent GPU to be found in its next-gen Snapdragon 820. The Qualcomm Adreno 5xx series will include GPUs like the 530, intended for the Snapdragon 820, and more affordable versions like the 510, which will be headed for the upcoming Snapdragon 610/618. Rather than throwing numbers at the wall, however Qualcomm says that this time around it started with some key user experiences and worked backwards; I sat down with the company's chip execs at SIGGRAPH 2015 this week to find out more.
"820 for us is a whole bunch of new IP and new technologies," Qualcomm's Tim Leland, VP of product management, explained. "Oftentimes it's a mistake as a chip company to go for 'more', 'better', 'higher', 'faster' from a chip."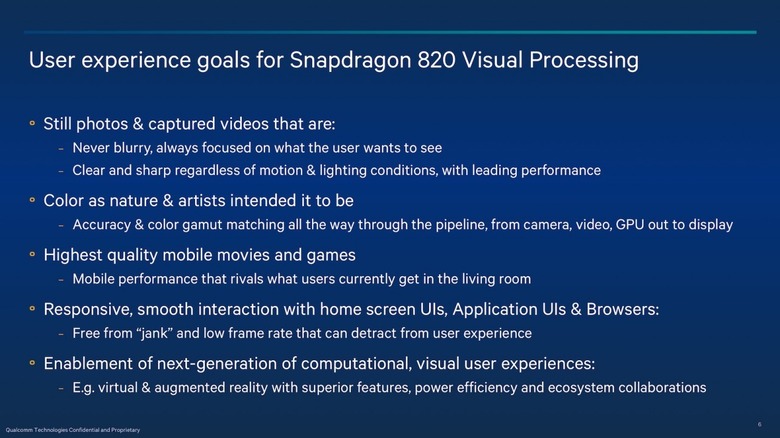 Instead, the company challenged itself in areas like photography, accurate colors from camera and game through to the display, not to mention movies and games that are the equivalent of Blu-ray and full games consoles.
Everyday usability was a key factor, too: devices that squeeze out the last remnants of judder and stutter, whether that be how smoothly you scroll through an app list or how cleanly a mobile browser zooms.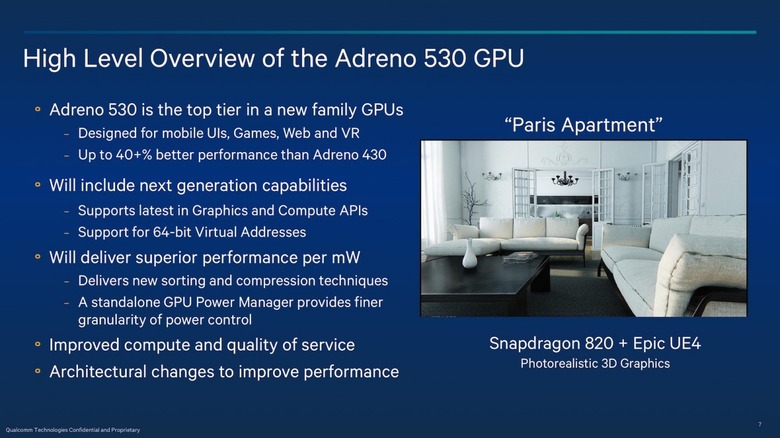 Finally there's an increasing amount of attention on virtual reality and augmented reality. Mattel's upcoming View-Master will be an affordable path to that, pairing Qualcomm's Vuforia AR engine with Google Cardboard, but Qualcomm also has an eye on getting Snapdragon 820 into more ambitious hardware like wearables.
That includes things like native support for foveated rendering, where the most graphics processing is focused on the area of the frame where the user is actively looking.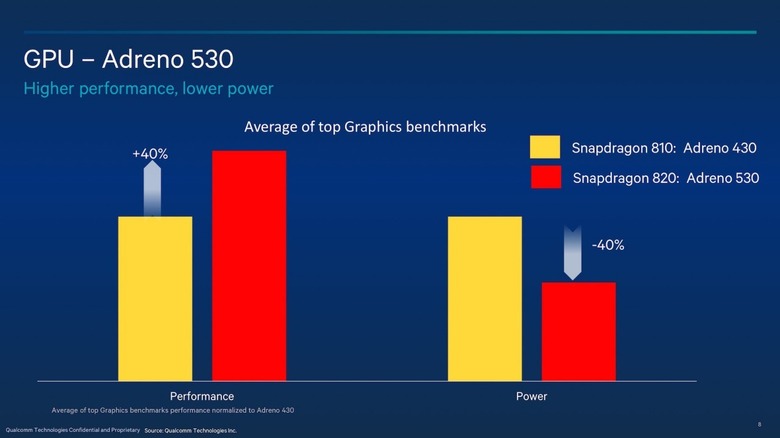 That's not to say there aren't some impressive numbers attached too, mind. Publicly, Qualcomm is saying that the Adreno 530 should use 40-percent less power but deliver 40-percent more performance than the Adreno 430 before it; according to Leland, that performance jump statistic is actually on the conservative side.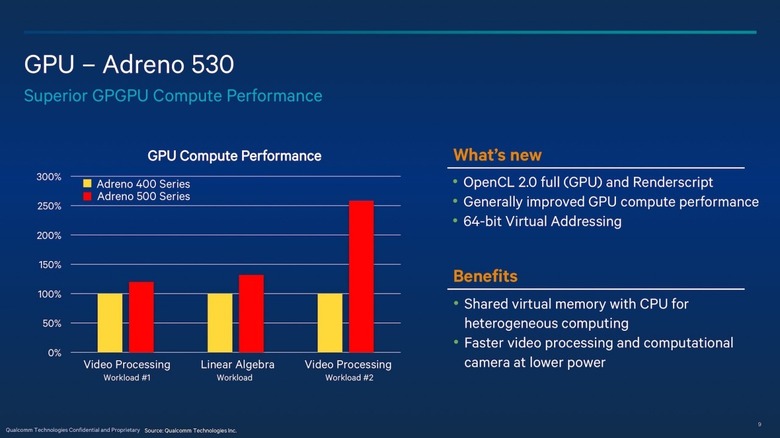 How much of an improvement people see will in no small part be related to what rendering engine the 530 is tasked with running. Out of the box there'll be support for OpenGL ES 3.1+AEP, Renderscript, OpenCL 2.0, and Vulkan, though it's the latter which could prove the biggest disruptor.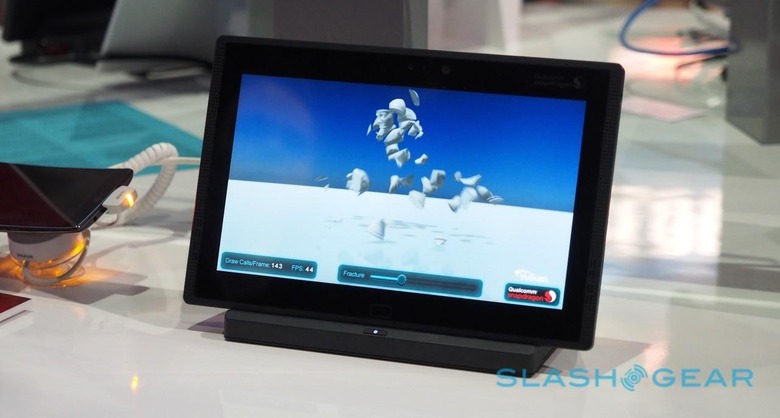 In fact, even with prototype drivers running on the existing Snapdragon 810 chipset, Qualcomm is seeing a roughly 10x improvement over OpenGL ES when using Vulkan.
Then there's image processing. The other big introduction in the Snapdragon 820 is the Qualcomm Spectra image signal processing (ISP) unit, a new 14-bit pipeline for crunching mobile device photography.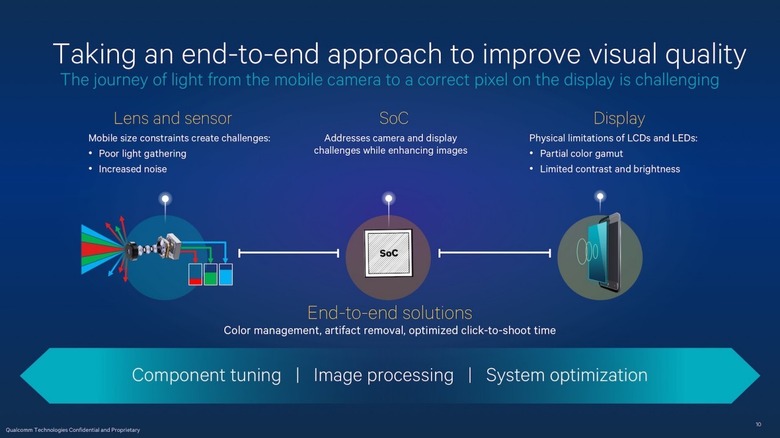 "The ISP has to be better than you'd get in a [standalone camera]," Leland argues, simply to overcome the limits a small phone camera sensor and plastic lens suffers in terms of light and noise. Snapdragon 820 will support up to three cameras used simultaneously: a front-facing camera and a pair of 13-megapixel stereo cameras on the back of the device, for instance.
Alternatively, rather than that stereo pair manufacturers will be able to use up to a 25-megapixel single main camera. Whatever they decide, there's support for various jugglings of hybrid autofocus, like combining contrast detection with phase-detection or laser systems.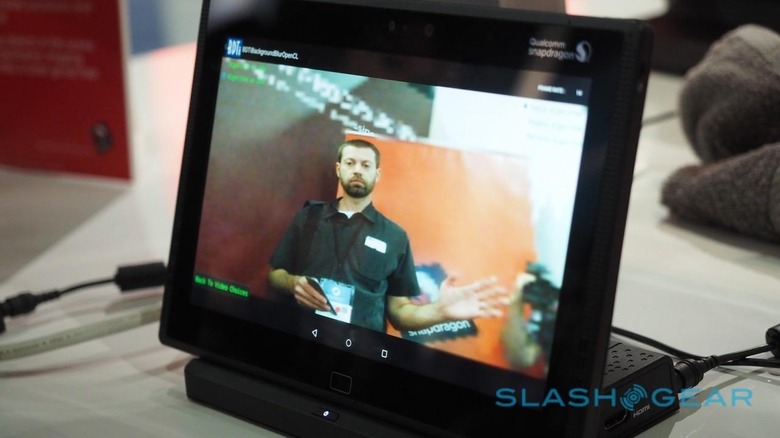 There'll be more flexibility in the route camera data can take, too. Spectra supports running a raw feed from the sensor through pre-processing – such as the proprietary algorithms that imaging-schooled OEMs such as Sony might want to apply first – before it gets anywhere near the main DSP. A similar technique is used for applying so-called Zig Zag HDR.
Qualcomm clearly expects stereoscopic cameras to be increasingly prevalent, and so Spectra will support things like depth maps so that apps can do things like selective refocusing: adding bokeh-like blur to the background while automatically keeping the foreground subject in focus, for instance.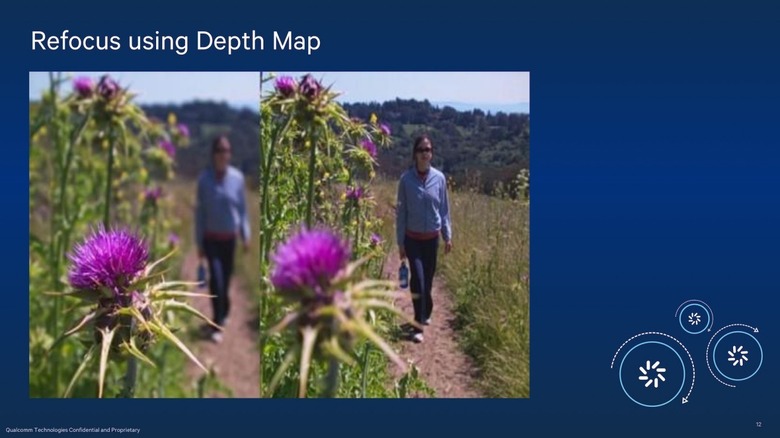 There's the promise of more discretely-stitched sweep panoramas, too, along with more accurate skin tones. Qualcomm will use the 820 to commercially launch its scene detection system, too, a computer-vision library that can be taught up to 1,000 categories to identify, such as outdoor/indoor, whether people, animals, or food are visible, time of day, and more.
That has clear applications in camera and gallery apps – automatically adjusting scene settings depending on what's in the frame, and then later filtering the results according to the same criteria – but Qualcomm says it's also been of interest to automotive companies.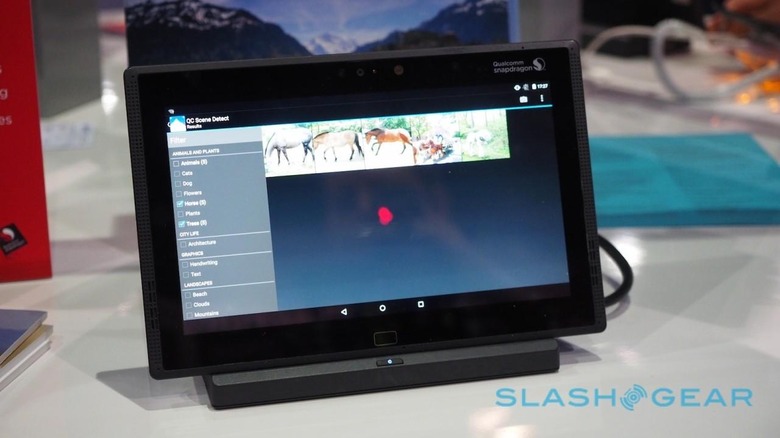 Navigation systems and self-driving cars could use the same technology to interpret signs and other road traffic, for example, and since the system all runs locally rather than in the cloud, it's quicker and more resilient to slow or patchy network connections.
On the output side, 4K is unsurprisingly catered for. "We've been talking about 4K for a while, but now it's here," Leland points out. "4K televisions have arrived, but also 4K virtual reality devices."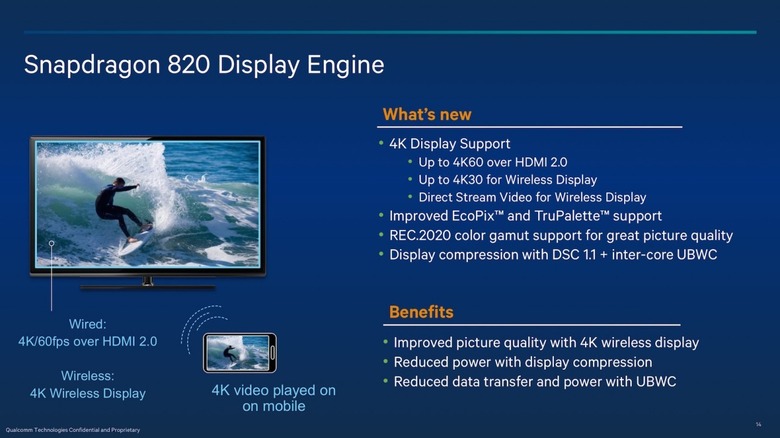 As a result, Snapdragon 820 will support wired 4K outputs, but also the new 4K/30fps Miracast standard for wireless streaming.
Altogether, Qualcomm is aiming for a user experience that's both immersive and intelligent: "not having to tell your device how to configure itself for actions that should be intuitive," as Leland describes it. That extends to the touch experience, too, with the 820 debuting the fruits of Qualcomm's acquisition of a touch controller algorithm specialist.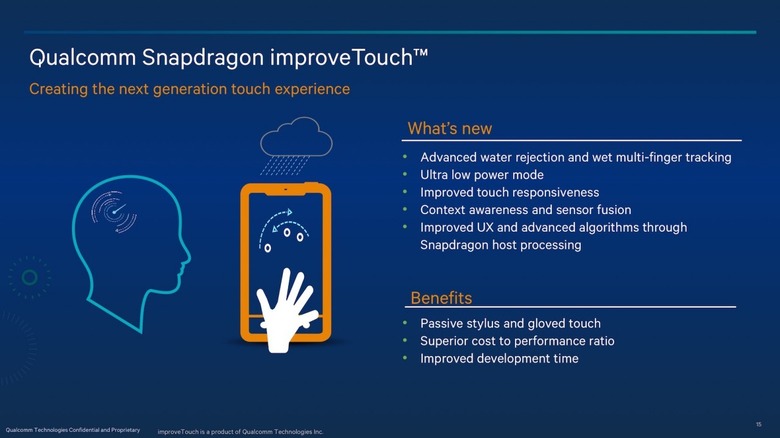 "Some of the earlier display controllers out there, they had a dedicated microcrontroller in there which was pretty chintzy," Leland says, whereas Qualcomm's will not only support things like selective contrast boosting for improved outdoor visibility across both LCD and OLED panels, and using touch with wet fingers, but handing over more elaborate processing needs to one of the more power-efficient "Little" cores in the 820.
Of course, there's more to Snapdragon 820 than its graphics, but Qualcomm isn't spilling all the details in one fell swoop. Connectivity is still to be explained, and most importantly how the processor architecture will be handled; given some of the high-profile challenges and compromises Qualcomm has faced with its recent Snapdragon chipsets, all eyes are on what they do to handle things like power consumption, heat output, and overall efficiency.
It's clear they're leaving nothing to chance this time around. Qualcomm is promising more on its flagship chipset over the coming months, culminating in devices running the 820 hitting store shelves in the first half of 2016.