The iPhone 7 and iPhone 7 Plus are official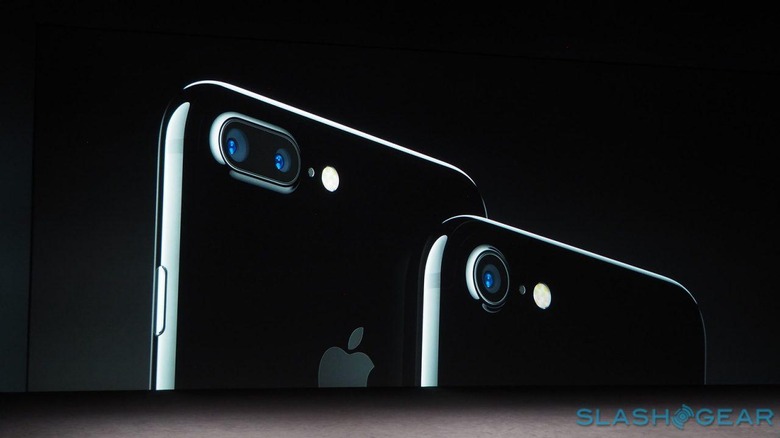 Apple has officially revealed the iPhone 7, with a brand new design, IP67 water-proofing, a solid-state force-sensitive home button, and an entirely revamped camera. Although instantly recognizable as an iPhone, the iPhone 7 debuts a cleaner new design and a host of unusual production methods.
That new chassis gets shown off with a new Jet Black high-gloss finish. A second black, made of bead-blasted aluminum, has a matte logo, though there'll also be gold, silver, and rose gold versions. On the Jet Black, the Apple logo is stainless steel; no matter which you get, the integrated antennas are perfectly seamless, as is the transition between aluminum and screen glass.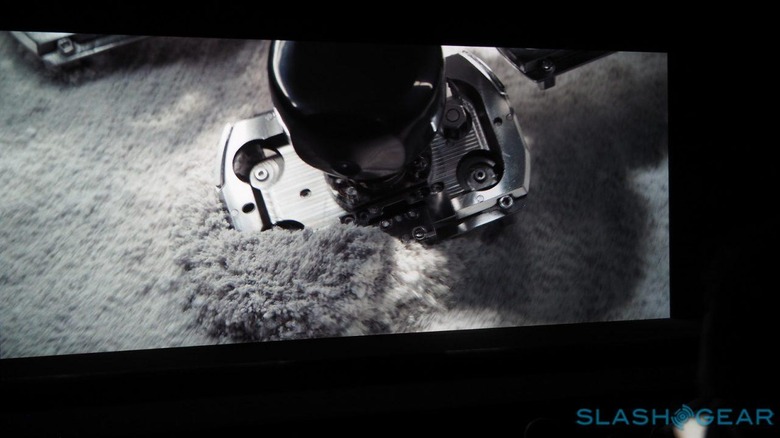 "We have created a product that is the most deliberate evolution of our founding design," Apple's Jony Ive said of the iPhone 7.
Getting that aluminum unibody isn't easy. Apple gives the iPhone 7 a mirror-like surface with "rotational 3D polishing", which effectively spins the chassis through a polishing surface, and then dyes it with a special capillary process.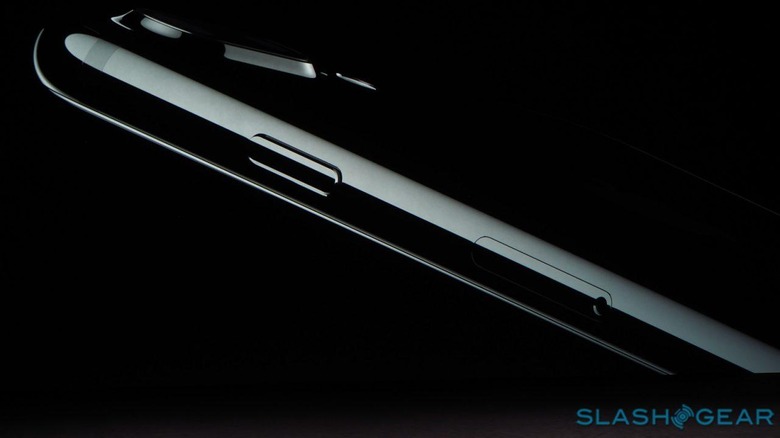 Finally, a magnetized ultra-fine iron particle bath polishes it, to give it the required shine.
Obsessive? Perhaps, but that's arguably what we've come to expect from Apple.
It's not the only improvement in design. The home button is now force sensitive and solid-state, linked with a new generation Taptic Engine which is more responsive and has a wider-range of frequencies to give the feeling of a physical button, even though the new home button doesn't actually shift.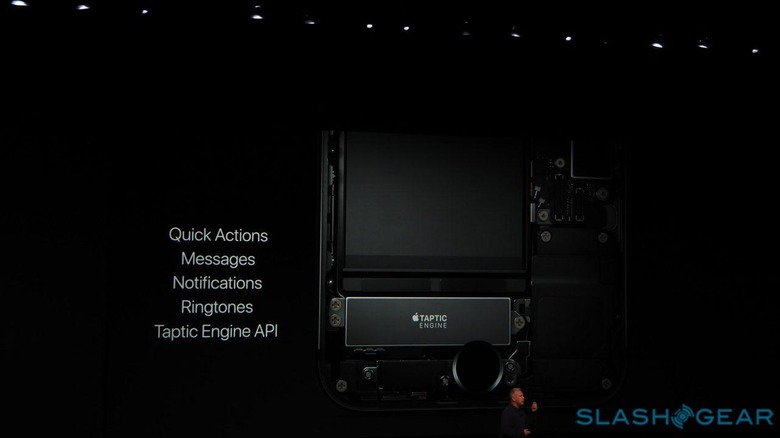 That Taptic Engine is used for new physical interactions for ringtones, notifications, and more.
There's water and dust resistance, to IP67, and a brand new image signal processors, which works with the all-new camera. Both the iPhone 7 and iPhone 7 Plus get optical image stabilization, together with an f/1.8 aperture, six-element lens for 50-percent more light, with a 12-megapixel sensor that has larger pixels and is more efficient.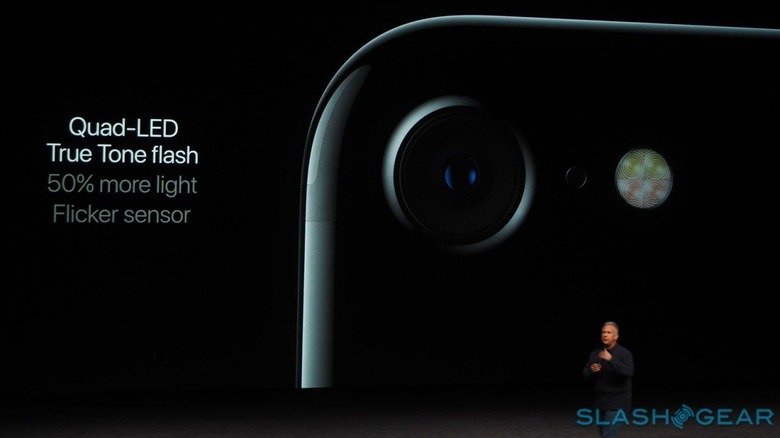 The two-tone flash now has four LEDs for 50-percent more light and range, while a flicker sensor reads whether artificial light is flickering in your scene and times the photo to counteract that.
A 7-megapixel front facing FaceTime camera raises the resolution from 5-megapixels on the iPhone 6s, and has wide color capture and auto image stabilization.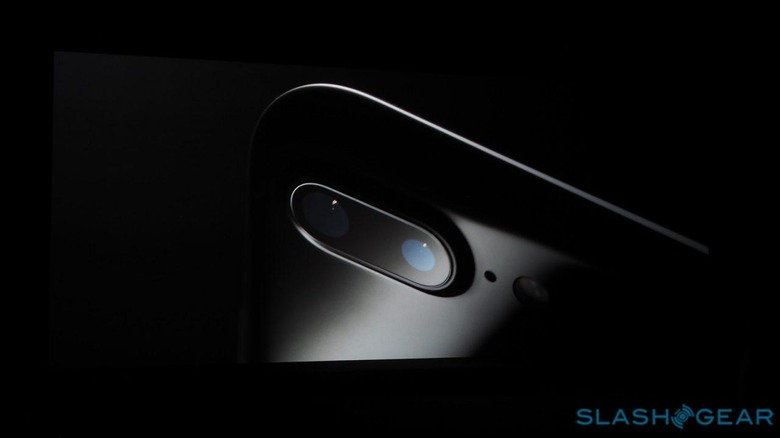 iPhone 7 Plus, meanwhile, gets a second camera: both 12-megapixels. One has a wide-angle lens, just as on the iPhone 7, and the second has a telephoto lens. That can be used to give a near-lossless zoom, up to 10x.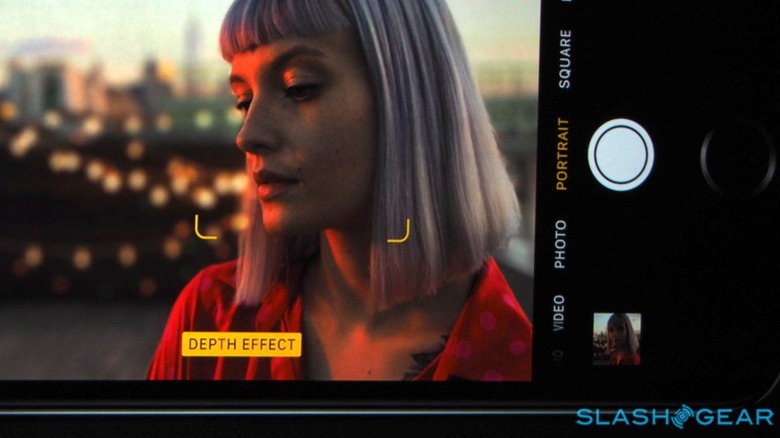 Later in the year, a "Depth Effect" update for the iPhone 7 Plus will add the ability to create – with real-time previews – bokeh effects in the backgrounds of shots by building a depth map from each frame.
Screen size stays the same as with the previous iPhone 6s and iPhone 6s plus, but the iPhone 7 gets a wide gamut display for better color reproduction.
Most controversial is likely to be Apple's decision to axe the traditional 3.5mm headphone jack, turning instead to either Lightning (with an adapter in the box) or the new AirPods wireless headphones.