The Gear A will have a rotating bezel, Samsung confirms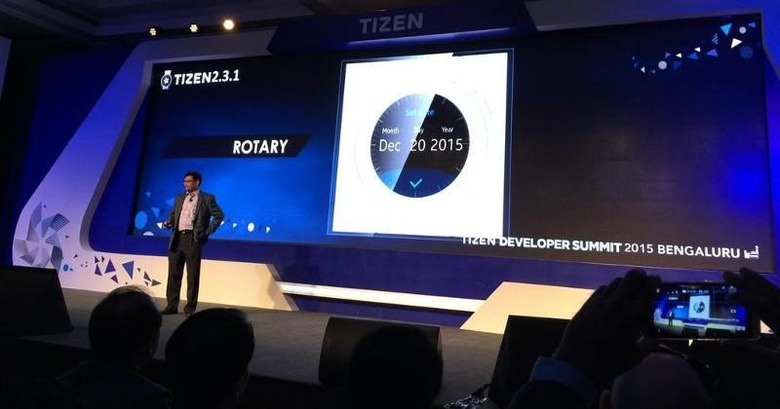 While all eyes are on the Galaxy Note 5 and the Galaxy S6 edge+ for next month's Samsung event, there is one little guy that will also be vying for the spotlight. And by little, we mean smartwatch size. Yes, the Gear A/Orbis might also be making a debut in two weeks time and it might be Samsung's most significant smartwatch yet. Unless you consider its other smartwatches significant. And no, it won't be because of the stubborn Tizen OS inside. This time, it's all about the bezels.
Samsung was long rumored to be working on a round-faced smartwatch ever since the Moto 360 made that fashionable. But to our surprise, Samsung went the extra mile and actually turned that round bezel into something useful. There has already been hints and leaks about that rotary bezel, even an implicit acknowledgment based on the smartwatch's SDK. But at its Tizen Developer Summit in India, Samsung more or less confirmed that fact. It still has to make the formal announcement, but at least it's now out there.
The Samsung Gear A might also be notable for its innards. That's a dual-core Exynos 3472 and 768 MB of RAM. For one, that's the highest RAM we've seen so far on any smartwatch. For another, it's the first time we'll be seeing an Exynos chip inside a consumer device this small. How that will compared to Qualcomm's chips that power all other smartwatches remains to be seen.
Sadly, the smartwatch will indeed be running Tizen. By now, it's too late for Samsung to backtrack from its position with the OS and will most likely push through no matter what happens. This does mean that the Gear A will potentially be exclusive to Samsung's smartphones only. Or, if not, it will still be held back by the number of available apps for it.
Sure we can still hope, but perhaps not too much. We'll find out in two weeks time in Samsung's biggest Unpacked event yet.
VIA: SamMobile