The 840 horsepower 2018 Dodge Demon is here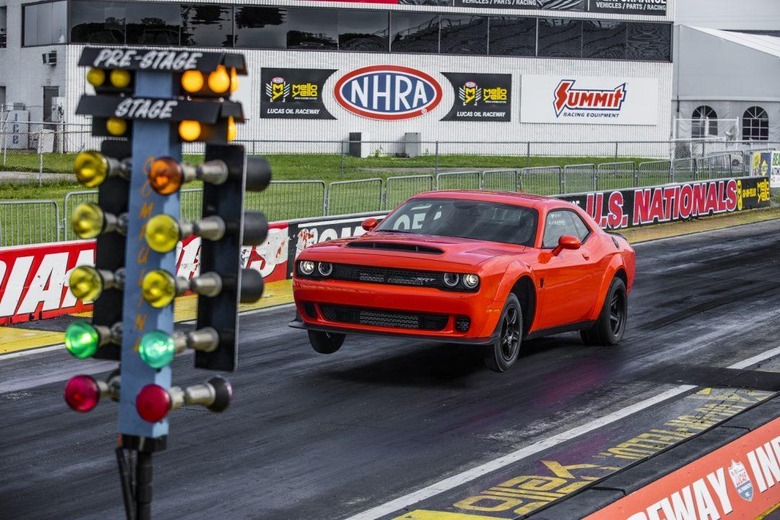 Lock up your children, bolt your doors: there's a new Demon in town, and it's packing 840 horsepower and an appetite for tires. The 2018 Dodge Challenger SRT Demon was always going to be polarizing, something we could predict even before the American automaker revealed its road-legal drag racer earlier in the year. Now, it's finally shipping to dealers.
Shipments started today in fact, Dodge says, though it'll still be a rarity at showrooms. Only 3,000 of the cars will be offered in the US, and a further 300 in Canada. Dodge has capped production of the 2018 car at a total of 3,300, and in the process likely created an instant classic.
Still, this isn't the car to leave parked up in a show garage. The Challenger SRT Demon's reason for existing is going very fast in a straight line, calling upon its beefy V8 HEMI engine to do 0-60 mph in 2.3 seconds. The quarter-mile takes a mere 9.65 seconds, at 140 mph.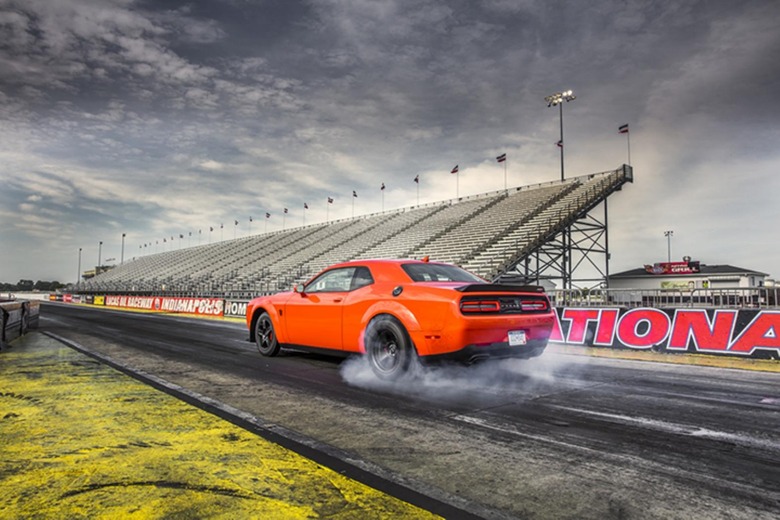 It's not just the car itself which is shipping out. The Demon comes with a leather-bound track tech manual, put together by editors from Hot Rod magazine, with instructions for the best track settings. The Demon Crate is just $1 to buyers of the cars, with all the performance parts you'd need to switch out to make it track-ready, and the tools to actually do so.
So, you get a performance powertrain control module, with high-octane calibration for the engine, a replacement switch module with the high-octant button, and a conical performance air filter. There's also a passenger mirror block-off plate, and – maybe most important – narrow, front-runner drag wheels. Also in the Crate is a hydraulic floor jack, cordless impact wrench, torque wrench, tire pressure gauge, fender cover, and a tool bag, all with Demon branding.
If you spent $1 on having the the rear-seats fitted, Mopar will also have a rear-seat delete package that allows those seats to be removed before racing. It includes a seatback closeout panel, Demon seatback panel bezel, lower seat tray with cargo net, seat belt delete C-pillar covers, and finally a rear packaging shelf to cover the tether holes.
A Speedlogix four-point harness bar is also available, as is an exclusive Demon VBOX Video HD2 system. That has a 10-Hertz GPS system and synchronized video capture, gobbling up both footage of your track time and metrics like accelerator and brake use, gear selection, engine and vehicle speed, G-forces, wheel slip, and more.
For road use, meanwhile, there's a Demon Street Tire Package, again through Mopar. Aimed at those who want to preserve their drag radials for the track, it comes with four lightweight forged 20x11-inch Devil's Rim wheels, as seen on the Hellcat Widebody. They're pre-shod with Pirelli 305/35ZR20 performance tires, which are fitted with Tire Pressure Monitoring System sensors.
MORE 2018 Dodge Demon First Drive
Dodge has done its best to keep the 2018 Challenger SRT Demon from being yet another victim of price gouging. Earlier this year, it warned dealers that if they priced the car over the MRSP of $84,995 (plus $1,095 destination) they'd have to wait longer for their cars. Dealerships which stuck to the officially-recommended pricing would, in contrast, be at the top of the list for shipments.