The 770HP Lamborghini Centenario is a Geneva birthday gift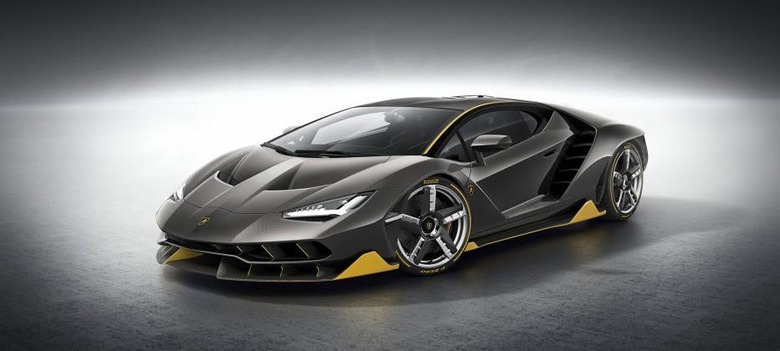 No Lamborghini has ever been described as cuddly, but the Centenario, revealed at the Geneva Motor Show today, is aggressive even by raging bull standards. The latest in the Italian marque's limited-edition boutique productions, the forty Centenario cars arrive to celebrate the centenary of company founder Ferruccio Lamborghini's birth, and they're an expensive gift.
Over sixteen feet long, but only 3 feet 9 inches high, the Centenario is classic Lamborghini profile, with a single line swooping up from the aggressive fascia to the even more dangerous-looking rear. The hood gets huge air scoops, helping push the front axel down, while more ducts funnel cooling to the rear radiators.
As for the roof, there's more cooling there along with hexagonal-finish carbon fiber and a glass cover to the engine.
More carbon fiber – this time with a gloss-finish – is used on the hood, scissor-doors, and roof, while the lower parts get matt carbon-fiber, including the front splitter, side skirts, wheel arches, and the rear diffuser.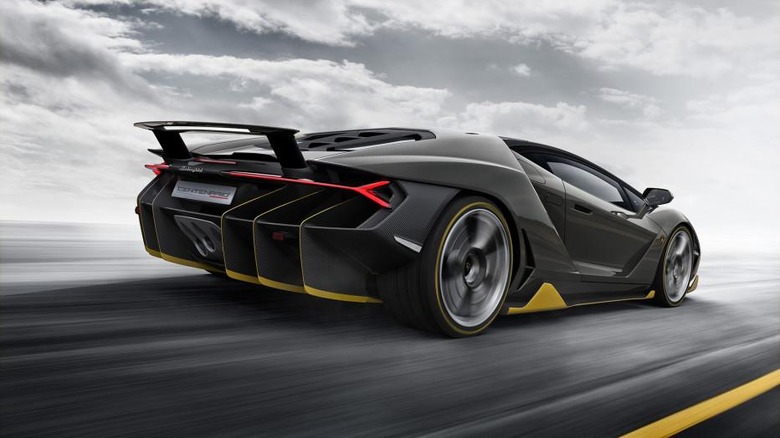 Keeping things roaring is Lamborghini's V12 naturally-aspirated engine, good for a heady 770 HP and a top speed in excess of 217 mph. It'll go from 0-62 mph in 2.8 seconds and 0-186 mph in 23.5 seconds, while braking from 62-0 mph requires a little over 98 feet.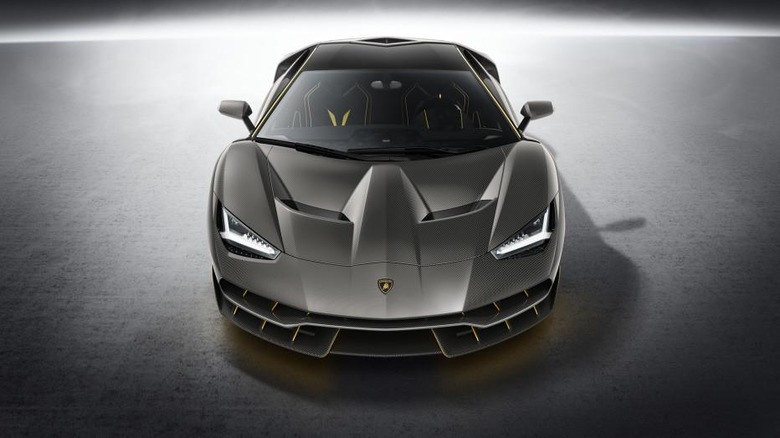 Rear-wheel steering is used, along with permanent all-wheel-drive; three driving modes – Strada, Sport, and Corsa – affect steering and chassis settings depending on where you're lashing the car. Lamborghini's magneto rheological suspension and Lamborghini Dynamic Steering (LDS) are also included as standard, as are special 20/21-inch Pirelli PZero tires with forged and milled aluminum rims with carbon fiber accents.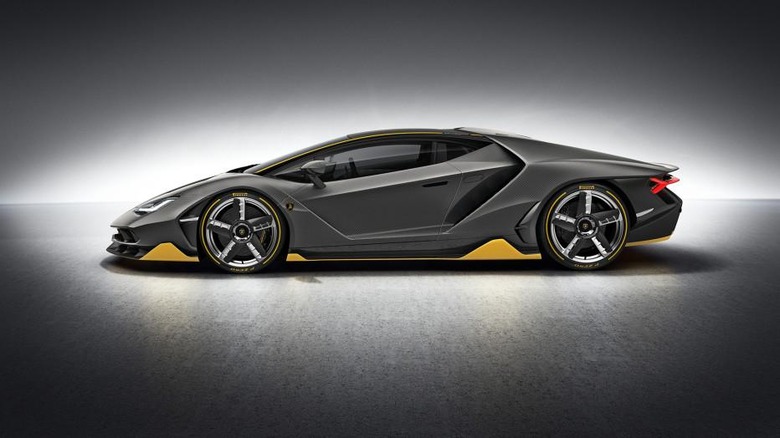 A rear wing can be extended and rotated by up to 15-degrees, while the huge and mildly-evil-looking rear diffuser has its own impact on downforce.
You could forgive Lamborghini for making the Centenario a pared-back track day special inside, but in fact it's quite the bubble of luxury. Carbon fiber seats are standard, with Alcantara trim and contrast stitching that extends across the dash, wheel, visors, and even the switch surrounds.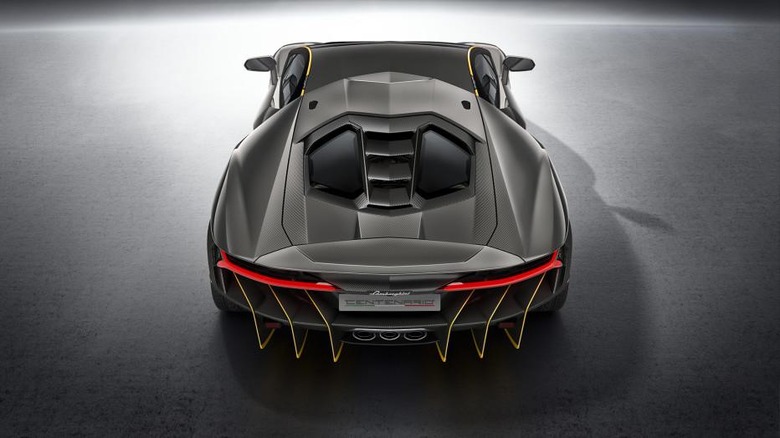 NOW READ: Why Lambo's Urus SUV will out-power Bentley
A 10.1-inch touchscreen gets navigation, internet access, streaming music, and Apple CarPlay, though switches over to more serious matters when on the track, recording speeds, times, lateral/G forces, and – optionally – the video from two interior cameras.
Only twenty Centenario coupes and twenty roadsters will be produced, starting out at 1.75m EUR ($1.9m) plus tax apiece.
Don't even bother raiding your savings, mind: every single car has already been sold. Lamborghini says they'll start delivering to those lucky, well-heeled buyers from fall this year.