The 2020 Lotus Evora GT has one big advantage over the Evija hypercar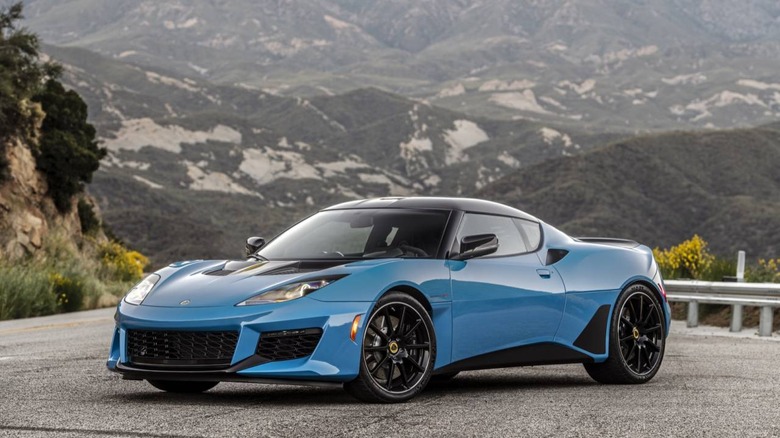 No, the 2020 Lotus Evora GT may not be a futuristic EV like the Lotus Evija, but the new coupe from the British automaker does have one big advantage over its hypercar cousin. Revealed this week, the latest iteration of the punchy Evora is a whole lot more attainable than the Evija: indeed, it's only a twentieth of the price.
That, of course, is because the Evija – the first of a new breed of Lotus, embracing electrification along with an altogether avant-garde design language – is a heady $2.15 million. In contrast, the 2020 Evora GT may not be quite as cutting-edge, but its $96,950 retail price seems positively affordable.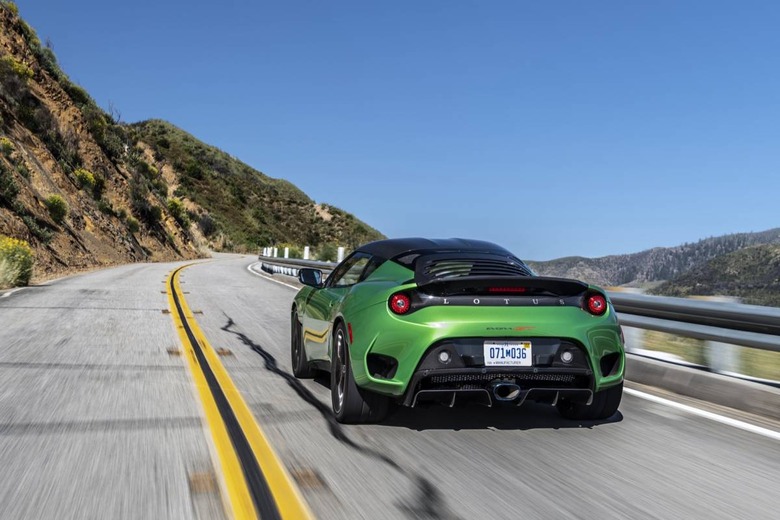 You're still getting a lot of Lotus for your money, mind. The 2020 Evora GT replaces the Evora Sport 410 and Evora 400, and is the fastest and most powerful road-going Lotus for North America. It'll do 188 mph, with 0-60 mph arriving in a mere 3.8 seconds.
To achieve that, it taps a supercharged 3.5-liter 6-cylinder engine. That's good for 416 horsepower at 7,000 rpm, and 317 lb-ft of torque from 3,500 rpm. That's assuming you're rowing the cogs yourself, with Lotus' esteemed six-speed manual gearbox. An automatic version of the Evora GT switches the stick shift out for lightweight aluminum paddles and keeps the 0-60 mph time, though overall torque drops to 332 lb-ft.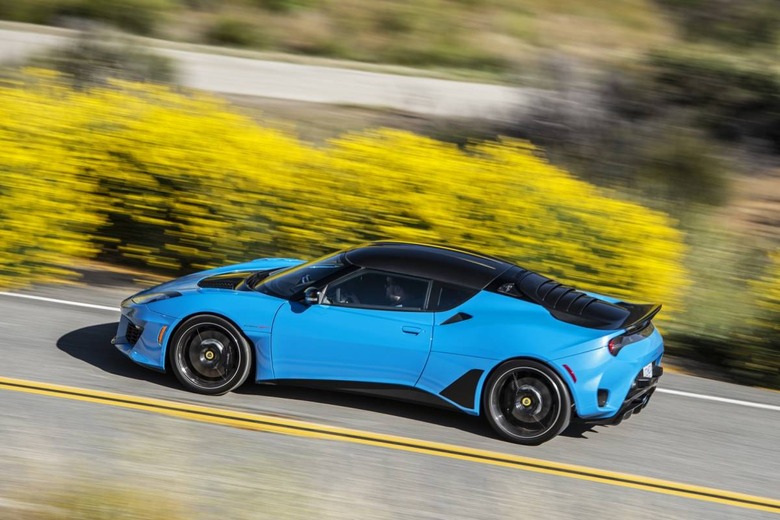 At its core, the 2020 Evora GT follows Lotus' own automotive obsession of reducing weight to maximize performance. Check off all the lightweighting options – including a $10,000 Carbon Pack which swaps the food, tailgate, rear bumper, front access panel, and rear diffuser surround for the lighter material – together with ultra-trim wheels, and the coupe tips the scales at a mere 3,104 pounds. That's 71 pounds less than the Evora 400 it replaces.
Weight is down, and so is downforce. Better airflow management above and below the car – including a new front lip, front wheel arch air louvers, and carbon fiber ducting behind each rear wheel – work with a new rear diffuser, for better downforce at both ends. There's less drag along the sides, too, with the addition of curves to the lower A-panels. Overall, Lotus says, downforce has doubled compared to that of the Evora 400.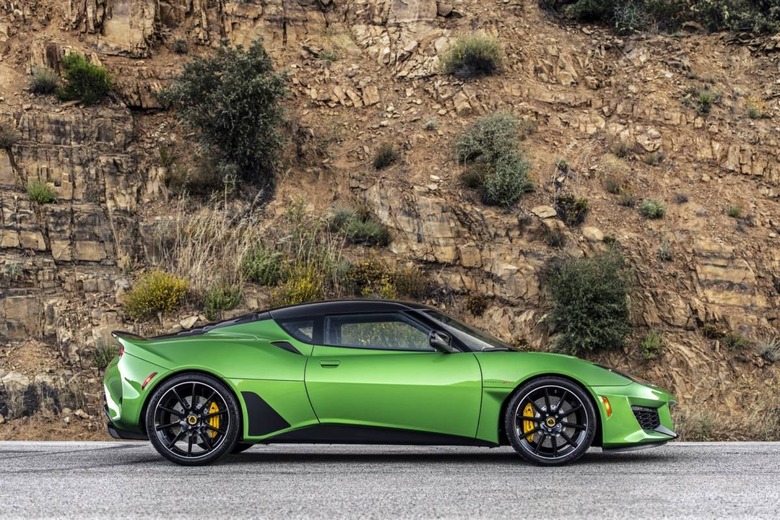 As for the wheels, 19-inchers are on the front and 20-inchers on the back. One inch wider rear wheels are available. Either way, you get AP Racing four-piston calipers both front and rear, with lightweight 2-piece cross-drilled and ventilated brake discs. Michelin Pilot Sport Cup 2 rubber is paired with Eibach ultra-light, low-sideload springs and Bilstein sports dampers as standard.
Inside, there's black Alcantara on the dashboard, door panels, transmission tunnel, and center console. Leather is a $4,500 option. A magnesium steering wheel gets leather and Alcantara trim, while the instrumentation cover and Sparco race seat-backs are carbon fiber. A 7-inch infotainment touchscreen offers navigation, Apple CarPlay, and Android Auto as standard.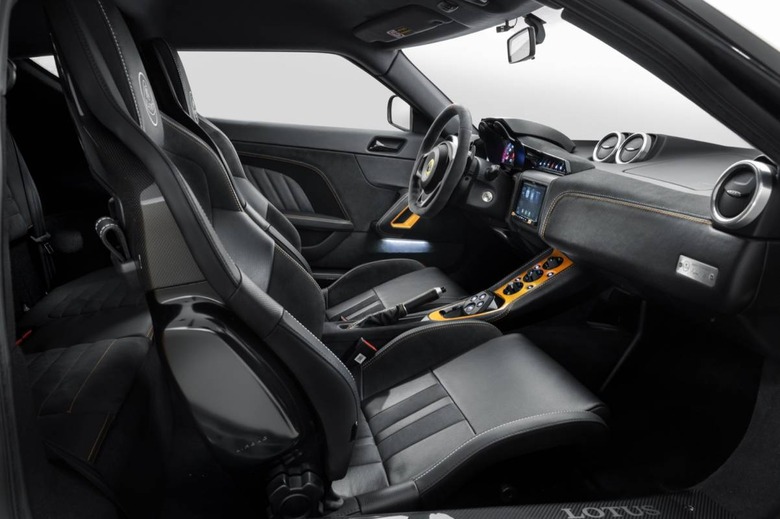 The dashboard is also where you'll find the four ESP mode settings. Drive, Sport, Race, and Off offer a variety of engine and other tuning modes, including more throttle response and more traction slip in the Sport and Race modes.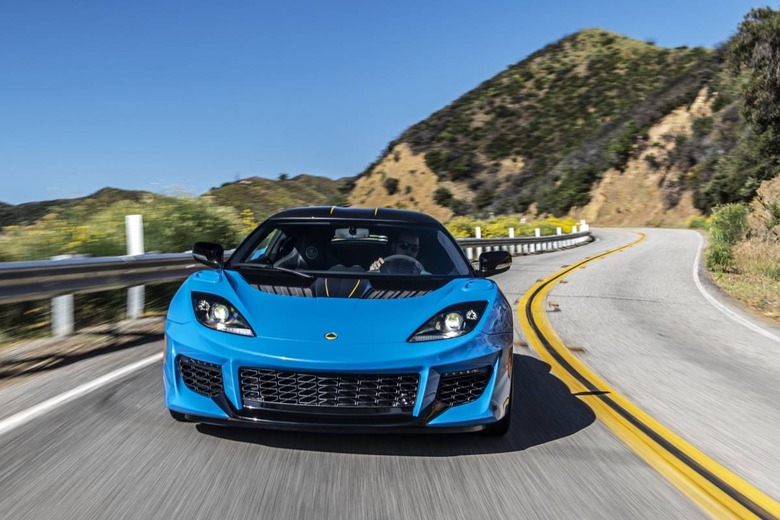 While this isn't some futuristic hybrid, it's an example of why Lotus remains a fond favorite among keen drivers. Focus, engineering obsession, and the judicious application of technology only where it's most valuable remain hallmarks of Lotus, and the 2020 Evora GT is no different. It's available to order now, in both two-seat and 2+2 layouts.
[Updated to reflect that the Evija is all-electric not a hybrid]