The 2018 Porsche 911 GT2 RS Is The 700HP Biturbo Beast We Wanted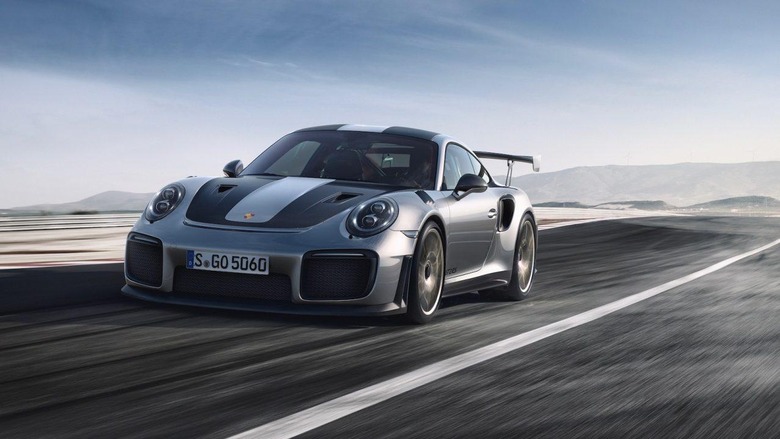 The "most powerful road-approved 911" was the surprise star of Microsoft's Xbox One X event, and now we have full details of the new Porsche 911 GT2 RS. Launching officially today at the Goodwood Festival of Speed in the UK, the 700 HP coupe is short neither on power nor speed. In fact, Porsche says it should do 0-62 mph in just 2.8 seconds.
That comes courtesy of a 3.6-liter biturbo flat engine, which musters 80 HP more than its predecessor. It's based on the powertrain that Porsche already used in the 911 Turbo S, but has considerably more than that car's 580 HP. That's required some big hardware changes.
So, there are new, larger turbochargers that are capable of pushing more air into the combustion chambers. At the same time, a new cooling system has been added, which can even spray the charge-air cooler with water when at very high temperatures. In doing so, Porsche says, it can bring gas temperatures down into the overpressure range.
Porsche uses its PDK seven-speed double-clutch transmission, customized for the GT, and you get rear-wheel drive for that purist experience. It also means some care is going to need to be taken, since the 911 GT2 RS packs 553 lb-ft. of torque. Rear-axel steering is used, and there's a specially-calibrated PSM with a Sport mode designed especially for the new car's driving style.
Ultra High Performance tires – 265/35 ZR 20 at the front and 325/30 ZR 21 at the rear – and Porsche Ceramic Composite Brakes are standard. Keeping weight down is plentiful use of carbon-fiber reinforced plastic. Indeed, the front wings, wheel housing vents, outer shells on the Sport Design exterior mirrors, air intakes on the rear side sections, and parts of the rear end all rely on the material.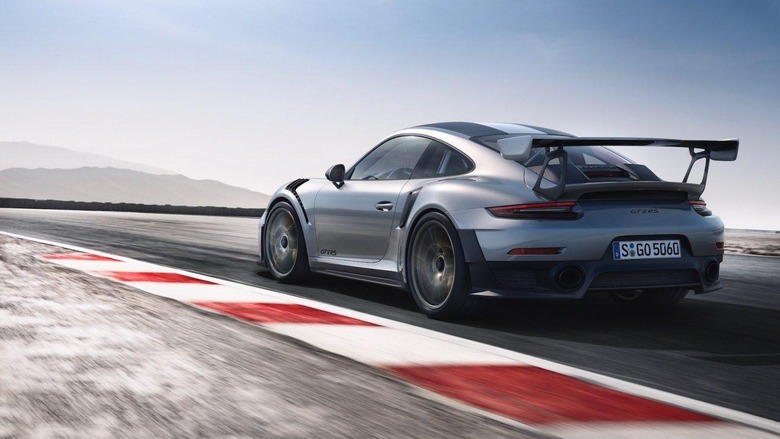 The hood, meanwhile, is carbon, and the standard trim roof is magnesium. However, an optional Weissach package switches the latter out for carbon, with matching carbon for the anti-roll bars and both axels. Magnesium wheels cut unsprung weight, while the luggage compartment lid and the carbon-weave finish roof get a central, body-colored strip to better visually distinguish the package. Best of all, though, is the weight saving of around 66 pounds.
Making sure the 911 GT2 RS sounds the part, meanwhile, is a custom exhaust system. Made from extra-lightweight titanium, it sheds more than 15 pounds versus what you'd find in the 911 Turbo.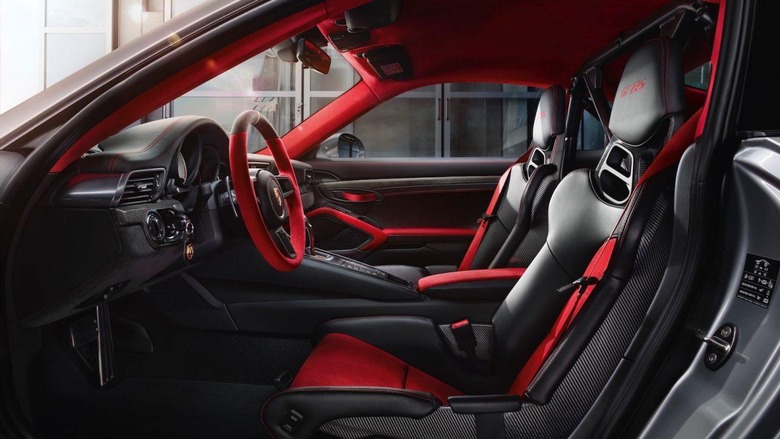 Inside, there's red Alcantara, black leather, and carbon-weave finish for the trim. Paddle-shifters are included on the special GT2 RS sports steering wheel, and there are full bucket seats as standard. Porsche's infotainment system has the Connect Plus module and Porsche's Track Precision app as standard, beaming telemetry to an app on your smartphone.
Optionally, the Chrono Package adds a new performance display to the infotainment, with records for track times. A stopwatch on the switch panel – with both analog and digital read-outs – is included, too, and there's a lap trigger to work with external markets.
Pricing is yet to be confirmed, though don't expect this feisty 911 to come cheap.