The 2018 Aston Martin DB11 Volante is pure convertible beauty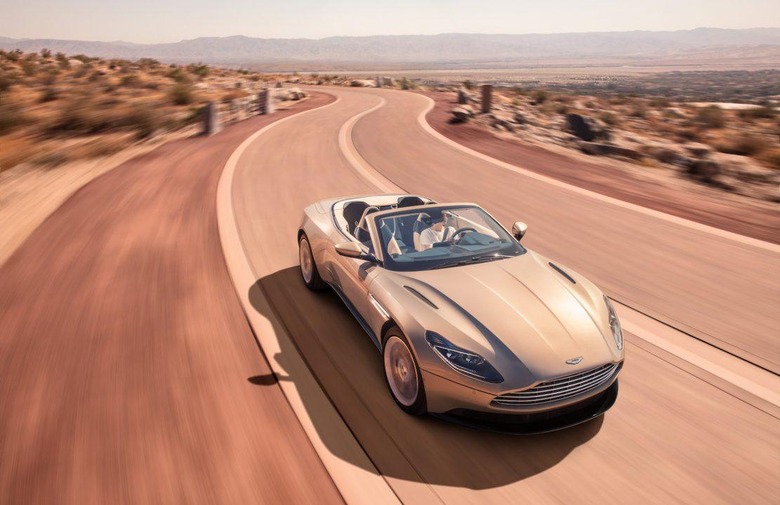 Aston Martin may have some fearsome V8 and V12 coupes in its line-up, but for true grand tourer style you really need a droptop. Enter, then, the 2018 Aston Martin DB11 Volante, dubbed "the ultimate convertible sports GT" and, at first glance at least, only with a little hyperbole. As you might expect, there's more to it than just peeling the roof off a DB11.
The existing DB11 coupe is certainly the starting point, or at least its new bonded aluminum structure. That's made the car lighter than its predecessor, but also more rigid: particularly important, when you're dealing with a droptop. Compared to the DB9 Volante, it's more than 57 pounds lighter and 5-percent stiffer.
The coupe's single-piece aluminum hood and "Curlicue" aerodynamic features have been carried over. They're combined with wood or carbon fiber veneer panels on the seat backs, "light blade" slimline tail lights, and new-design forged alloy wheels. As for the roof, that's offered in three colors: bordeaux red, black silver, or grey silver.
It's fabric, rather than a metal top, but Aston Martin's sandwich of eight layers is hardly low-tech. The combination of acoustic and insulation materials takes 14 seconds to lower and 16 to close, and can be used at speeds of up to 31 mph with a 31 mph headwind. It can be operated both from inside the cabin and remotely, from the key fob, and the automaker says that its new folding mechanism makes for a 20-percent larger trunk than the old DB9 Volante this car replaces.

Under the hood, meanwhile, there's a new 4.0-liter twin-turbo V8 engine. It's good for 503 horsepower, and is paired with an 8-speed automatic transmission with paddle shifters, electric power steering, and a limited-slip differential with dynamic torque vectoring. There are three powertrain and chassis modes to switch between comfortable cruising and mountain road darting.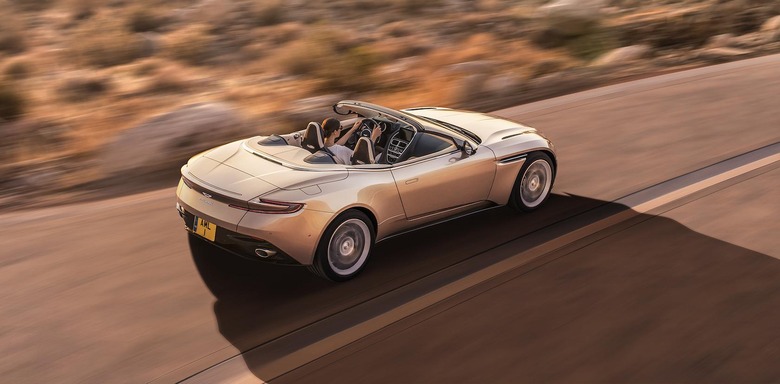 The cabin has a heated steering wheel, along with ISOFIX attachment points in the rear seats for a child seat. That's a first for a Volante model. The infotainment system uses the same technology as we saw in the DB11 coupe, and there's the familiar lashings of leather, real metal, and other materials that, if you have the budget, Aston Martin's team will let you customized to your heart's content.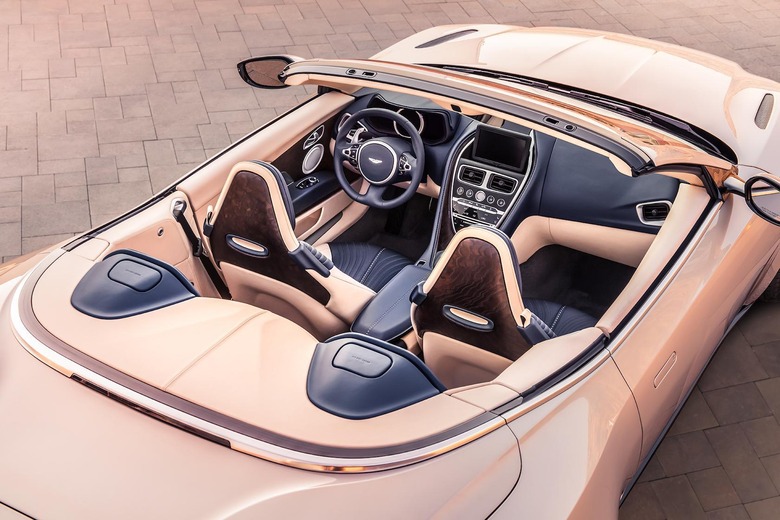 MORE Aston Martin DB11 V8 Coupe first drive
As for that pricing, unsurprisingly luxury British droptop motoring doesn't come cheap. The 2018 Aston Martin DB11 Volante is priced from $216,495 in the US, and from £159,900 in the UK; in comparison, the DB11 V8 Coupe starts from $198,995 in the US. Orders are being taken now, with the first deliveries of the new Volante expected from the first quarter of 2018.