The 2017 BMW Alpina B7 turns luxe limo into a 600HP rocket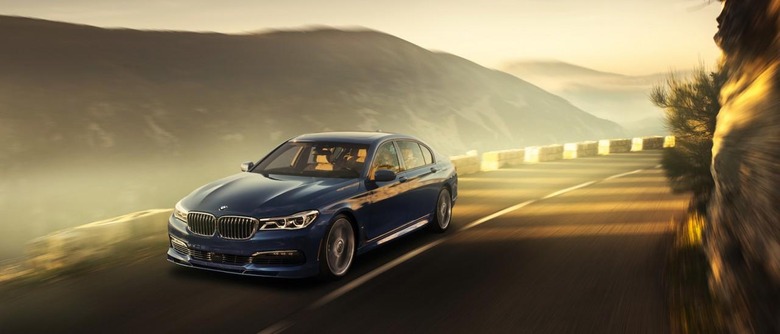 BMW's 7 Series was already a fast-moving tech and luxury behemoth, but that's nothing but a thrown-gauntlet for ALPINA, German tuning legend. Witness, then, the opulent performance excess that is the 2017 BMW ALPINA B7 xDrive, a four-door sedan with a hefty 600 HP and boasting a 0-60 mph run in just 3.6 seconds.
That's courtesy of a new 4.4 liter 8-cylinder engine with twin-turbos, mustering 590 lb-ft. of torque. ALPINA channels that through an 8-Speed Sport Automatic Transmission with its own SWITCH-TRONIC tech, with a choice of automatic, sport, or manual modes and steering wheel shifters.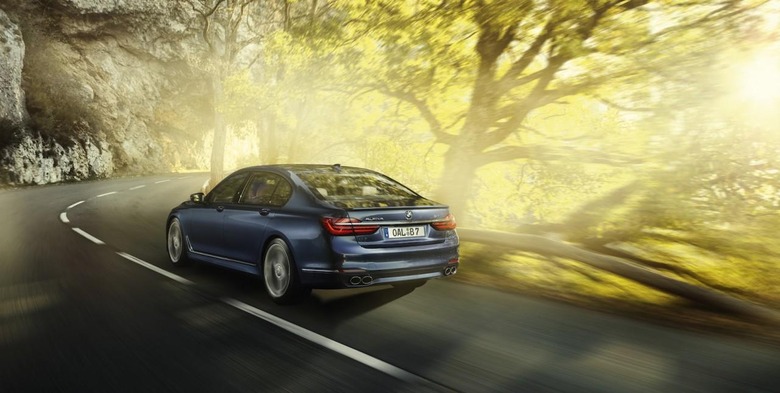 The gearbox can even look at the road ahead, using navigation data, to figure out what ratio would be the most appropriate and shift accordingly.
BMW's own xDrive all-wheel-drive system gets reprogrammed torque distribution control, while a new DTC Mode for the Dynamic Stability Control pushes more power to the rear wheels for that traditional RWD feel.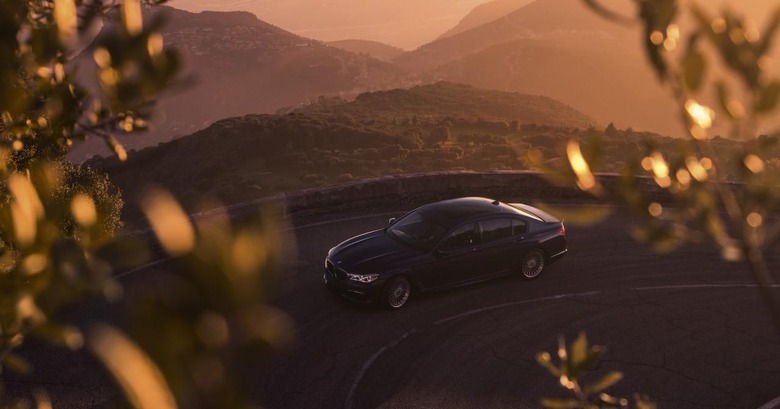 The changes don't stop there, however. Two-axel air suspension automatically drops the car 0.8-inches when at speeds of 140 mph or above, increasing front wheel camber in the process, for swifter turn-in and better stability.
That can also be manually triggered by switching on ALPINA Sport+ Mode, in the process triggering more aggressive drivetrain and suspension settings. On the flip side, the whole car can be lifted by 0.8-inches at low speed so that you don't scrape that exclusive body kit on curbs or steep driveways.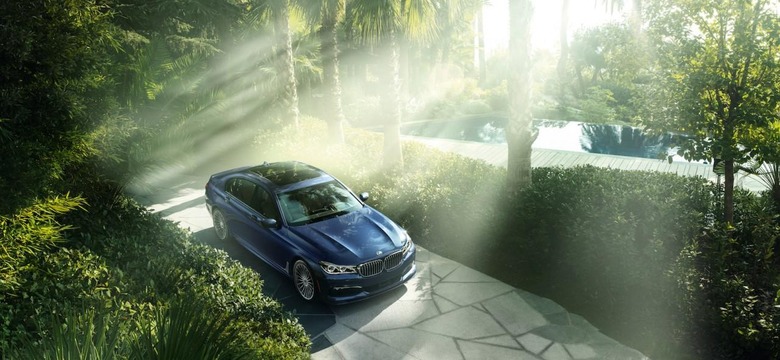 Rear-wheel steering can adjust wheel angle by up to three degrees, either in line with the front wheels – for higher-speed directional stability – or opposed to them – for better agility and cutting turning circles – depending on speed. The new wheels themselves are larger, at 21-inches, than on the outgoing car, but ALPINA says they're actually lighter thanks to the forged aluminum alloy, cutting 5.5 pounds per corner.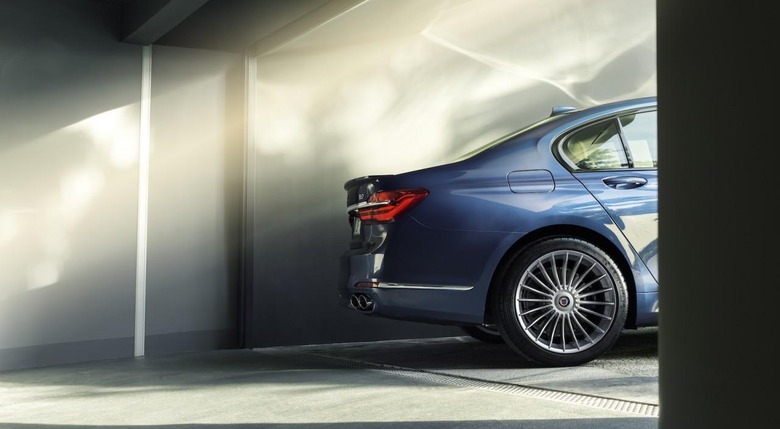 Inside, BMW's latest infotainment system comes in a dashboard wrapped with new Nappa leather, as do the seats. Ceramic inserts are a pleasant diversion from the usual carbon fiber or aluminum, while the driver binnacle houses a new full-color digital instrument panel that can change layout and gage size depending on drive mode.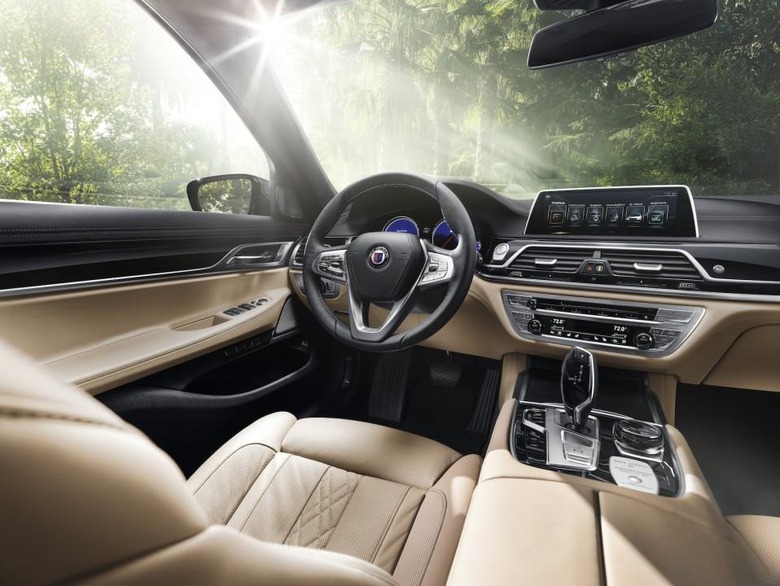 A Comfort+ drive mode tames the various settings and calms the car for limo duties, while two exclusive colors – ALPINA Blue metallic and ALPINA Green metallic – are available on top of BMW's own finishes.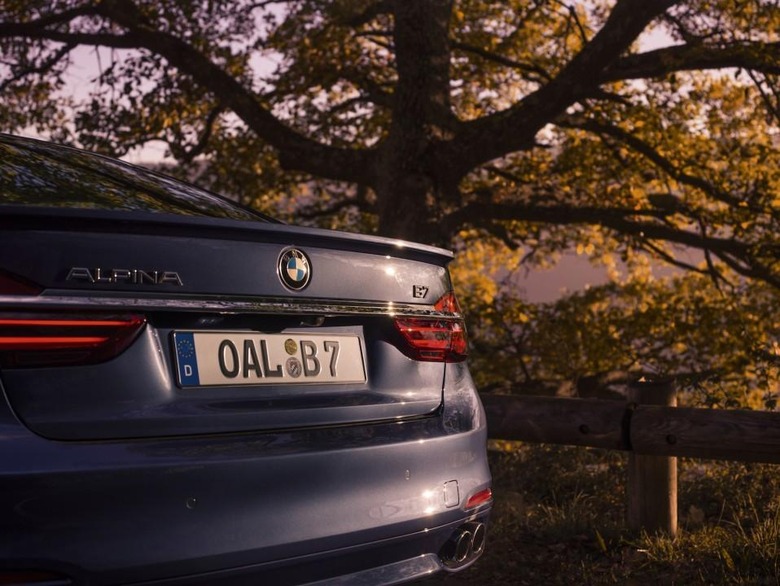 NOW READ: BMW's new 7 Series is tech monster
All in all, ALPINA has done its usual job of taking BMW's finest and making something a lot rarer, faster, and more expensive out of it. You won't see many of them on the road, but that shouldn't come as too great a surprise given ALPINA's premium – that's not been announced, but figure on a hefty bump atop the already-near-$100k of the donor car.
[gallerybanner p="425983"]