2016 BMW 7 Series revealed and it's a tech monster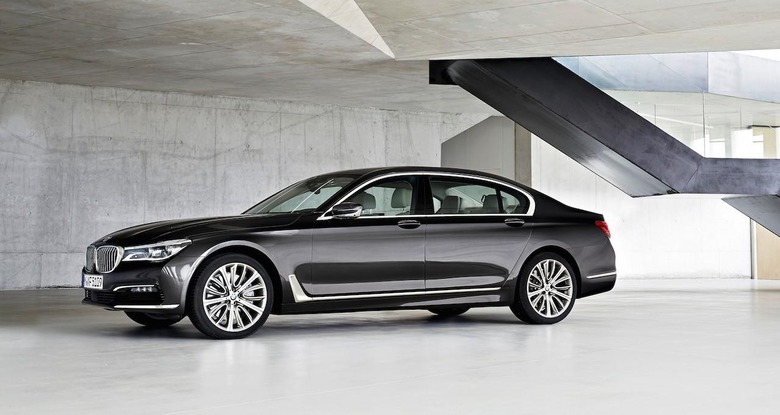 BMW has taken the wraps off of the new 2016 7 Series, its most advanced flagship sedan to-date, with more tech, greater efficiency, and a new hybrid option. Set to show up on US forecourts come fall, priced from $81,300, the new car wraps more curvaceous body – long-wheelbase only in the US – around a carbon core passenger cell, mixing CFRP, ultra-high-tensile steels, and aluminum to drop weight by up to 190 pounds over the old car. BMW has used that to improve dynamics but also to inject masses of gadgetry.
For instance, front and rear self-leveling air suspension is standard-fit, user-controllable for rising over speed bumps, or automatically hunkering down in Sport mode. It can be optionally paired with Active Comfort Drive with Road Preview, with electromechanical active roll stabilization that bases its settings off driving style and the upcoming route from the navigation system.
Integral Active Steering is another option, automatically adjusting steering dynamics depending on driving situation. Meanwhile, an new Adaptive mode in the Driving Dynamics Control system automatically switches between Drive and Sport modes; the eight-speed Sport Automatic Steptronic transmission checks the road style ahead to adjust its change patterns.
Three engines will be offered in the US. At the top end there'll be the BMW 750i xDrive with a 4.4-liter V8 with all-wheel-drive; it's good for 445 HP and 480 lb-ft of torque thanks to its twin turbos.
BMW is quoting a 155 mph top speed and a 4.3 second 0-60 mph time. The BMW 740i, in contrast, musters 320 HP and 330 lb-ft from its 3.0-liter inline 6-cylinder which also has a TwinScroll turbocharger, and does the 0-60 run in 5.4 seconds.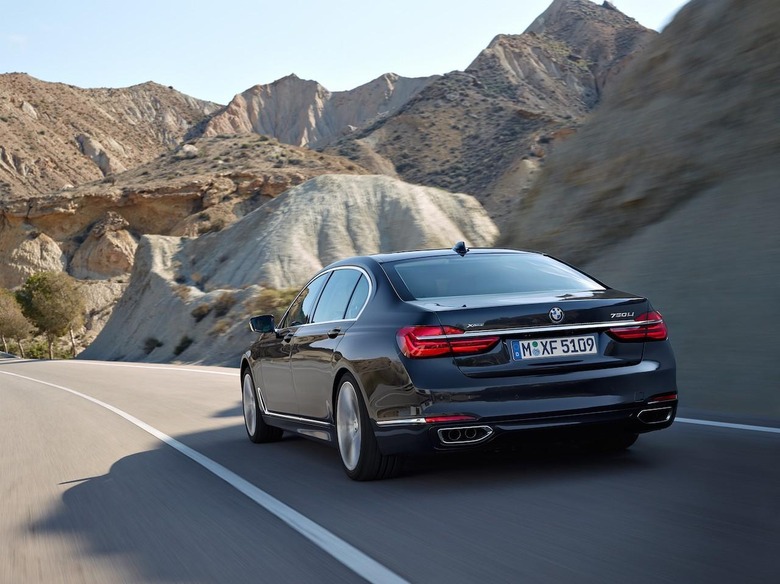 The BMW 740e xDrive plug-in hybrid, meanwhile, builds on BMW's i cars, combining a 2.0-liter TwinPower Turbo engine with an electric drive unit integrated into the eight-speed Steptronic transmission. A lithium-ion high-voltage battery is under the rear seats, and can be recharged by a standard outlet or a higher-power public or private charger.
Switched to AUTO eDrive, the EV side boosts performance of the gas engine. Turn to MAX eDrive mode, however, and the car can run for up to 23 miles at up to 75 mph on electric-only. Finally, Battery Control mode effectively stockpiles battery power for later use, and BMW has integrated the navigation system so that it will predict more EV-driving friendly routes.
Inside, there's the usual luxe essentials, like BMW's Rear Executive Lounge Seating Package, but gobfuls of tech, too. iDrive now gets paired with touch control, while 3D sensors in the headlining allow BMW to offer Gesture Control too.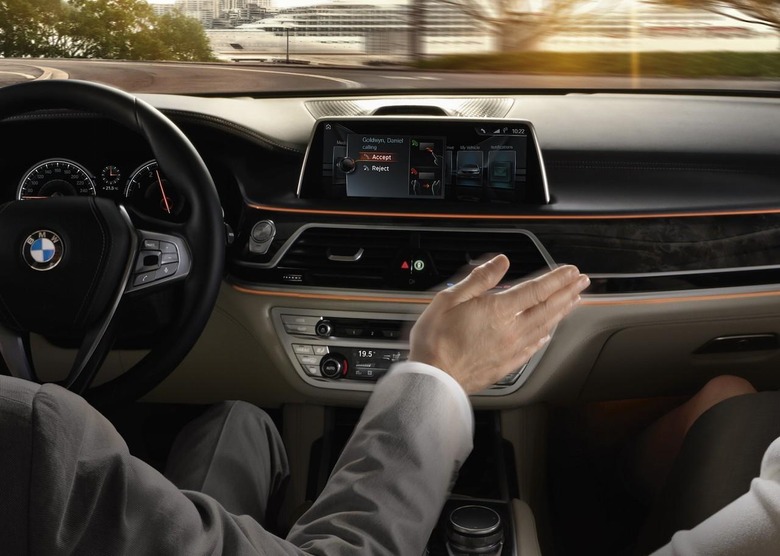 Wave your hand in front of the 7-Series' dashboard, and you can adjust the volume of the audio system, answer or reject calls, and trigger a driver-preset option, such as automatically routing home.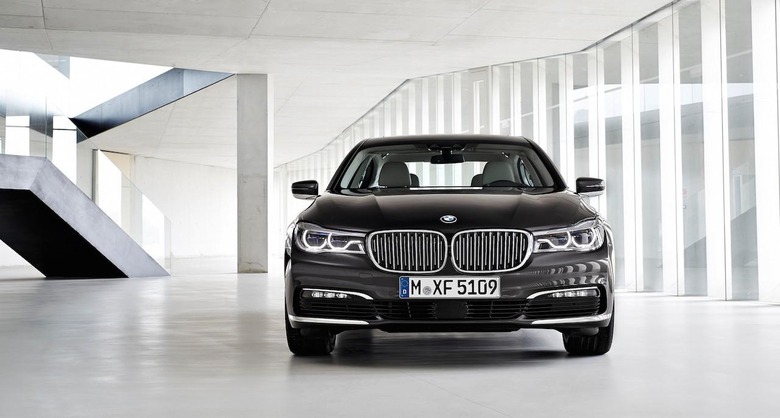 Options include a 1,400 watt Bowers & Wilkins Diamond surround sound system with 16 partially-illuminated speakers, an Ambiance Light Pillar which is a little like hue for your car, and a Panoramic Sky Lounge LED Roof – an upgrade to the standard two-section Panoramic moonroof that opens at the front – which uses LEDs along its edges to light up an etched starlit sky pattern at night.
The Ambient Air package allows you to fill the cabin with scents, with three levels of intensity and eight different smells to choose between.
The standard display is a 12.3-inch pane, but optionally there's a head-up display. That can show the driver road speed, speed limits, overtaking restrictions, Check Control messages, status and warning messages from other assistance systems, turn-by-turn directions, and telephone and entertainment menus.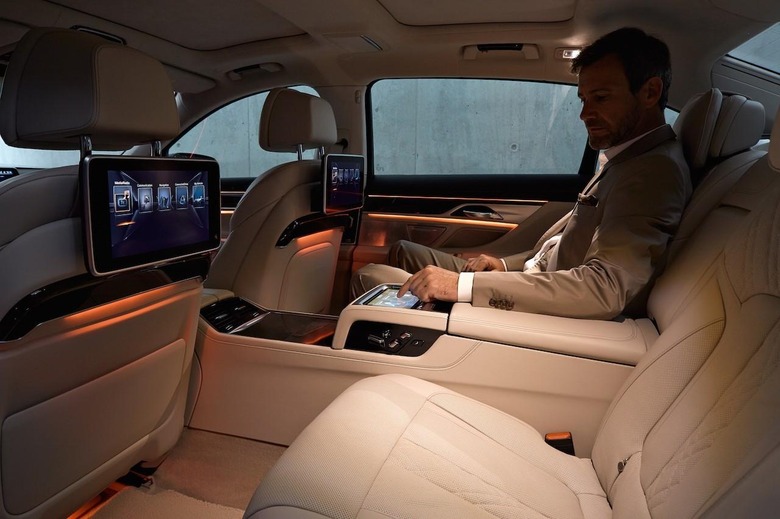 Four-zone automatic climate control is standard, and there are heated front and rear armrests, wireless phone charging, and optional eight-program massage seats. The 7-inch BMW Touch Command Tablet comes with the optional Rear Executive Lounge Seating Package, hooking up to the 7-Series' integrated WiFi hotspot and controlling various car features along with showing streaming audio and video, and even place-shifting that to the twin 10-inch displays for rear passengers.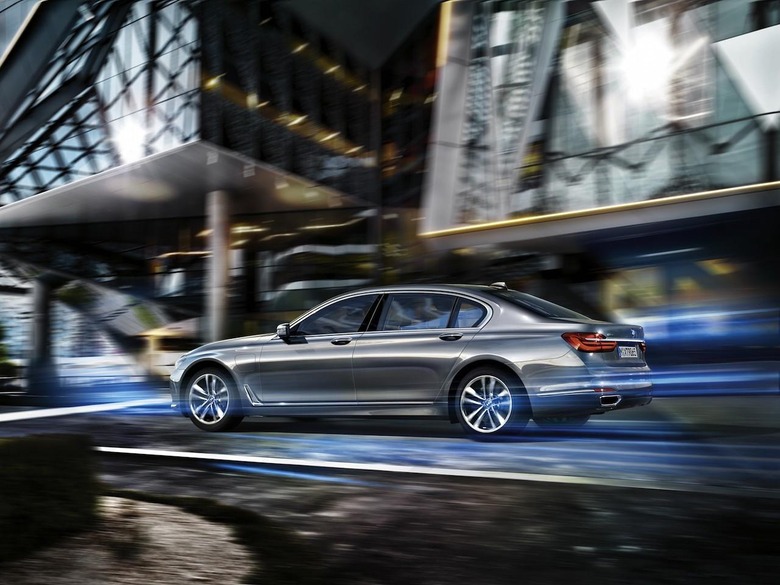 More driving aids than you can quote on a lungful of air – including front and rear crossing warnings, parking assist, active cruise control with lane-keep, semi-autonomous traffic jam driving, and more – tap into sensors, stereo cameras, and radar.
The car can even spot a speed limit sign and, when acknowledged by the driver with a button press, automatically adjust to suit the new limit.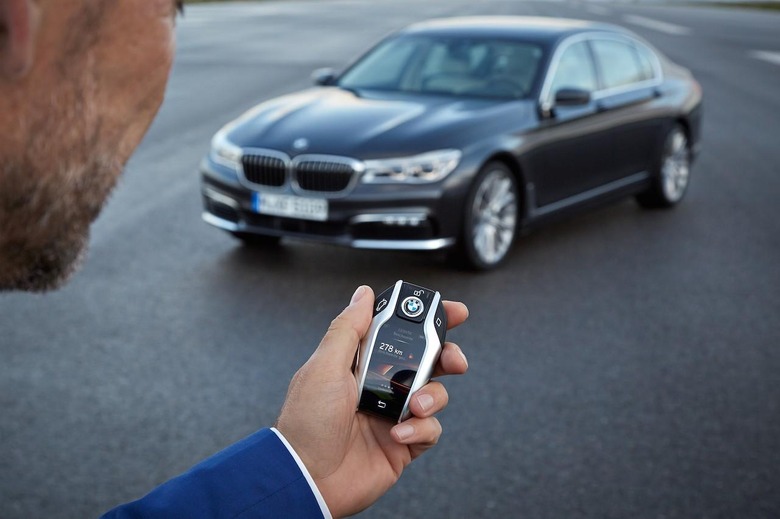 3D surround vision and Night Vision show pedestrians, animals, and other heat-emitting objects. Even the trunk gets a sensor: wave your foot underneath the rear sill, and it powers open.
Another option is BMW's clever Display Key, which has a color touchscreen and can be used to remotely start the car, set the heating, and operate other functions.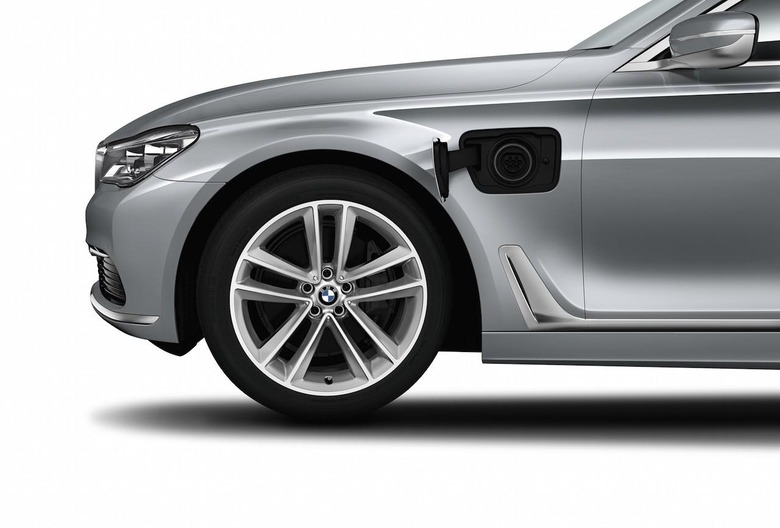 BMW is clearly doing its level best to strike back at luxury heavyweights like Mercedes-Benz's S-Class, and the 2016 7-Series is shaping up to be a very savvy car. If BMW can also deliver the sort of driving dynamics it's known for, that could even give it an edge over its rival.
Pricing will kick off at $81,300 for the BMW 740i, while the BMW 750i xDrive will start from $97,400.
MORE BMW