Texas Instruments Graphing Calculator hacked to run Android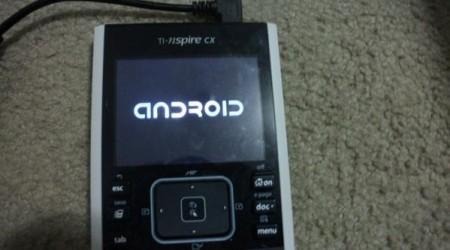 It seems to be a growing trend recently to get old or mis-matched software running on different tech devices. We've seen and Android Wear smartwatch running Apple's old System 6 operating system, the computer game DOOM installed on an ATM, and just this week an Apple Watch hacked with OS 7.5.5. Well, it's beyond time to get some graphing calculators in the mix. Josh Max must have felt the same, because he recently shared his hack of getting Android to run on a Texas Instruments TI-Nspire CX.
Graphing calculators, those wonderful devices that got us through advanced algebra and calculus, have come a long way. The Nspire CX features 100MB of storage, 64MB of RAM, and a 320x240 3.5-inch color screen. This is well beyond what Texas Instruments' graphing calculators had 5 years ago, but still paltry even compared to some of the first Android phones to hit the market.
That's why it's so impressive that Josh got Android 1.6 "Donut" to run on the mathematical device, which you can see in action in the video above. In addition to running the circa-2009 mobile software, keyboard and WiFi support were added with the calculator's add-on USB dongle.
Josh is even sharing the files needed on GitHub, should others want to try this hack for themselves. The software is said to work on the Nspire CX, as well as Texas Instruments' more expensive model, the CX-CAS.
VIA Android Police
SOURCE Josh Max/YouTube