Tesla taps ex-F1 engineer for service skills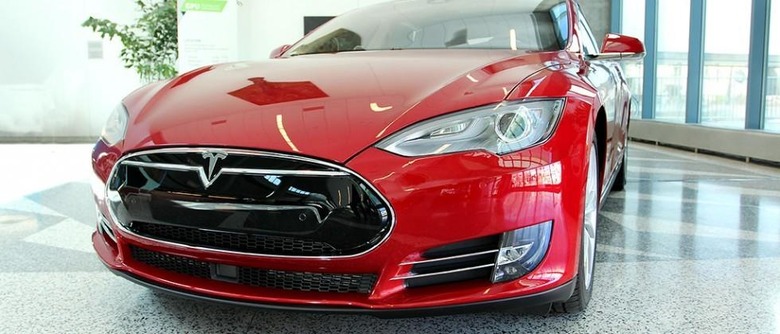 Tesla has snapped up an F1 chief mechanic to lead its car servicing efforts, with CEO Elon Musk hoping Kenny Handkammer can inject a little high-octane pitstop practice into his EVs. Formerly of Red Bull Racing, Handkammer will now be based in the US as Tesla's Global Director of Service Training, helping shape how Tesla dealerships handle electric cars brought in for routine servicing along with any unforeseen issues. The appointment comes ahead of Tesla's range expanding with the Model X SUV, not to mention ambitious upgrading procedures for the older Roadster.
The Model X is due to hit roads in production form later this year, with distinctive gullwing doors for easier access. Tesla's order books for 2015 are already full, with new reservations not expected to be delivered until 2016 at the earliest.
Meanwhile Tesla plans to offer original Roadster owners a "3.0" upgrade which will, among other things, switch out the battery pack. That's expected to boost range to 400 miles.
Handkammer certainly isn't lacking in racing pedigree. As a mechanic, he's had 26 years of Formula One experience, across a total of 13 World Championships; teams he's been involved with have secured a whopping 97 race wins.
Among the drivers he's worked alongside are Michael Schumacher, Fernando Alonso, and Sebastian Vettel. Handkammer left Red Bull Racing in October 2014.
As Tesla's numbers increase – the company broke delivery records last quarter and expects that to only grow – not to mention the existing cars on the road grow older and potentially demand more attention in servicing, focusing on that part of the owner experience seems sensible.
Exactly what Handkammer will be doing in that regard is unclear. Given the dramatically different powertrain inside a Model S though, versus traditional gas or diesel cars, there's the potential for real improvements in efficiency that could not only save on costs but keep each Tesla out of the garage for more of the time.
Welcome @Chiefboltkennyh to @TeslaMotors. He will apply Formula 1 techniques to revolutionize servicing mainstream cars.

— Elon Musk (@elonmusk) April 6, 2015