Tesla releases a new racing game you control with your EV's wheel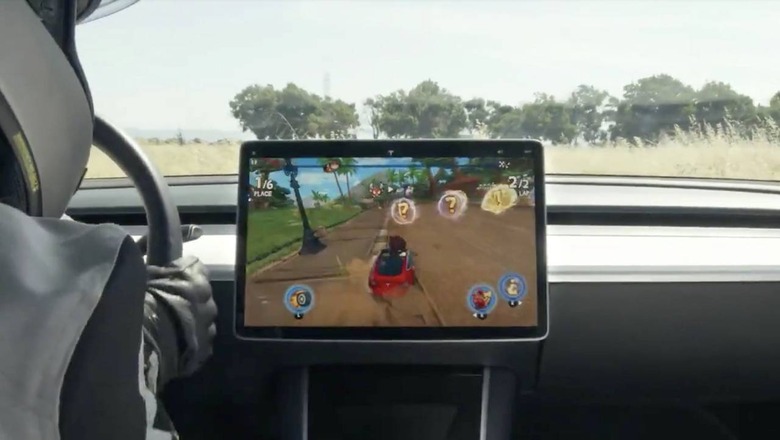 Tesla drivers wanting to go racing are getting another option, and one which is a lot less demanding on the tires, with "Beach Buggy Racing 2" headed out to the EV's dashboards. The new game can be played with the Tesla's physical controls, for those wanting the most lifelike racing experience.
It's the handiwork of Vector Unit, and has been mighty popular on Android devices so far. Tesla CEO Elon Musk announced last week at E3 2019 that it would be headed to cars next, as part of a growing number of gaming titles the sizable infotainment touchscreen in the EVs will support.
In the process it replaces an earlier racing game, which Tesla was subsequently forced to remove. Atari classic "Pole Position" had been pushed out to Tesla owners in August 2018, but the automaker had to delete it earlier this year over licensing issues. At the time, Musk said that a replacement was in the works.
Now, that replacement is ready. According to Tesla, "Beach Buggy Racing 2" will start installing on cars from today, using the automaker's much-vaunted OTA system. Although the cars support gamepad controllers, far more interesting is using the physical steering wheel and pedals.
Your next charging session is going to be SO 👏 MUCH 👏 FUN 👏 pic.twitter.com/5YzSL36kCC

— Tesla (@Tesla) June 18, 2019
For Tesla, "Beach Buggy Racing 2" has 22 tracks to play. It's also possible to recruit new drivers within the game, Tesla says.
It's part of the automaker's move to make more use of its cars' touchscreen infotainment interfaces, even when the vehicles aren't being driven. Later, "Fallout Shelter" will be added to the roster too, having been a hit since it was first released back in 2015. "Cuphead" joined the party earlier this month.
Gaming won't be the only potential distraction while you're waiting at a Tesla Supercharger, however. Musk also confirmed last week that entertainment services offering streaming media would also be joining the system. A future update will bring both YouTube and Netflix support.
For the sake of safety, all of these games and other features require the car to be stopped and in park in order to access them. That's probably wise, since Autopilot alone has seen its fair share of controversy around the potential for driver distraction.