Tesla's open invitation to work with the automotive mainstream on pushing electric car technology has hooked another interested company, with Nissan said to be hoping for talks on how to standardize EV charging standards. The Japanese firm – which has sold the all-electric Nissan Leaf since late 2010 – is expected to follow BMW in working with Tesla, insiders say.
Tesla shocked the car industry last week with the news that it would from now on allow fair-use of its patent portfolio around electric cars, in the hope of driving innovation and adoption of electric drive technologies.
Elon Musk, Tesla's outspoken CEO, said that he had begun the company with the expectation that it would need to protect itself from rapacious rivals trying to poach its developments. In actual fact, he observed, the traditional car makers have proved stubbornly reluctant to move away from gasoline engines.
Nissan and BMW may be the outliers, however, or at least the first to poke their collective heads above the parapets. "It is obviously clear that everyone would benefit if there was a far more simple way for everyone to charge their cars," a source familiar with the situation told the Financial Times.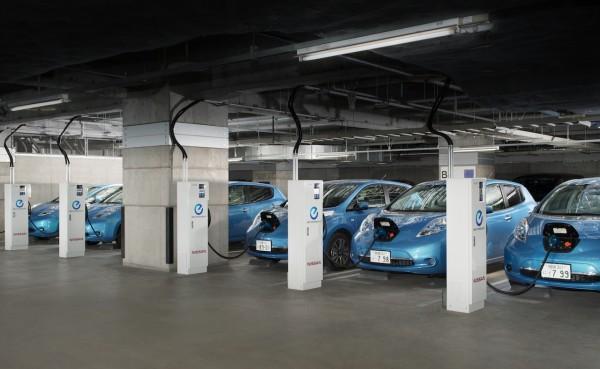 Currently, Tesla operates its own so-called Supercharger network of charging points in multiple countries around the world. Owners of the Tesla Model S – and, when it begins to reach drivers early in 2015, the Model X SUV – are able to take advantage of the recharging facilities at no cost, but the proprietary connector the company has developed means EVs and plug-in hybrids from other firms cannot.
Exactly what Nissan hopes to gain out of a potential collaboration is unclear, though a group effort to push recharging availability seems the overarching goal.
The Leaf is considerably more affordable than the Model S, starting at $29k versus more than twice that amount for the Tesla – but sales targets have been cut after demand failed to meet Nissan's predictions.
That's blamed, in part, on driver range anxiety, something Tesla has conspicuously tackled with its Superchargers. While there are in fact only 100 of the stations around the world, that's still enough to allow a driver to go coast to coast across the US.
Leaf drivers, in contrast, are expected to use public charging points offered by third-party firms. BMW's i3 and i8, meanwhile, have an onboard generator – powered by gasoline – which can act as a range-extender in-between charges.
SOURCE FT