Tesla Model X SUV Coming Early 2015 With AWD Upgrade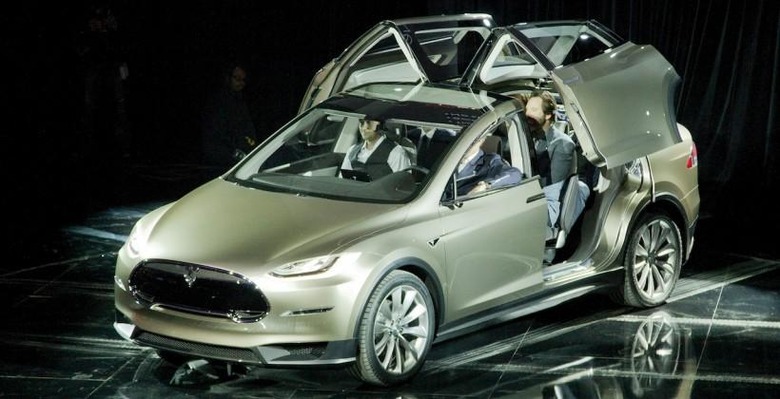 Tesla has begun notifying Model X reservation holders about production plans for the electric SUV, bringing its distinctive "falcon wing" gullwing doors early in the new year, and with a few unannounced features too. Compared to the original concept shown off in February 2012, all Model X cars will have all-wheel-drive as standard, Tesla now says.
That's not the only improvement. Tesla has confirmed that the Model X will be offered with a third row of seats as an option, to accommodate more passengers, while the second and third rows will support being folded down flat so as to turn the SUV into a load-hauling van of sorts.
Range isn't confirmed, but the Model X will of course be able to use the same Supercharger network as the Model S sedan gets access to.
It's those doors which are most eye-catching, of course, folding up and then collapsing down on themselves so as to make entry easier but not catch on the lower roof of a parking garage. The space they leave for exit and ingress should be particularly appealing for families, with Tesla saying in its message to reservation holders that people will even be able to get in and out while standing up.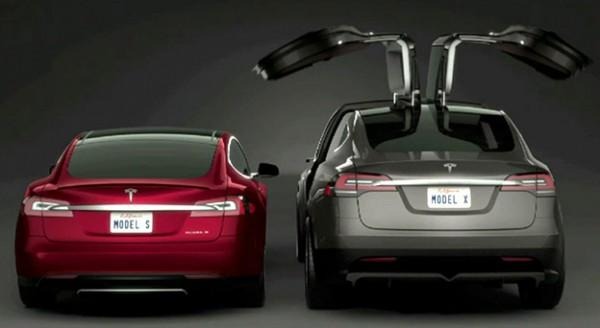 Model X prototypes will be built from the fall of this year, on Tesla's Fremont, CA production line, while the first cars for reservation holders will be produced "in early 2015."
That, of course, is still a few years ahead of Tesla's planned Gigafactory for mass production of Li-Ion batteries opening its doors, something the company expects to take place in 2017. As of the most recent financial results, Tesla is making around 700 cars per week, a figure which is currently hamstrung by battery supplies, but still expected to increase to around 1,000 by the end of the year.
Tesla surprised many in the auto industry last week, when CEO Elon Musk announced he would be effectively open-sourcing the car company's patent portfolio for other manufacturers to take advantage of. Billing the decision as a switch from feeling like it had to protect itself from a tech-grab that never actually came, to a more open-minded push to fuel EV development across the industry, the scheme has already seen Tesla and BMW holding talks about potential collaborations.
SOURCE Tesla Forums