Tesla Motors to make big announcement on Thursday

We've been hearing a lot about Tesla Motors lately. The company was recently in the news for the fiasco with the New York Times over their Model S review. All of that dust has seemed to settle, though, and now the company has a big announcement planned for this Thursday. There are any number of guesses as to what they could announce, but what could it possibly be?
The announcement of the announcement comes straight from the horse's mouth: Tesla Motors CEO Elon Musk took to Twitter to say that he's really excited for an "announcement coming on Thursday," and that he's "going to put [his] money where [his] mouth is in [a] major way." Needless to say, we're pretty curious as to what the company will announce.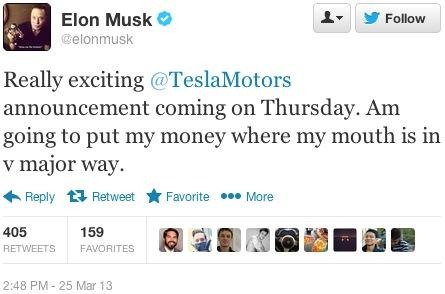 Nothing major happened with Tesla recently that would suggest an announcement of any kind. It could have something to do with the company's delayed Model X SUV, but we're not positive on that. The company recently announced the delay of the Model X into late 2014 so that they could focus more on the Model S's production during 2013.
There's also that five-year loan that Tesla is planning to pay back to the US Department of Energy earlier than expected, but we can't see any kind of major announcement coming out of that. Honestly, we think the announcement may just come out of thin air, and Musk and company may announce something that nobody saw coming. We'll just have to wait and see come Thursday. Stay tuned.