Tesla Model S surpasses GM Chevrolet Volt in sales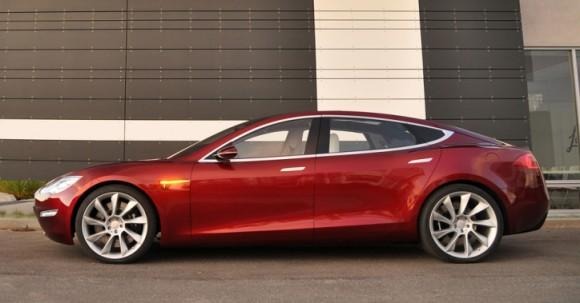 General Motors will soon lose its title as North America's leader in rechargeable auto sales and Tesla will take its throne. Shanna Hendriks, spokeswoman for Tesla, stated that the company is expected to report a minimum of 4,750 deliveries of its Model S vehicles in North America when it releases its first quarter results on May 8th. That number will surpass the 4,421 Chevrolet Volts that GM delivered as well as the 3695 Nissan Leafs that were delivered.
Tesla started selling its Model S vehicles back in the middle of 2012, and it has plans of delivering 20,000 of its vehicles this year. So far its shipments are limited to North American consumers. Customers are able to purchase a Model S thanks to Tesla's financing tool that will allow customers to pick up a Model S for virtually no down-payment and with monthly payments of $500 a month for 36 months. Elon Musk also promises customers that they can sell their Model S back after 36 months for the "same residual value percentage as the iconic Mercedes S Class."
However, despite Tesla's growth in sales last quarter, it still won't reach the sales of GM and Nissan, who both sold 30,000 of their rechargeable vehicles last year. Tesla, being a small business, is limited to sales in only the United States and Canada, and until it can sell its Model S vehicles to other countries, it may have a tough time. According to one analyst, its small size will put it under financial pressure. John Wolkonowicz, an auto analyst in Boston, states,
"Tesla's small size, relative to GM and Nissan, will keep the electric-car maker under financial pressure. The auto business is all about capital intensity, you have to spend money to keep improving your products and develop new ones. A small little auto company like Tesla, I just don't think they can do it."
Regardless, Tesla is doing well so far. The company says that in its 10-year history, it will be reporting its first-quarter profit on May 8th. The company also plans on repaying its loan from the Department of Energy 5 years in advance. Tesla's vehicles appeal to customers not just because of their build quality, but also because of the company's policies that assure that its customers will receive high quality service when purchasing their vehicles. Alongside the financing tool, Tesla will also provide a complete warranty program that will cover "essentially anything that happens to your vehicle". The program will last for 8-years after you purchase your vehicle.
[via Bloomberg]