Tesla Model 3 delay gives buyers tax credit concern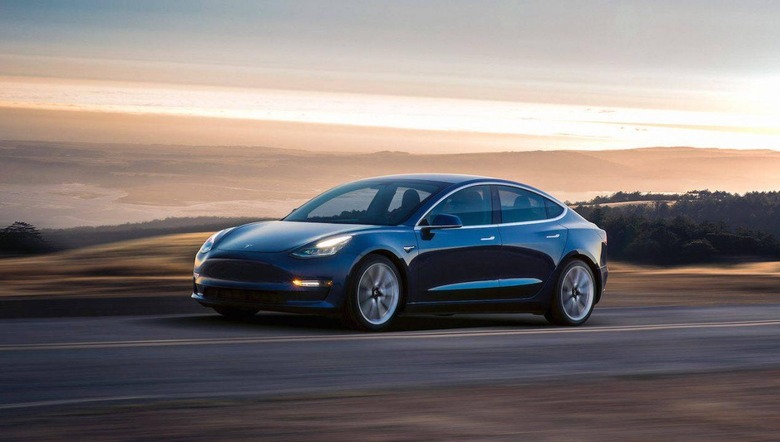 Tesla may have had enthusiastic words to share about its expectations for 2018 in yesterday's financial results announcement, but at the same time it was warning Model 3 reservation holders that their cars were further delayed. The automaker insisted in its Q4 2017 report that this new year would be transformative, targeting first 2,500 Model 3 cars rolling off the production line by the end of March, and then doubling that rate by the end of Q2.
It was music to the ears of those just-about-still-patient on the Model 3 reservations list. Demand for the most affordable Tesla was huge, with hundreds of thousands of people putting down a $1,000 deposit to be among the first to own the electric car. However, even those who got their reservations in on day one are now discovering that it may be a while before a car appears on their drive.
Multiple reservation spot holders received unexpected emails on Wednesday, informing them that their delivery window had changed. Tesla described it in the message as "adjusted" but in reality it's a delay. Even those who grabbed a spot in line on day one are being informed that the Model 3 with Tesla's Standard Battery – for a 220 mile range – could now only arrive either in late 2018 or early 2019.
The dual-motor all-wheel drive Model 3, meanwhile, is also expected in late 2018. Tesla not only sorts its reservation list by when the deposit was made, but prioritizes those drivers in the US, existing Tesla owners, and employees of the company.
The change in schedule has more of an impact than just getting a shiny new Tesla on the driveway. It's looking likely to hit them in the wallet, too, given the way the US government handles federal tax credits for electric vehicles. Right now, buyers of Tesla's cars can qualify for a full $7,500 in tax credit when they buy the EV.
However, that credit starts to phase out once a manufacturer passes 200,000 cars sold in the US. With Tesla expected to pass that milestone later in 2018, it has ominous implications for cost-conscious Model 3 buyers waiting for the most affordable model. By the time those cars begin to filter through to drivers, there's a solid chance that tax credits will have dwindled because of Tesla's overall sales success. As yet, the government has not announced exactly how that phase-out process will work, or what sort of tax credits EV buyers of affected brands will be able to expect.
It's not the first frustration to hit Model 3 buyers' wallets, mind. While Tesla initially gave Model S and Model X buyers free access to its Supercharger network, allowing them to recharge at the high-speed locations at no cost, it later amended that to approximately 1,000 miles of free electricity. However, even that privilege is not being extended to Model 3 buyers.
Instead, they'll need to pay whenever they plug into a Supercharger. It's enough that Tesla predicts that the charging network will begin contributing to the automaker's income in 2018, though it still insists that the "small fee" involved for Model 3 owners is more cost-effective than refueling a gasoline car.
I reserved a Model 3 on the first day. Tonight Tesla sent an update that delivery has been delayed a full year. Cmon @elonmusk! pic.twitter.com/rpZDSmU3ZG

— Jon Passantino (@passantino) February 8, 2018