Tesla limits Autopilot top speed in latest update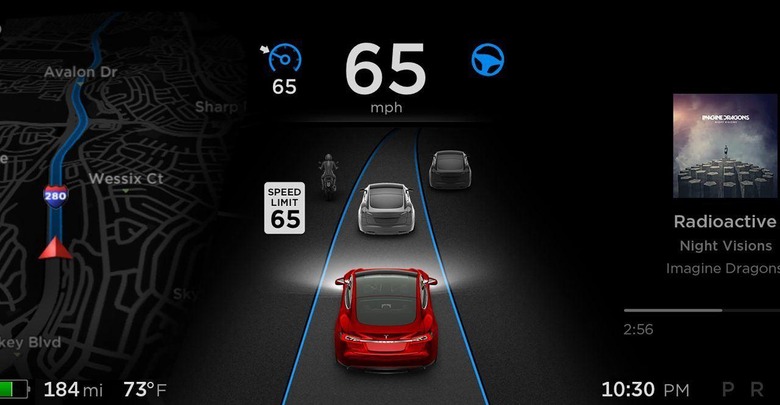 It's update season for Tesla right now, with a new Autopilot upgrade being pushed out to the electric cars that caps top speed on certain roads. Autopilot is Tesla's take on piloted or semi-autonomous driving, capable of maintaining pace with the rest of the traffic on a road, keeping to lanes, and even changing lane with a tap of the indicator. However, there's always been some leeway in what speed it will allow owners to travel at.
This latest change, TechCrunch reports, affects the use of the Autosteer subsystem that's part of Autopilot. It's the technology which keeps the Model S and Model X in the lane even as the road twists and turns, giving the driver themselves a break from actively steering. Now, on undivided roads, Autosteer use will be capped at the posted speed limit.
Previously, on such roads where there is no central reservation or barrier in-between the driver's lane and oncoming traffic flowing in the opposite direction, Autopilot would allow the speed to be set at up to 5 mph more than the posted legal limit. Divided highways, where there's a barrier or reservation between the two directions of traffic, still get the previous cap. That sees Autopilot operate at up to 90 mph.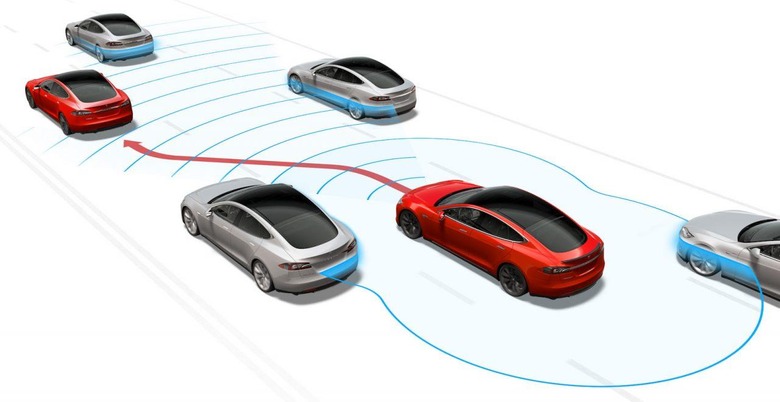 The new firmware comes as Tesla is preparing to release another Autopilot update, which will have particular impact on those with the very newest cars. Model S and Model X built since the automaker announced its second-generation Autopilot system in October haven't had feature parity with the original Autopilot cars, despite having a more capable sensor suite. The new update, which Tesla tells SlashGear is still on course to be released by the end of the year, is expected to bring that parity between older, so-called "AP1" cars then the newer "AP2" models.
Further down the line, however, the gap between the generations will widen. In 2017, Tesla plans to release various Enhanced Autopilot features – including the ability to automatically change lane without the driver first triggering it, and the ability to intelligently navigate on-ramps and off-ramps – which are expected to only be possible with the AP2 hardware. These features are currently in validation, Tesla tells us, and will be released piecemeal as each is deemed safe for wider public use.
It's been a mixed year for Tesla's Autopilot system, with the technology fielding demands from some quarters that it ought to rename the system because it might over-promise on exactly how much the person behind the wheel can check out. However, that controversy doesn't appear to have soured owner opinion at all. In fact, Tesla topped Consumer Reports recent survey of owner satisfaction, with more than 90-percent of drivers saying they would buy the car again.
VIA TechCrunch