Tesla Enhanced Autopilot: What 8.1 is (and isn't) and 2016 will bring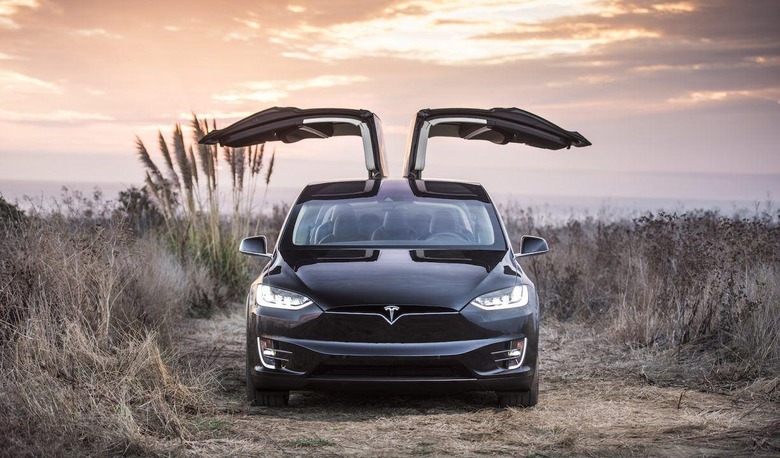 Tesla's 8.0.2 software is rolling out, bringing new convenience features, though not the Enhanced Autopilot which will grant the electric cars autonomous driving. The update, details of which Tesla has confirmed to SlashGear today, is focused on getting more out of roadtrips, in addition to better personalizing the EVs and enhancing the Summon feature for the Model X SUV. It comes as anticipation is higher than ever for the self-driving abilities many owners are now expecting from Autopilot 8.1, which has become a subject of some confusion. Read on for how it all breaks down.
So what's in Tesla software 8.0.2? Though it's not a major release, there are some welcome tweaks and improvements for Model S and Model X owners, certainly. Possibly most useful are Supercharger amenities, with each charger pin in Tesla's Maps app now also giving details of nearby facilities such as restrooms, restaurants, WiFi, shops, or lodgings. Driver profiles – which store settings like seat and steering wheel positions, among other things – can now be linked to individual keys, so that they'll automatically load depending on who opens the driver's door.
Model X owners can, as of 8.0.2, use Summon from their key fob too. Holding the center button down until the SUV's hazard lights flash, then pressing the "frunk" (front trunk) button once, will drive the Model X forward into a parking space; conversely, pressing the trunk button instead will drive it back into a space. It'll work for up to 39 feet, or until an obstacle is detected.
8.0.2 also includes two new equalizer settings on the audio system, the ability to disable the automatic doors, and a more cautious triple-click option to close the doors from the keyfob. What it doesn't include, however, are new Autopilot features for the road. Nor, indeed, are there any of the Level 4/5 autonomous technologies that Tesla has said are in the pipeline.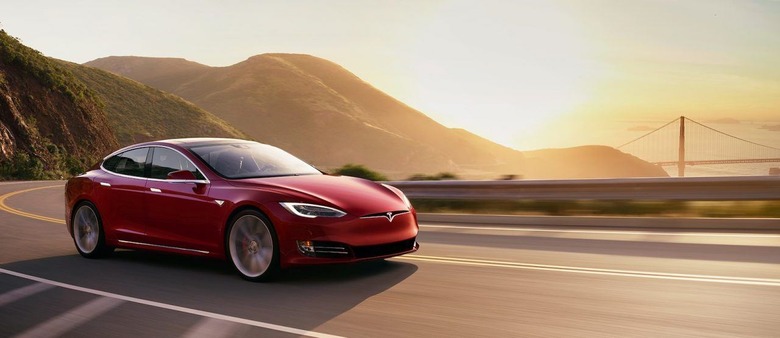 It's fair to say that there's been some confusion about exactly what Tesla has planned for its Autopilot and Enhanced Autopilot roadmaps, and when owners might reasonably expect the features to hit their cars. Adding to that uncertainty, perhaps, is the little-remembered fact that, despite having the newest hardware, the cars which will support Enhanced Autopilot are, currently, not at feature-parity with the older models. Here's how it breaks down.
Tesla's original Autopilot – known among owners as "AP1" – relies upon a fairly conservative set of hardware. There's a forward-facing camera at the top of the windshield, along with a forward-facing radar in the lower grill. Ultrasonic sensors in the front and rear bumpers track objects all around the car.
As of mid-October, Tesla switched to its new Autopilot sensor suite, known as "AP2". That will be the underpinnings of Enhanced Autopilot, a more comprehensive collection of driver-assistance abilities, not to mention Tesla's eventual goal of full self-driving capability. It's a considerable upgrade in terms of hardware: as well as a front radar there are eight cameras spread around the front, sides, and rear of the car, together with twelve sonar sensors.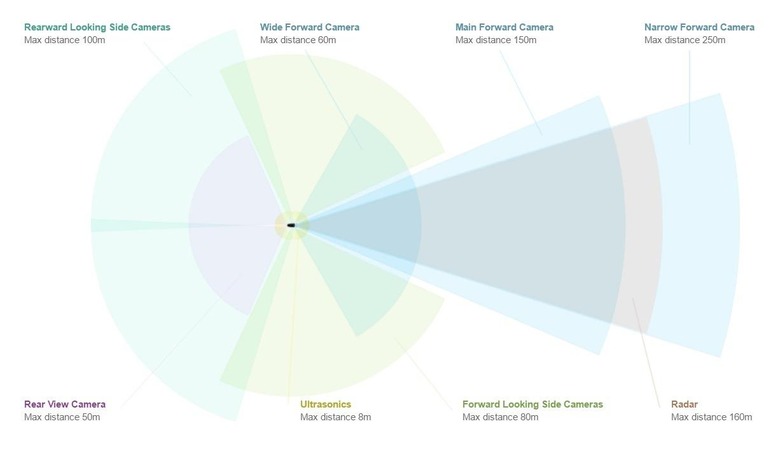 Unfortunately, while Tesla decided to fit all cars as of the mid-October 2016 announcement with AP2 sensors, cars that shipped with AP1 technology can't be retrofitted with AP2. On the flip side, Model S and Model X cars with AP2 don't, currently, have the same Autopilot functionality as the AP1 cars. That means no Autosteer, Autopark, automatic lane-changing, Summon, Adaptive Cruise Control, Speed Assist, or Park Assist, in addition to a few extra convenience features like automatic headlamps and windshield wipers.
Tesla has promised "Autopilot feature parity" by the end of the year and, the company reiterated to me today, that guidance hasn't changed. That will bring AP2 cars up to speed with what AP1 cars can do. Indeed, I'm told, there's the possibility that AP2 cars will do better at the same Autopilot functions than AP1 cars, because of the improved and expanded sensors responsible.
What that won't be, however – and what's unlikely to arrive before 2016 is through – is Enhanced Autopilot. Features like automatic lane-changing without driver input, automatic onramp and offramp navigation, and self-parking when near an empty spot are, as Elon Musk said on Twitter earlier in the week, still in validation. There's no fixed roadmap for when they'll be released and nor, in fact, will they necessarily be part of Autopilot 8.1.
Instead, I'm told, Tesla will simply begin pushing them out when they've completed validation: there's no intention to wait until they can all be packaged up into a single release. The final cadence for those updates hasn't been decided upon, either; it'll all depend on when the safety tests and such have been passed. Tesla may well push some out as Autopilot 8.1 but, ironically, that will probably be because of the expectation that has built up around the idea that v8.1 is first of "the Enhanced Autopilot updates" more than anything else. The name "Autopilot 8.1" seems to have been accidentally conflated with Enhanced Autopilot, without Tesla really intending it to be.
Beyond that will be "Full Self-Driving Capability", as demonstrated in an early form in the video above. That will build on Enhanced Autopilot, bringing together features like automatic parking, on/offramp navigation, automatic lane-changing, and more, and combine them with the ability to navigate intelligently and unsupervised around urban areas, where Autopilot is not currently designed to operate. Still, that full self-driving is some way off in the future.
More immediately, the takeaway is that there's a difference between 8.0.2 which is rolling out now, the "Autopilot parity" update which is still on course for release before the end of 2016, and the first of the Enhanced Autopilot updates, which will more than likely begin deploying in 2017. What makes the latter particularly time-consuming is making sure there's sufficient road time to ensure it can handle a suitably wide range of conditions. Just don't get too hung up on "Autopilot 8.1" as a version number before that happens.