Tesla: "Hubris" soured Model X launch, but we learned our lesson for Model 3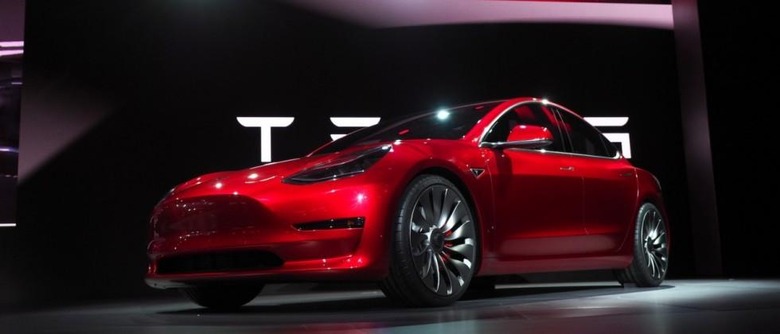 Tesla Motors has announced its Q1 2016 deliveries were nearly 50% greater than the same quarter last year, with deliveries being comprised of 12,240 Model S cars and only 2,400 Model X vehicles. The auto maker says it is still "on track" to deliver between 80,000 and 90,000 new cars this year, a target all the more necessary given the unanticipated demand for the newly launched Model 3. Whether Tesla can actually hit those numbers is yet to be seen.
As the numbers show, relatively few Model X vehicles were delivered during the year's first quarter. Tesla says the ultimate source of the issue was its "hubris" in dreaming big — the auto maker added "too much new technology" to the first version of the Model X, the company said in a statement today, and there was "insufficient supplier capability validation." As well, Tesla said it wasn't able to make the parts it needed in-house.
I tried the Tesla Model 3: Here's what you need to know
As such, the Tesla-described "severe Model X supplier parts shortages" the company faced in January and February dragged on for far longer than Tesla had anticipated, and though production and delivery jumped after the issues were ironed out, it came too late to get the most recent batch of vehicles out to buyers (before the first quarter ended, that is). Says Tesla, it increased its Model X production to 750 cars-per-week once the issues were fixed.
It was all very unfortunate, yes, but Tesla promises those issues are behind it. "Tesla is addressing all three root causes to ensure that these mistakes are not repeated with the Model 3 launch," the company has promised. "Tesla reaffirms its full-year delivery guidance."
The Model 3 won't be arriving until 2017, but demand for it has proven exceptionally high. As of yesterday, Tesla had received more than double the number of Model 3 preorders it had anticipated, with 7AM on Saturday morning being tallied at 253,000 global orders. Such a huge demand again raises questions about whether Tesla can keep up; after all, it only managed to deliver a total of 14,820 cars this past quarter.
SOURCE: Tesla Motors