Tesla builds 9,766 Model 3 in Q1, missing Musk's target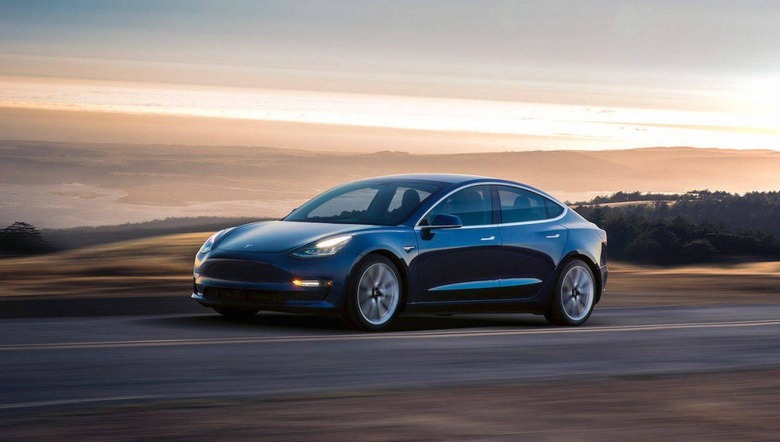 Tesla produced 9,766 Model 3 electric cars in Q1 2018, the automaker confirmed today, gaining a surge in the final days of the quarter though still missing its self-imposed targets. The Californian car company has been under the spotlight over just how quickly it can ramp up production of its most affordable vehicle, the Model 3, after Tesla conceded that its initial goal had been too aggressive.
At first, Tesla CEO Elon Musk had said that he believed the company would be producing 5,000 Model 3 per week by the end of March 2018. That forecast was changed at the start of the year, however, with Musk instead suggesting the automaker would be producing 2,500 of the cars at that point. The 5,000 per week target would be achieved midway through 2018, Musk said at the time.
Tesla, though, still isn't at that level. Model 3 production did increase exponentially, the company points out, with a fourfold increase over the previous quarter. In the last seven days of the quarter, though, even with that acceleration, it produced 2,020 of the cars.
"In the next seven days, we expect to produce 2,000 Model S and X vehicles and 2,000 Model 3 vehicles," Tesla says now. It's also sticking with Musk's modified goal from January. "Tesla continues to target a production rate of approximately 5,000 units per week in about three months," the automaker suggests.
Overall for the quarter, Tesla delivered 29,980 cars. 11,730 of those were the Model S, its more expensive sedan, while 10,070 were the Model X, its electric SUV. 8,180 of the Model 3 were delivered. More than 6,000 cars, comprised of all three types, were in transit by the end of the quarter and will be counted as Q2 2018 deliveries.
While there had been concerns that the Model 3's arrival might dampen enthusiasm for Tesla's existing cars, the automaker says that's not in fact the case. Net orders for both the Model S and Model X "were at an all-time Q1 record," it points out. As for Model 3 cancellations, it claims they're mostly down to general delays or the fact that certain in-demand options – particularly the smaller, more affordable battery pack, and the dual-motor AWD version – aren't yet available.
Tesla also tackles ongoing concerns about build quality today. Reports of early Model 3 deliveries arriving from the factory with larger-than-expected panel gaps, poorly finished paint, and squeaking trim had led some to assume Tesla was trying to pump the cars out too fast for quality control to catch up. Now, it insists, "the quality of Model 3 coming out of production is at the highest level we have seen across all our products."
CEO Elon Musk confirmed on Monday that he had taken over management of Model 3 production, a role that had previously been handled by Doug Field, senior vice president of engineering. "My job as CEO is to focus on what's most critical, which is currently Model 3 production," Musk said in response to reports about the changing duties.