Elon Musk is back in charge of Tesla Model 3 production "hell"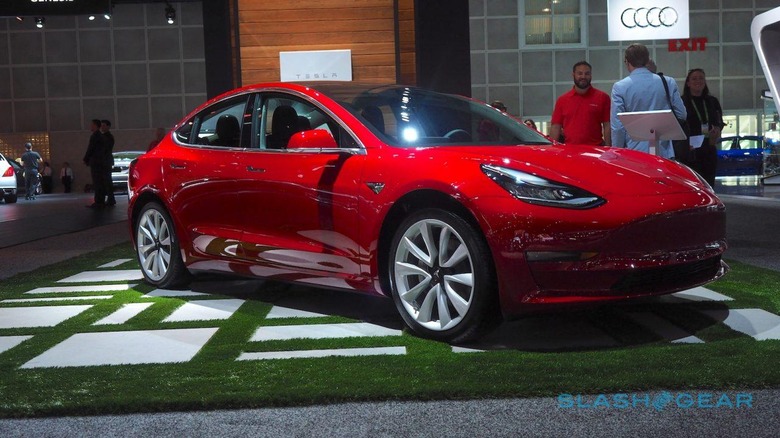 Elon Musk has retaken the car production reins as Tesla faces increased pressure to ramp up Model 3 manufacturing, the company has confirmed. The automaker has spent the past three months attempting to reach its self-imposed target of 2,500 Model 3 cars rolling off the production line each week.
Whether or not it has achieved that, we'll have to wait for Tesla's Q1 2018 financial results to find out. The company had already tempered its ambitions, having initially planned to be making 5,000 of the Model 3 per week by this point in time. That, Elon Musk said at the start of the year, was now expected to happen midway through 2018.
In order to deliver on that target, Musk has waded back into "production hell." Sources confirmed to The Information that the CEO and company founder had resumed direct control of manufacturing, having delegated that to Doug Field, senior vice president of engineering. Field joined the automaker in late 2013, having previously worked at Apple on product design and Mac hardware engineering.
According to the report, Musk's move to have a more direct role in day to day production came after Tesla fell short of its 2,500 per week Model 3 goal. However, Musk frames the news differently. Speaking in response to the report on Twitter, he argued that the change in responsibilities hardly warranted news articles.
"My job as CEO is to focus on what's most critical, which is currently Model 3 production," Musk tweeted. "Doug, who I regard as one of the world's most talented engineering execs, is focused on vehicle engineering."
"About a year ago, I asked Doug to manage both engineering & production," Musk continued. "He agreed that Tesla needed eng & prod better aligned, so we don't design cars that are crazy hard to build. Right now, tho, better to divide & conquer, so I'm back to sleeping at factory. Car biz is hell ..."
The challenges of designing cars that are also straightforward to manufacture is something Tesla has been focusing on for some time. The Model 3 was meant to represent everything the automaker had learned from the Model S and Model X before it on that front. Tesla purposefully limited the number of configurations and options it was making available, for instance, paring back the possible combinations so as to minimize the range of cars it would be producing.
Even so, it's not been an easy-going process. Part of that has been blamed on Tesla's attempts to highly automate the manufacturing line, something numerous leaks have suggested simply isn't going as smoothly as Musk & Co. had hoped it might. As a result, Model 3 cars were still being hand-finished, insiders claimed, a process that was time- and labor-intensive.