Tesla AT&T deal confirmed with mobile hotspot in pipeline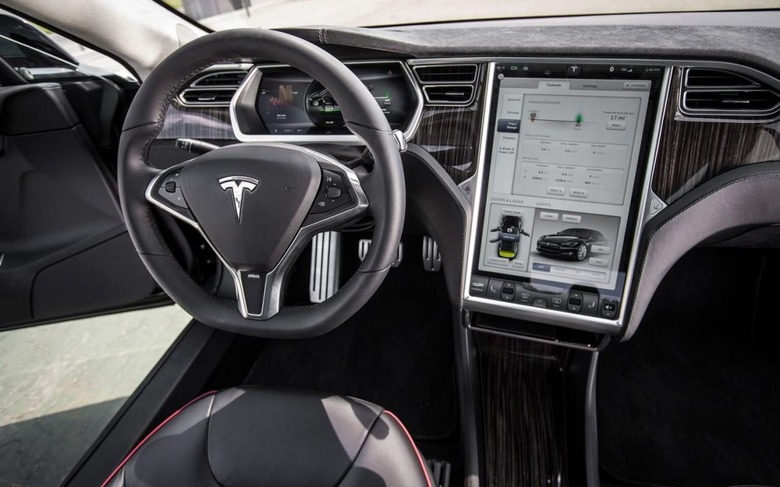 Tesla's in-car telematics system relies on AT&T's HSPA+ network, the carrier has confirmed for the first time, part of AT&T's attempt to push its new mobility options which include intelligent SIMs that can split payments between car manufacturers and drivers. The system, which Tesla currently uses for sending telematics and car status data from the Model S back to home base, as well as to stream media content to the dashboard and show other infotainment content, will soon be opened up to using the car as a mobile hotspot, allowing passengers to get online through a shared connection.
Key to that provision, AT&T senior vice president Chris Penrose revealed at the Mobilize conference today, is the capacity of the SIM card to differentiate between different types of data. By identifying which data is being used by the Model S' systems – such as infotainment, navigation, stolen vehicle location, and other standard features – and which is being requested by passengers on their smartphones, tablets, or portable games devices, AT&T will be able to handle split billing.
Data rates for the mobile hotspot functionality have not been confirmed, with Penrose saying that they were still being decided. AT&T currently offers a standalone mobile hotspot plan including 5GB of data for $50 per month, for instance.
However, the carrier also has Mobile Share plans, which allow subscribers to add a device like a tablet or mobile hotspot to their smartphone data bundle. From $10 per tablet or $20 per hotspot, the other devices can share a single data allowance between multiple users.
One of the challenges that AT&T is working on, therefore, is how the fees involved in accessing mobile hotspot functionality in cars – from Tesla and other manufacturers – will be dealt with depending on whether the driver is already an AT&T subscriber or does not have an existing account, Penrose explained. The same smart billing may eventually be used by other car companies using AT&T's network; GM, for instance, runs its OnStar system over AT&T's network, while Nissan and Sirius XM will use the carrier for its security and rescue services.
GM 4G LTE Connected Car Demo:
It's not only Tesla aiming to supercharge dashboards. General Motors showed us a prototype LTE-enabled car earlier this year, which can share its 4G among passengers as well as use it to beam video from internal and external cameras for video calls and remotely checking in on the security of your vehicle. The company plans to add LTE to its entire car range kicking off from 2014, though pricing for service packages is yet to be detailed.
Update: AT&T tells us that the Tesla deal is for 3G/HSPA+ service, rather than LTE.