TerraTec Mobile Speakers Debut: SubSession Stage 3, Traveller 1, 3 And 5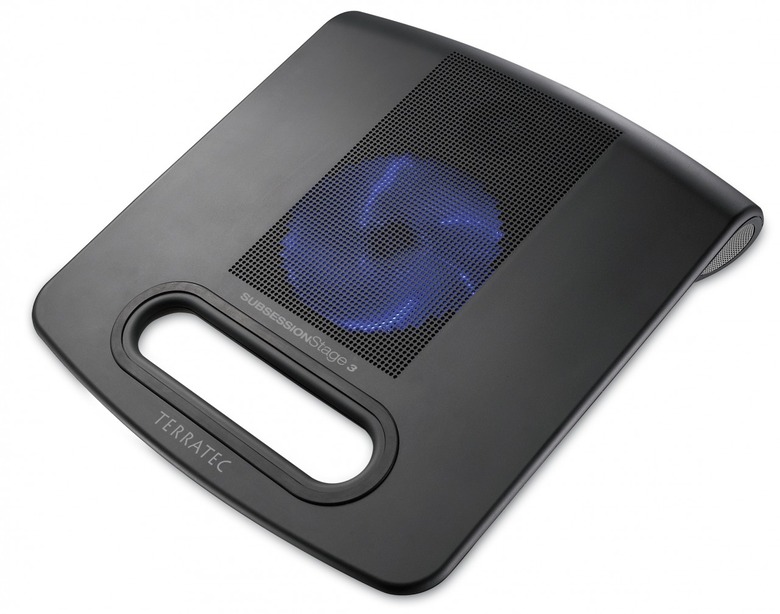 If TerraTec's new home media player is a little too stationary for your liking, the company has a few more sound-oriented gadgets that may fit your mobile lifestyle.  The TerraTec SubSession Stage 3 is a combination laptop cooler and speaker system, fitted with a low-noise fan and a Class D amp powering dual 2W stereo speakers and a 10W sub.  It'll go on sale in late March, priced at €79.99 ($109).  Meanwhile there are three other new portable sound systems.
The TerraTec SubSession Traveller 3 and Traveller 5, meanwhile, are portable 2.1 speaker systems, each hooking up via USB for both audio and power.  The Class D amp powers dual 0.6W stereo speakers and a 1.2W sub; each also has a 3.5mm line-input, and the Traveller 5 also gets batteries.  Both will go on sale at the end of March, priced at €49.99 ($68) and €59.99 ($82) respectively.
Finally, the SubSession Traveller 1 uses resonance technology to turn any flat surface into a speaker.  The compact box sticks to a wall, window or table via adhesive film, and has a 3.5mm stereo input together with a battery good for up to 20hrs playback.  It'll go on sale at the end of March 2010, priced at €39.99 ($54).