TerraTec NOXON M520 HD media-player arrives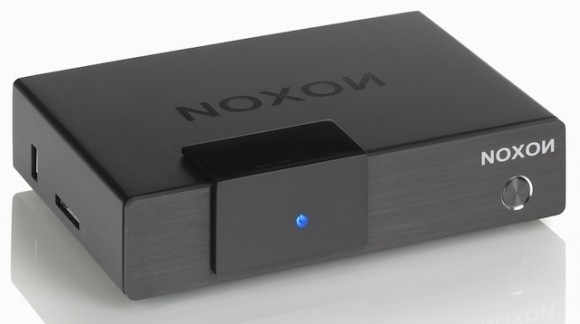 TerraTec have announced their latest media player, the NOXON M520, an HD-capable box with networking support and HDMI connectivity.  Fresh to CeBIT 2010 this week, the NOXON M520 has DTS and Dolby Digital surround sound support, together with AVI and XviD compatibility, together with two USB 2.0 ports for adding in external drives.
There's also a memory card reader and an optional WiFi adapter.  Connectivity includes HDMI, component and composite, together with a digital audio output, while the USB ports are split between the front and side panels.
The company throw in a remote control, for navigating the UI, though we're still waiting on a full spec sheet with the entire list of codecs supported.  The TerraTec NOXON M520 goes on sale in April, priced at €149 ($203).
Press Release:
TerraTec: Full HD and highest resolution – with a new Media Player NOXON M520

Media Center or streaming clients are becoming more popular. For the user wants at home – usually in the living room access – to all its media and canned goods. This has the multi-TerraTec Electronic manufacturers can not rest. The Nettetaler now present the new NOXON M520. An elegant design and innovative technology while going up a perfect connection. The elegant interface is easy to control via an intuitive remote control. The NOXON M520 is from April to trade and costs 149 euros (229 CHF).

With the full-HD Multimedia Player M520 Noxon films are at the highest resolution in all popular formats to any TV or home theater system launched – including the best multi-channel sound (DTS, Dolby Digital). But of course geht's also a number of small Whether AVI or XVID, whether mp3 or WMA – the M520 does it all. There are even photos in a slideshow.

The stylish, small aluminum case can be easily and very easy to integrate into the home network – either via LAN or via optional wLAN. This allows very straightforward, all media data stream from the computer or Mac. On two USB 2.0 ports can also external hard drives or flash drives can be connected. A built-in card reader also enables the use of SD cards.

The operation of the player is conveniently by remote control, with the multilingual, clear user interface makes navigation a snap. Elegant, versatile and technically high quality NOXON M520 is the perfect complement for your home's living room.

Features

• Digital content via network, USB and memory cards to enjoy right on the TV

• Support all popular audio and video formats

• Easy operation with a German menu

• Convenient slide show function

• USB 2.0 and SD / MMC card slot

• Sleek aluminum housing

• Wide range of accessories including HDMI cables and remote control