Telltale Games announces episodic Batman title for 2016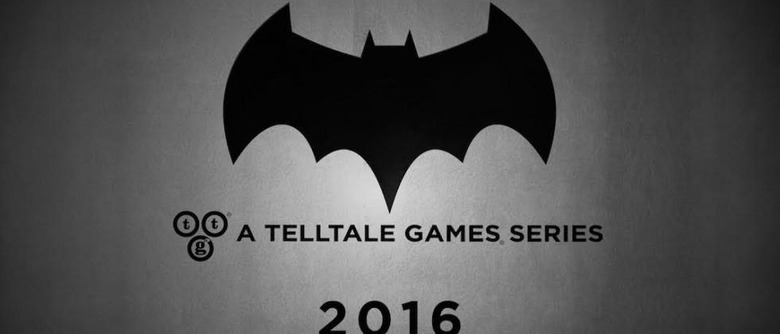 Video game developer Telltale Games has been maintaining an unbroken streak of hit games for more than a few years now, honing their style of releasing titles in episodes, several weeks apart, starting with Back to the Future, two Walking Dead games, and The Wolf Among Us, moving up to their latest releases like Game of Thrones and Minecraft: Story Mode. Now they've announced one of their next games, a Batman series for 2016, thanks to a partnership with DC Comics.
A brief teaser trailer was revealed last night at The Game Awards 2015, with a style reminiscent of comic books; black ink making its way across paper, revealing imagery such as guns, money, a young Bruce Wayne, the Gotham Skyline, and finally the iconic Batman logo.
While no gameplay footage was shown, Telltale did confirm that the game will be released next year on PC/Mac, mobile devices, and "home consoles," which will surely include at least the PlayStation 4, Xbox One, and Wii U.
"At Telltale, we've been honored to bring our unique approach to interactive storytelling to some of the biggest entertainment franchises in the world, and we're excited to announce that we'll soon be exploring what it means to be Batman in an all-new series starting next year," said Kevin Bruner, Co-Founder and CEO of Telltale Games. "This iteration of Batman will give fans a first-hand opportunity to dive deeper into the complex life and mind of Bruce Wayne, the duality of his own identity, and the struggle of responsibility in saving a city overcome with corruption and villainy."
SOURCE Telltale Games