Tech-filled 2018 Dodge Demon is smarter on the drag strip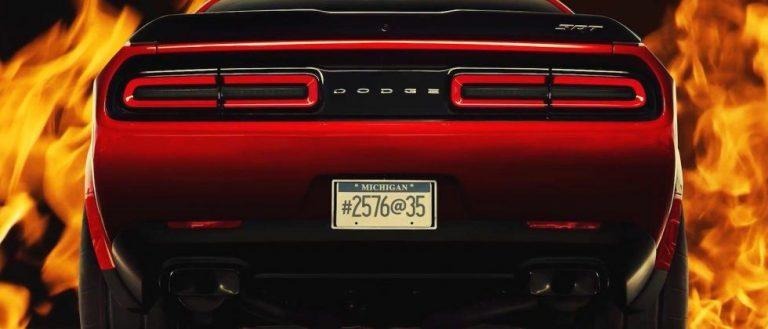 Dodge may be busy making its most powerful Challenger to-date, but the 2018 SRT Demon won't merely be some blunt-force instrument. Instead, the automaker has said today in the latest of what seems like an interminable series of teasers, the potent coupe will pack a new driver-focused infotainment system intended to unlock race-related statistics. Dubbed "Performance Pages", the interface will also allow the Challenger SRT Demon's driver to adjust the various drive mode settings.
Accessed via the 8.4-inch touchscreen familiar from previous iterations of Chrysler's Uconnect system, the new menus will be exclusive to the 2018 Demon. On the settings side, there'll be the option of three different drive modes: Auto – intended for the street – along with Drag and Custom. Each will have varying levels of customization.
So, in Auto mode, there'll be a choice of engine performance limits, together with three levels each of suspension feel/response and steering feel/response. In Drag mode, meanwhile, there'll be a single level of transmission shifting speed and firmness, traction control, suspension feel/response, and steering feel/response. Finally, Custom mode will allow owners to mix-and-match, with Dodge saying that just about every option will be configurable.
That way, the Demon could borrow driving dynamics from other SRT cars, like the Challenger Hellcat. A Custom setup could include the engine and transmission settings from Drag mode, but use the Hellcat's Sport mode settings for suspension and steering. The result, Dodge suggests, would be a car with the performance of the Demon but the on-road driving dynamics of the Hellcat.
However, the system doesn't stop there. The Demon's Performance Pages will also act as a record of driving patterns, with a real-time display of horsepower and torque plotted against gear changes, for instance. Dodge expects owners to be keen to tinker with the hardware installed in their cars – raiding the Direct Connection Performance Parts catalog, for instance – and so the new menus will be a useful way of seeing what has the biggest impact overall.
There'll be real-time displays of supercharger intercooler coolant temperature, and the Demon will also have the option to set an After-Run Chiller which will continue to cool things down to a preset limit even after the car is shut off. Drivers will be able to set line-lock, rpm-adjustable launch control, and when the shift light flashes in the instrumentation on a per-gear basis. Read-outs for engine oil pressure and temperature, coolant temperature, transmission fluid temperature, intake air temperature, air-fuel ratio, intercooler coolant temperature, boost pressure, and battery voltage will all be offered, with the ability to graph them and record them for later review.
NOW READ: 2017 Dodge Challenger GT AWD First Drive
Even if you're just interested in how fast you went, the Demon will keep track of that, too. There'll be timers for reaction time, 0-60 mph, 0-100 mph, eighth-mile and quarter-mile elapsed time, and overall vehicle speed, plus instantaneous and peak lateral and longitudinal g-forces. Everything will be written to the car's onboard data recorder, so that a log of just how the Demon holds up over time can be reviewed later on.
In short, it's a production line drag racer with the smarts to back it up. Figure on comfortably more than the Hellcat's 707 HP and specially-formulated rubber to at least attempt to get some of that power down to the asphalt. We'll know all the details at the New York International Auto Show 2017, which kicks off in early April.