Dodge's 2018 Challenger SRT Demon keeps getting crazier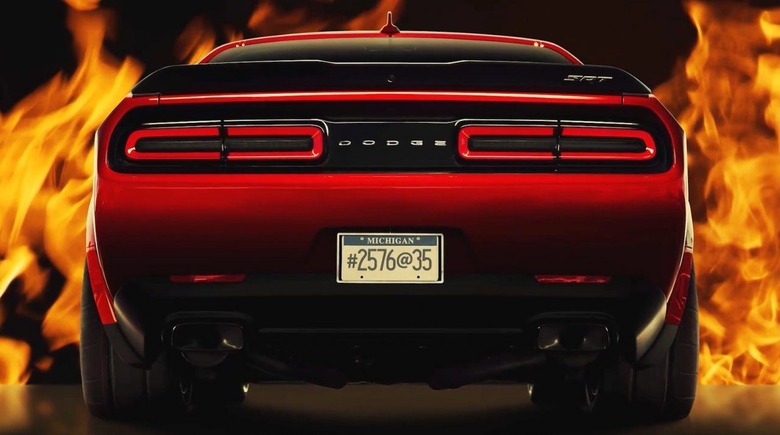 Dodge continues to crank up expectations for the upcoming 2018 Challenger SRT Demon, the new car which will out-crazy even the currently ridiculous SRT Hellcat. The full wraps aren't due to be lifted off the SRT Demon until the New York International Auto Show 2017 come April, but Dodge can't help spilling a few details along the way. Today, it's the ridiculous rubber the Demon will wear.
As anybody who has tried to go around a corner in a Hellcat – whether Challenger or Charger – before knows, having sticky shoes isn't optional. The 707 horsepower engine pushes all its grunt through the rear wheels, after all. That's entertaining when you're doing smoky burnouts on the straights, but less so when you're suddenly out of grip in a corner.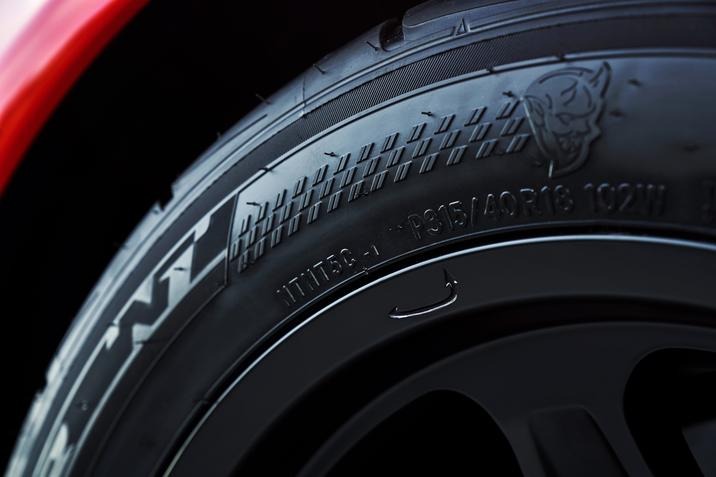 According to Dodge, that won't necessarily be the fate the Demon shares. The automaker has turned to tire specialist Nitto for a custom set of "Demon Branded" 315/40R18 Nitto NT05R tires: unusually, the car will sport them both front and rear. Usually, the front wheels on cars of the Demon's ilk aren't as wide as those on the back.
It means that the car is the first-ever factory production vehicle built with drag radials; Dodge will also fit the Demon with upgraded, lightweight 18 x 11-inch wheels. According to the company, Nitto has cooked up a new compound and special tire construction for the Demon. The 11-inch wide rubber will be covered in new fender flares, making the car a meaty 3.5-inches wider than the regular vehicle.
Meanwhile, Dodge will uses laser clearancing for the body, and the Demon's entire chassis is e-coated for durability. Thanks to a weight loss campaign that encompasses the wheels, steering, suspension, brakes, interior construction, and other components, it should be more than 200 pounds lighter than the current Hellcat. Mind you, at 4,448 lbs the SRT Hellcat isn't exactly a dainty car.
Of course the big question many have is just how much power the SRT Demon will pack. Dodge has already promised more than the 707 horses mustered from the 6.2-liter V8 HEMI in the Hellcat, one of the best HP-per-dollar deals in the auto world right now. This drag-spec rubber implies the focus is still on going fast in a straight line, though earlier rumors hinted that Dodge could finally give the Challenger the all-wheel drive underpinnings enthusiasts have been calling out for. We'll know more come April and the 2018 Challenger SRT Demon's big unveil in New York.