Tanita BC-1000 whispers your weight to Garmin watch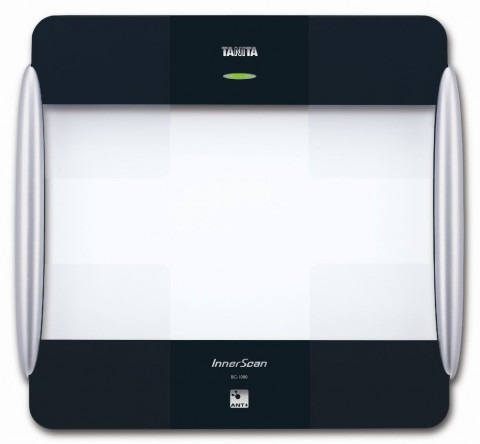 Back when they launched the FR60 Fitness Watch in January, Garmin promised all manner of compatible equipment that would use the ANT+ wireless connection standard.  Tanita are one of the first to announce such an ANT+ equipped device, in the shape of the BC-1000 Body Composition Monitor, that can send multiple stats about your physique to both the FR60 and your PC.
Like other body composition monitors, the Tanita BC-1000 simply demands that you stand on it, bare-footed, and allow it to measure your weight, body fat and body water.  These readers are then sent to the FR60 watch to be displayed (rather than shown in big, embarrassing numbers on the BC-1000 itself) and if your PC – with the wireless ANT+ USB stick fitted – is within range it will get the stats too.
The Tanita BC-1000 also measures muscle mass, daily caloric intake, metabolic age rating, bone mass, visceral fat and overall physique rating, all of which are stored in the FR60 watch ready to be synchronized over to a computer at a later date.  The BC-1000 will launch this Summer, priced at $279.99 in a bundle including the USB ANT+ stick, or $399.99 for that plus the Garmin FR60.  Each has access to a free copy of the Tanita HealthyEdge monitoring software. 
Press Release:
TANITA ANNOUNCES ITS FIRST BODY COMPOSITION MONITOR TO WIRELESSLY TRANSMIT DATA TO REMOTE DISPLAYS

New BC-1000 consumer monitor links with remote displays through wireless technology

ARLINGTON HEIGHTS, IL (March 17, 2009) – Tanita Corporation, the world's leader in professional analyzers, consumer home monitors and miniscale products, announces the new BC-1000, bringing the most sophisticated health monitoring technology to health and fitness enthusiasts everywhere. The BC-1000 Body Composition Monitor offers consumers the ability to wirelessly link data to remote displays, such as a personal computer. For the debut of the BC-1000, Tanita has partnered with Garmin Ltd., the global leader in satellite navigation, to bring consumers the ability to securely and wirelessly transmit data to Garmin's FR60 Fitness Watch.

In addition to weight, body fat percentage and hydration levels, the BC-1000 Body Composition Monitor provides measurements on muscle mass, overall physique rating, daily caloric intake, metabolic age rating, bone mass and visceral fat. The BC-1000 will communicate with your computer and Tanita's new HealthyEdgeTM Software to wirelessly transmit these nine readings within seconds after stepping on the platform. When using the Garmin FR60 Fitness Watch and its wireless technology, the readings of weight, body fat and body water are wirelessly displayed on the FR60, while all nine readings are stored in the watch. When in range of a consumer's computer, the information is automatically transmitted to the computer using the wireless USB Stick and captured with Tanita's HealthyEdge Software.

"Tanita's new alliance with Garmin brings an immense amount of value to the marketplace. As both Tanita and Garmin represent the leaders in technology and innovation in our respective fields, it was a natural fit," said Heather Bundgaard, Marketing Director, Tanita Corporation of America. "Wireless integration with the BC-1000 platform generates the most intelligent consumer monitor available, and we are excited to bring such a revolution in measurement and connectivity to the market this summer."

The wireless interface protocol enables ultra low power applications ideal for fitness and health monitors and offers all the benefits of digital wireless communications with much lower power consumption than other wireless protocols.

The BC-1000 scale platform features no visible display, as readings are automatically transmitted to remote displays such as the Garmin FR60 fitness watch, a personal computer, or Tanita's tabletop remote display for easy viewing in various locations. This dynamic feature—the first of its kind—will allow for private readings and is perfect for anyone who wants to keep their health and fitness levels private, making the BC-1000 the ultimate choice for discretion.

Available this summer, The Tanita BC-1000 Body Composition monitor will have two bundled options – the BC-1000 Body Composition platform and wireless USB stick bundle for $279.99 – or BC-1000 Body Composition platform, FR60 Fitness Watch and wireless USB Stick for $399.99. Both bundles will be available at www.TheCompetitiveEdge.com and come with a license key for downloading Tanita's HealthyEdge software.