Garmin FR60 Fitness Watch with ANT+ wireless sync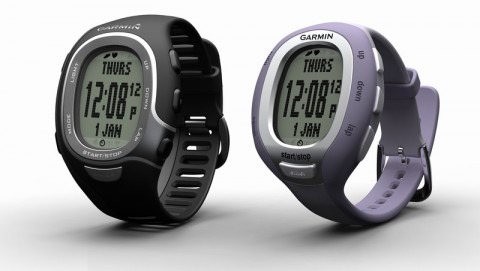 Garmin have announced their latest GPS-enabled exercise trainer, the FR60 Fitness Watch.  Thanks to the ANT+ wireless fitness equipment standard, the FR60 can track time, calories burned, heart rate and other data from linked fitness equipment, then – with the supplied ANT+ USB stick – wirelessly transfer that information to your PC when it comes into range.
The Garmin FR60 comes as standard with a heart-rate monitor, and several bundles also include a "foot pod" that can be used to record pedometer data.  That's in addition to the GPS receiver, which can record up to 15hrs and 100 laps of detailed exercise records, including route and performance statistics.
Various activity-specific accessories are available, such as bike speed and cadence sensors and handlebar mounts, and gym equipment using the ANT+ standard will also wirelessly link to the watch.  Both mens and womens versions are available, each with access to the Garmin Connect online training site, for workout sharing and access to messageboards.  No pricing for the Garmin FR60 has been announced so far.
Press Release:
Sleek and Simple to Use, Garmin® FR60 Fitness Watch Gets You Connected On the Road, In the Gym

OLATHE, Kan. –(Business Wire)– Jan 30, 2009 Garmin International Inc., a unit of Garmin Ltd. (NASDAQ: GRMN), the global leader in satellite navigation, today announced its newest fitness watch that sets the standard for wireless connectivity, the FR60. The latest breakthrough in Garmin's expansive outdoor recreation and fitness line, the stylish and intuitive FR60 was announced in conjunction with the 2009 ISPO Winter trade show in Munich.

"Indoors or out, it's easier than ever to set fitness goals and track your progress with the fashionable yet affordable FR60," said Dan Bartel, Garmin's vice president of worldwide sales. "While you exercise, the easy-to-use FR60 accurately tracks your time, calories burned, heart rate and other data from linked fitness equipment. Once you're done and within range of your computer, that information is wirelessly transferred and stored for later analysis."

The central element of the user-friendly FR60 system is an advanced fitness watch which interfaces wirelessly with other ANT+™ compatible fitness devices such as a heart rate monitor, a foot pod that monitors speed and distance or third-party fitness equipment at the gym or at home. Available in men's and women's versions, the FR60 comes with a wireless USB ANT™ Stick that plugs into the user's PC or Mac and automatically downloads workout data stored on the watch to a personal computer. No cables are necessary as the FR60 quickly synchronizes with the computer once it is in close proximity. The workouts themselves are made easier with the FR60 as its robust heart rate monitor and slimmed-down foot pod transmit data wirelessly and activate automatically upon movement, removing the need to turn the lightweight accessories on and off. Available in three colors – red, lilac and black – the streamlined FR60 comes packaged with a heart rate monitor, and the foot pod is available in select FR60 bundles.

With this affordable yet sophisticated fitness watch, Garmin broadens its appeal to the millions of consumers who want to burn calories and track workouts in a cost-effective manner. While the FR60 processes much of the same data as its GPS-enabled predecessors, those functions are packaged in a very compact device the size of a typical fitness watch. The FR60 can track and record up to 15 hours and 100 laps of detailed exercise data. And because the FR60 records its data from the heart rate monitor, foot pod and ANT+ compatible fitness equipment, users can exercise indoors.

Triathletes will embrace the versatility of the swim-friendly FR60 as it helps them train and race indoors or outdoors, on the bike, in the water or on the trails. The featherweight foot pod enables the FR60 to track and record speed, distance, calories burned, steps and cadence without excess burden. Cycling enthusiasts will enjoy the versatile options of adding a bike speed and cadence sensor and a handy bike mount. Adding to the wide range of uses and wireless connectivity, FR60 users in the United States will be able to link effortlessly to their ANT+ compatible fitness equipment such as treadmills, spin bikes, elliptical trainers and more. More information about these ANT+ compatible products will be announced in March at the International Health, Racquet and Sportsclub Association (IHRSA) international convention and trade show in San Francisco.

When used with Garmin Connect™ — Garmin's online training site — the FR60's benefits continue long after the workout. By pairing the FR60 with Garmin Connect, users can automatically log their workouts, track their totals, share workouts with coaches, friends and family and participate in an online fitness community with similar interests.

The wireless features of the FR60 are enabled by ANT+ personal area network technology. ANT+ is a leading wireless interface protocol enabling ultra low power applications like fitness monitors. ANT+ offers all the benefits of digital wireless communications with much lower power consumption than other wireless protocols. The men's version of the FR60 weighs just 44 grams, the women's model weighs 41 grams, and each has a user-replaceable battery with a one-year life.

The FR60 is the latest breakthrough from Garmin, which has spent 20 years using technology and innovation to enhance users' lives, making Garmin a household name in the automotive, aviation, marine, wireless, outdoor and fitness industries. To learn more about the FR60 and Garmin's other products and services, go to www.garmin.com and www.garmin.blogs.com.

About Garmin International Inc.

Garmin International Inc. is a subsidiary of Garmin Ltd. (Nasdaq: GRMN), the global leader in satellite navigation. Since 1989, this group of companies has designed, manufactured, marketed and sold navigation, communication and information devices and applications – most of which are enabled by GPS technology. Garmin's products serve automotive, mobile, wireless, outdoor recreation, marine, aviation, and OEM applications. Garmin Ltd. is incorporated in the Cayman Islands, and its principal subsidiaries are located in the United States, Taiwan and the United Kingdom. For more information, visit Garmin's virtual pressroom at www.garmin.com/pressroom or contact the Media Relations department at 913-397-8200. Garmin is a registered trademark, ANT and ANT+ are trademarks and Garmin Connect is a service mark of Garmin Ltd. or its subsidiaries.