TAG Heuer smartwatch will not be fully "Swiss Made"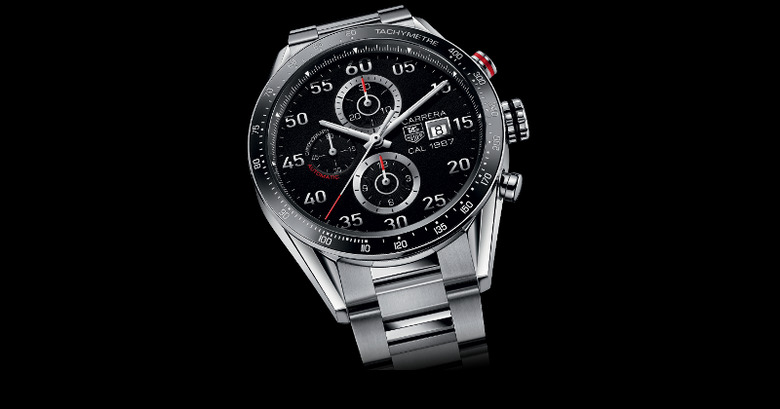 Iconic Swiss watch maker TAG Heuer, who was first speculated to enter the smartwatch scene last September, might finally be announcing just that tomorrow. But its foray into the technology space might come at a price, both literally and figuratively. Considering that Switzerland does not have the capacity to produce smartwatch components just yet, TAG Heuer has no choice but to "outsource" that part of the product and process to a Silicon Valley partner that it will reveal on Thursday, which could mean that its first smartwatch won't proudly wear the phrase "Swiss Made".
That said, it might still make it. At least 50 percent of the watch needs to be actually made in Switzerland before it can officially be labeled as "Swiss Made". The problem for TAG Heuer is that the country isn't yet capable of producing the engine, chips, and even software for a smartwatch. For that, it has struck up partnership with Silicon Valley companies. Intel is rumored to be that partner. It might be a strange notion at first, but the chip maker already has the experience in making luxury smart wearables like the MICA bracelet.
TAG Heuer, however, will be designing the timepiece. It will also be making the case, the dial, the crown, and other parts, which could still be enough to earn it the "Swiss Made" label. The upcoming smartwatch is believed to be modeled after TAG Heuer's Carrera watch, a rather large and sporty timepiece. The smartwatch version will pretty much be on par with the Apple Watch in terms of functionality, with a few bits of TAG Heuer's special apps inside.
The Apple Watch is the last straw that has some, but definitely not all, watch makers rethinking their attitude towards smartwatches. A few, like Tissot and Swatch, are already starting their journey. Still, others remain unmoved, believing in the traditional watch's timeless appeal. While you are most likely to want to upgrade your smartwatch every now and then, just like your smartphone, your classic timepiece is likely to stay with you forever. Which might not be surprising considering how these usually cost a fortune.
TAG Heuer's Jean-Claude Biver, however, sees things from a different angle. A TAG Heuer watch, he feels, connects him to history and eternity. A smartwatch like the Apple Watch connects him to the future. It follows, then, that a TAG Heuer smartwatch would connect him to both ends. Biver is also hoping that the smartwatch trend, which markets more to younger generations, would later on get these same young people to want a real watch. Whether that actually happens, only time can tell.