Intel MICA smart bracelet eyes-on: Fashion or folly?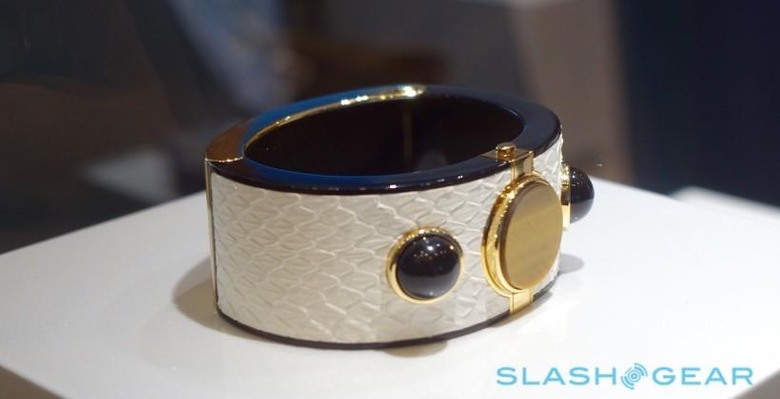 Intel promised a wearable which mixed functionality and design in an unusual way, and the MICA bracelet is the result, though the jury is still out whether the premium wristband hits the spot. Announced at IDF 2014 this week, the "My Intelligent Communication Accessory" band has a curved OLED touchscreen on one side and a spattering of semi-precious stones picked by Opening Ceremony on the other.
Unfortunately Intel wouldn't allow me to actually put MICA on; that, the company says, is not because my wrists aren't fashionable enough, but because the wearable itself isn't ready for prime time.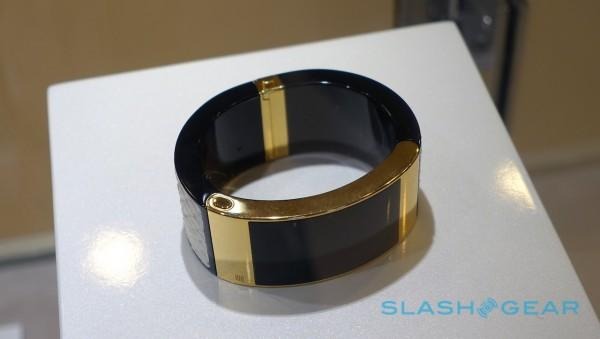 So, it was stuck inside a glass box, where it looks pretty darn chunky compared to other wearables we've seen recently. By differentiating it as a fashion piece rather than a smartwatch, Intel and Opening Ceremony have arguably side-stepped the bulk issue.
Nonetheless, with a price tag estimated between $500 and $1,000, and a distinctive aesthetic, it's questionable whether the style would match every outfit: that it would be as suited to the office as it might an evening out. Both are situations where the MICA's notifications, text messaging, and other functionality might be useful, but the distinctive pearls and lapis stones on the black, or the tiger's eye and obsidian on the white, aren't exactly discrete.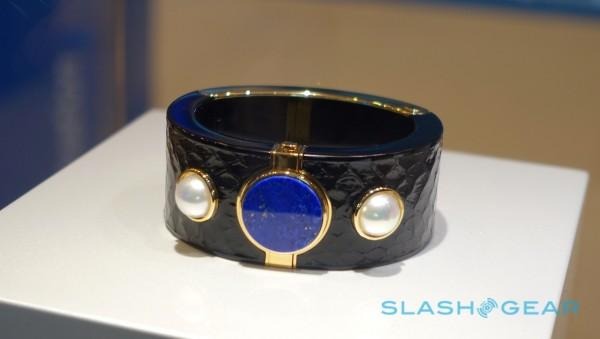 Is it actually going to be popular with the female demographic that Intel is targeting? One Intel staffer insisted to me that, as soon as his wife saw it, she said she wanted one. Then again, she also works for Intel, he admitted, and when she heard it could cost in the region of $800 decided that there was no chance she'd actually buy it.
There's every possibility that, as a humble geek who effectively has a choice of two outfits in his wardrobe (and they're both predominantly black), I'm missing the MICA's appeal. I'm certainly not the demographic Intel is aiming for.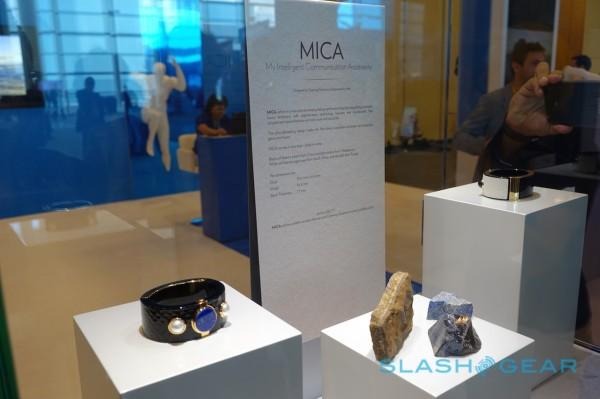 Back at CES 2014 in January, Intel talked about how it had opted to pair with more fashion-aware partners so as to allow itself to focus solely on the technology – playing to its own strengths, as it were. Since then, we've seen Apple's take on the smartwatch with the Apple Watch, among other more design-considerate models like the Moto 360 and the ASUS ZenWatch.
Barney's and Opening Ceremony will begin selling MICA in time for the holidays this year, and the proof of the pudding will be in sales.