T-Mobile unboxes the HTC 10 from 10k feet in a helicopter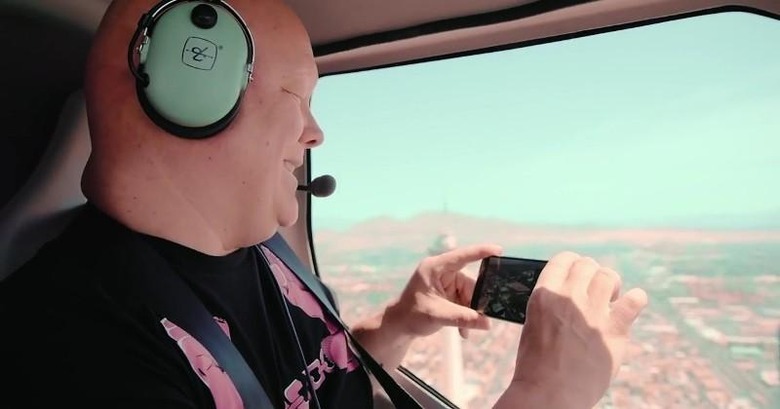 Thanks to the iPhone 6 Plus bendgate, 2015 was filled with videos of bend tests, drop tests, bullet tests, and all kinds of unimaginable tortures no one will put their smartphones through normally. For 2016, however, T-Mobile wants to start a new trend, Starting with the Samsung Galaxy S7, the "Un-carrier" has unboxed major smartphone flagships in unconventional situations. With the HTC 10 now out of the door, it's time for HTC's newest and probably best champion to get the similar insane unboxing treatment.
Given how Samsung loved to boast about the Galaxy S7's waterproof features, T-Mobile saw it appropriate to unbox the smartphone underwater. Under swimming pool water and within the few minutes allowed by its IP68 rating. We're still unsure why T-Mobile decided to unbox the LG G5 inside a speeding race car. We'll just presume it is implying to the topnotch speed of the Snapdragon 820 processor inside.
For the HTC 10, T-Mobile's Des is taking to the skies at a similar 10 height. 10 thousand feet, that is. But don't worry, he isn't unboxing while skydiving (now that's a thought), but sitting comfortably inside a helicopter flying at that altitude. The opportunity does seem perfect to test the HTC 10's photography prowess, which DxOMark has awarded top scores among its peers.
HTC, of course, is doing its own video advertising for its latest premium smartphone. Considering the design is one of the biggest and most conspicuous change in the HTC 10, the OEM is naturally highlighting that in a separate video ad of its own.
But a great design alone does not a great smartphone make. The HTC 10 of course boasts of many more features, including the latest in BoomSound technology, the 12 megapixel UltraPixel 2 rear camera, and, a first in the market, a front-facing camera with optical image stabilization. HTC's AVP of Product Planning Nigel Newby-House takes you through a short tour and behind the scenes look at those features in this introduction video.
Suffice it to say, the HTC 10 is an intriguing smartphone and will surely put the company under the spotlight again. Whether that's in a good way or not, we'll have to see later on. Be sure to check out our first impressions of the smartphone and stay tuned for our in-depth review soon.