T-Mobile UK get HTC Desire and SE XPERIA X10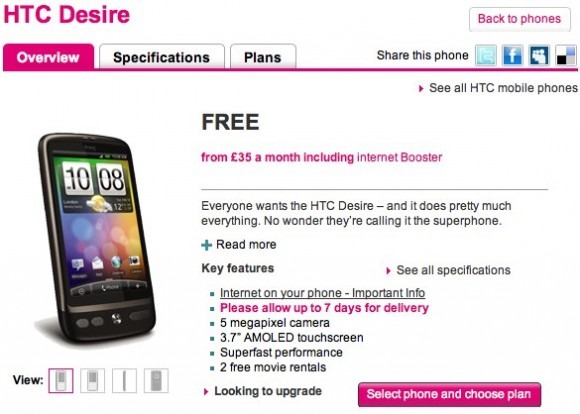 Looks like late-March or early April 2010 is going to be interesting if you're torn between large touchscreen Android smartphones.  T-Mobile UK have thrown their hat into the ring with Vodafone, offering up both the HTC Desire and the Sony Ericsson XPERIA X10 with deliveries expected to kick off at the very beginning of next month.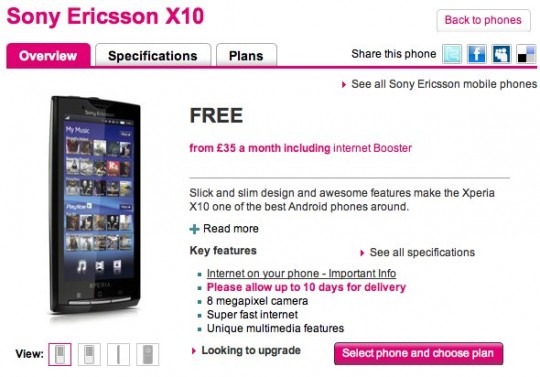 Both devices are eagerly anticipated, with the Desire only getting official at Mobile World Congress last month while Sony Ericsson announced the XPERIA X10 many months ago.  The X10 has a 4.0-inch capacitive touchscreen, 1GHz Snapdragon processor, 8-megapixel camera and Sony Ericsson's own Mediascape and Timescape apps to manage your content.
Sony Ericsson XPERIA X10 hands-on:
[vms e5e9f6611e2ee05a31ce]
Meanwhile the Desire has a smaller, 3.7-inch display but the same processor; the camera is also lower resolution, at 5-megapixels, and it has HTC's well-esteemed Sense UI. Each handset is priced at free with a new, £35 ($52) 18- or 24-month agreement: more on the HTC Desire here and the XPERIA X10 here.
HTC Desire hands-on: